26th May 2018
UK Railtours
The Quantock Intruder
| | |
| --- | --- |
| Locos Used | D6575, 67016 & steam: 35028 'Clan Line' |
| Stock Used (3) | (17096)+4998+4949+1813+3121+3119+3110+80042+3097+3098+21272 |
Route :
1Z26 : London Paddington to Minehead
1Z27 : Minehead to London Paddington
| | |
| --- | --- |
| Loco(s) | Route |
| 35028 | London Paddington - Southall - Slough - Maidenhead - Reading - Southcote Jn - Newbury - Bedwyn - Heywood Road Jn - Fairwood Jn - Clink Road Jn - Frome - Blatchbridge Jn - Castle Cary - Cogload Jn - Taunton - Norton Fitzwarren - Bishops Lydeard |
| 35028 (1) | Bishops Lydeard - Crowcombe Heathfield - Williton - Blue Anchor - Minehead |
| 35028 (1) (2) | Minehead - (reverse of outward route) - Bishops Lydeard |
| 67016 | Bishops Lydeard - (reverse of outward route) - Blatchbridge Jn - Clink Road Jn - Fairwood Jn - Westbury - Heywood Road Jn - (reverse of outward route) - London Paddington |
Notes :
(1) D6575 on rear.
(2) 35028 running tender first.
(3) 17096 was only in the consist when 35028 was on the train.
(4) John Clifford's comments: This tour took 35028 to the West Country for two later trips from Bristol, 3rd June 'The Torbay Express' and 17Th June 'The Cornishman'. The outward journey was running on time until we were held at Reading to let two late running trains precede us. The 07.47 Bournemouth - Leamington Spa was a few minutes late off Reading but the 08.35 Paddington - Paignton was 13 minutes late. At Theale, although watering was complete we waited for the slightly delayed 09.07 Paddington - Bedwyn go ahead. Onward to Newbury where we had a pathing stop to let the 09.30 Paddington - Penzance pass. It was 5 minutes late there so we left also 5 minutes late. A stop just before Woodborough was made due to a report of a trespasser. We proceeded slowly from there until just before Pewsey. Water was taken at Frome and this was followed by a stop at Blatchbridge Jn to let another late train go ahead. This time it was the 10.03 Paddington - Penzance which passed 16 minutes late. The subsequent running ensured we reached Minehead on time. The return journey started off on time, but out onto the West of England main line we were eventually thwarted by late running trains. After Castle Cary we caught up the 18.30 Weymouth - Bristol Temple Meads which was 25 minutes late by this stage and then we stopped at Clink Road Jn to let it go ahead after making its Frome stop. The Newbury stop was to allow the diverted 18.29 Swansea - Paddington pass which it duly did. However the Swansea train caught up the late running 20.47 Bedwyn - Paddington, so it followed it to Reading as we did as well. Arrival at Paddington was 16 minutes late.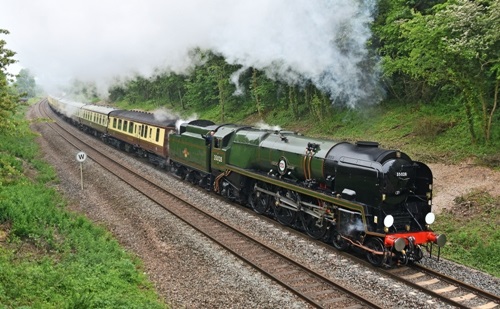 35028 passing Blatchbridge Jn on the outward leg (photo: Mark V. Pike)
Source : John Clifford & David Lodwick (both on the tour throughout)



Timings (Booked & Actual)
(from John Clifford & David Lodwick)
| | | | | | | |
| --- | --- | --- | --- | --- | --- | --- |
| M.C | Location | Booked (out) | Actual | | Booked (rtn) | Actual |
| 0.00 | London Paddington | 08.05d [P12] [L4] | 08.06 [P12] [L4] | | 22.32a [P1] | 22.48 [P1] |
| ? | Royal Oak Jn | 08/07 [L4] | 08/10 [L4] | | 22/31 | 22/45 |
| ? | Portobello Jn | 08/08 [L4] | 08/11 [L4] | | 22/30 [L1] | 22/43½ [L2] |
| 1.68 | Ladbroke Grove | 08/09 [DR] | 08/11½ [DR] | | 22/29 [L2] | 22/42½ [L3] |
| 5.13 | Acton West | 08/14 [DR] | 08/15 [DR] | | 22/26 [UM] | 22/40 [UM] |
| 9.01 | Southall | 08/23 [P3] [DR] | 08/23 [P3] [DR] | | 22/23 [P2] [UM] | 22/38 [P2] [UM] |
| 11.20 | Heathrow Airport Jn | 08/28 [DR] | 08/28 [DR] | | 22/21 [UM] | 22/37 [UM] |
| ? | Stockley Jn | 08/29 | ? | | 22/20 [UM] | 22/36 [UM] |
| ? | Dolphin Jn | 08/35 | ? | | 22/12½ | 22/31 [UR-UM] |
| 18.31 | Slough | 08.37a ~ 08.39d [P4] [DR] | 08.36½ ~ 08.39 [P4] [DR] | | 22.07a ~ 22.10d [P5] [UR] | 22.26 ~ 22.28 [P5] [UR] |
| 24.14 | Maidenhead | 08/48 [P3] [DR] | 08/47 [P3] [DR] | | 22/01 [P4] [UR] | 22/19 [P4] [UR] |
| 30.78 | Twyford | 08/55 [P3] [DR] | 08/54 [P3] [DR] | | 21/55 [P4] [UR] | 22/12 [P4] [UR] |
| ? | Kennet Bridge Jn | 09/03 [DR-DM] | 09/01½ [DM] | | 21/51 [UR] | 22/08 [UR] |
| 35.73 | Reading | 09.05a ~ 09.13d [P8] [WL] | 09.06 ~ 09.21 [P8] [WL] | | 21.45a ~ 21.48d [P15] [UR] | 22.04 ~ 22.05½ [P15] [UR] |
| ? | Oxford Road Jn | 09/15 | 09/24½ | | 21/42 [DFR] | 22/01 |
| 37.57 | Southcote Jn | 09/18 | 09/26 | | 21/40 | 21/58 |
| 41.17 | Theale | 09w26 ~ 09w52 [GL] | 09.34 ~ 09.54 [GL] | | 21/36½ | ? |
| ? | Newbury Racecourse | 10/05 [P3] [DNL] | 10/12 [P3] [DNL] | | 21/25½ | ? |
| 53.01 | Newbury | 10*08 ~ 10*14 [P1] | 10.15 ~ 10.19 [P1] | | 21*10a ~ 21*24 [P2] | 21.16½ ~ 21.26 [P2] |
| 66.24 | Bedwyn | 10/30 [P1] | 10/36 [P1] | | 20/53 [P2] | 21/00½ [P2] |
| - | Sig. TR880 | ? | 10.48½ ~ 10.51½ | | - | - |
| 78.68 | Woodborough | 10/42 | 10/53 | | 20/42 | 20/51 |
| 88.01 | Lavington | 10/52 | 11/04 | | 20/34 | 20/44 |
| 94.40 | Heywood Road Jn | 11/01 | 11/09 [AL] | | 20/28 | 20/38 |
| 95.42 | Westbury | - | - | | 20/26 [P3] | 20/36 [P3] |
| 96.77 | Fairwood Jn | 11/04 | 11/11 | | 20/23 | 20/32 |
| 100.19 | Clink Road Jn | 11/10 | 11/16 | | 20/19 | 20.24 ~ 20.25 |
| 101.23 | Frome | 11w13 ~ 11w35 | 11w19½ ~ 11w32 | | - | - |
| 102.36 | Blatchbridge Jn | 11/38 | 11.37 ~ 11.40 | | 20/17 | 20/21 [AL] |
| 106.46 | East Somerset Jn | 11/42 | 11/46 | | 20/13 | 20/17½ |
| 115.25 | Castle Cary | 11/50 [P2] | 11/54 [P2] | | 20/05 [P1] | 20/06 [P1] |
| 126.55 | Somerton GF | 12/01 | 12/02 | | 19/58 | 19/58 |
| ? | Athelney LC | 12/11 | 12/09 | | 19/52 | 19/51½ |
| 137.65 | Cogload Jn | 12/16 | 12/12 | | 19/49 | 19/49 |
| 142.68 | Taunton | 12C22 ~ 12C24 [P2] [RL] | 12.18½ ~ 12.21 [P2] [RL] | | 19C41 ~ 19C43 [P2] | 19.41 ~ 19.42½ [P2] |
| 144.64 | Norton Fitzwarren | 12/28 | 12/28 | | 19/36 [DR] | 19/35½ [DR] |
| 147.76 | Bishops Lydeard | 12w40a ~ 13w20d | 12.40½ ~ 13.21 [P2] | | 19L05a ~ 19L24d | 19L06½ ~ 19L25 [P2] |
| 151.66 | Crowcombe Heathfield | 13/35 | 13/40 [MN] | | 18/50 | 18/55 [MN] |
| - | Williton Home Signal | ? | 13.56 ~ 14.03 | | - | - |
| 157.62 | Williton | 14/00 | 14/04 [P1] | | 18/30 | 18/34½ [P1] |
| - | Blue Anchor Home Signal | ? | 14.26 ~ 14.32 | | - | - |
| 164.10 | Blue Anchor | 14/30 | 14/34½ | | 18/05 | 18/09 [UL] |
| 167.47 | Minehead | 14.50a | 14.49½ [P1] | | 17.50d | 17.50 |


Associated E.C.S. & Light Engine Workings
25/05/18 :
5Z25 : (35028 with 17096) : Stewarts Lane T&RSMD to Southall
| | |
| --- | --- |
| Location | Booked |
| Stewarts Lane T&RSMD | 19.30d |
| Stewarts Lane Jn | 19.40 ~ 19.43 |
| Longhedge Jn | 19/54 |
| Latchmere Jn | 19/57 |
| Kensington Olympia | 20/05 |
| North Pole Jn | 20/09 |
| Mitre Bridge Jn | 20/10 |
| Willesden SW Sidings | 20/14 |
| Acton Wells Jn | 20/16 |
| Acton Main Line | 20/19 |
| Acton West | 20*23 ~ 20*37 |
| Southall East Jn | 20/44 |
| Southall Yard | 20.46 ~ 20.50 |
| Southall Depot | 20.55a |
26/05/18 :
5Z27 : (35028 with 17096) : Southall Depot to Southall Yard
| | |
| --- | --- |
| Location | Booked |
| Southall Depot | 06.30d |
| Southall Yard | 06.35a |
5Z26 : (67018) : Eastleigh Arlington to Southall
5Z26 : (67018 with 35028 on rear) : Southall to London Paddington
5Z28 : (67018) : London Paddington to Eastleigh Arlington
| | | | | |
| --- | --- | --- | --- | --- |
| Location | Booked | Actual | | Booked |
| Eastleigh Arlington | 05.05d | | | 01.00a |
| Eastleigh | 05/10 | | | 00/55 |
| Winchester | 05/18 | | | 00/47 |
| Worting Jn | 05/33 | | | 00/28 |
| Basingstoke | 05.36 ~ 05.45 | | | 00*20 ~ 00*23 |
| Bramley | 05/52 | | | 00/12 |
| Southcote Jn | 06/01 | | | 00/03 |
| Oxford Road Jn | 06/06 | | | 00/01 |
| Reading | 06/08 | | | 23/58 |
| Kennet Bridge Jn | 06/10 | | | 23/56 |
| Twyford | 06/14 | | | 23/51 |
| Maidenhead | 06/19 | | | 23/45 |
| Slough | 06/24 | | | 23/40 |
| Stockley Jn | 06/39 | | | ? |
| Heathrow Airport Jn | 06/40 | | | 23/32 |
| Southall West Jn | 06/44 | | | ? |
| Southall Yard | 06.47~ 07.34 | | | - |
| Southall | - | | | 23/30 |
| Southall East Jn | 07/35 | | | ? |
| West Ealing | 07/38 | | | ? |
| Acton West | 07/40 | | | 23/24 |
| Ladbroke Grove | 07/47 | | | 23/19 |
| Portobello Jn | 07/48 | | | 23/18 |
| Royal Oak Jn | 07/49 | | | 23/17 |
| London Paddington | 07.50a [P12] | 07.52½ [P12] | | 23.16d [P1] |
0Z26 : (67018) : London Paddington to Acton Yard
| | |
| --- | --- |
| Location | Booked |
| London Paddington | 08.20d [P12] |
| Royal Oak Jn | 08/21 |
| Portobello Jn | 08/22 |
| Ladbroke Grove | 08/23 |
| Acton West | 08/27 |
| West Ealing | 08/31 |
| West Ealing Loop | 08.33 ~ 08.36 |
| West Ealing | 08/38 |
| Acton West | 08/42 |
| Acton Yard T.C. | 08.46a |
0Z27 : (67016) : Wembley Yard to Bishops Lydeard
| | |
| --- | --- |
| Location | Booked |
| Wembley Yard H.S. | 07.39d |
| Wembley Yard South Jn | 07/45 |
| Willesden No.7 Jn | 07/47 |
| Acton Canal Wharf | 07/49 |
| Acton Wells Jn | 07/51 |
| Acton Main Line | 07/53 |
| Acton West | 07/57 |
| West Ealing | 08/02 |
| Hanwell | 08/04 |
| Hanwell Bridge Loop | 08*08 ~ 08*27 |
| Southall East Jn | 08/28 |
| Southall | 08/29 |
| Heathrow Airport Jn | 08/34 |
| Slough | 08/46 |
| Maidenhead | 08/58 |
| Twyford | 09/07 |
| Kennet Bridge Jn | 09/12 |
| Reading | 09*15 ~ 09*18 |
| Oxford Road Jn | 09*21 ~ 09*45 |
| Southcote Jn | 09/48 |
| Theale Loop | 09*58 ~ 10*08 |
| Newbury | 10/19 |
| Bedwyn | 10/35 |
| Woodborough | 10/48 |
| Lavington | 10/58 |
| Heywood Road Jn | 11/07 |
| Westbury | 11/13 |
| Westbury Down T.C. Headshunt | 11.15 ~ 11.18 |
| Westbury Down T.C. | 11.22 ~ 16.44 |
| Fairwood Jn | 16/49 |
| Clink Road Jn | 16/55 |
| Blatchbridge Jn | 16/57 |
| East Somerset Jn | 17/01 |
| Castle Cary | 17/10 |
| Somerton GF | 17/20 |
| Athelney LC | 17/28 |
| Cogload Jn | 17/32 |
| Taunton | 17.37 ~ 17.39 |
| Norton Fitzwarren | 17/43 |
| Bishops Lydeard | 17.55a |
0Z28 : (67018) : Acton Yard to London Paddington
| | |
| --- | --- |
| Location | Booked |
| Acton Yard T.C. | 22.10d |
| Acton West | 22/15 |
| West Ealing | 22/18 |
| West Ealing Loop | 22.20 ~ 22.31 |
| West Ealing | 22/33 |
| Acton West | 22/37 |
| Ladbroke Grove | 22/40 |
| Portobello Jn | 22/41 |
| Royal Oak Jn | 22/45 |
| London Paddington | 22.46a [P1] |
0Z29 : (67016) : London Paddington to Acton Yard
| | |
| --- | --- |
| Location | Booked |
| London Paddington | 23.37d [P1] |
| Royal Oak Jn | 23/38 |
| Portobello Jn | 23/39 |
| Ladbroke Grove | 23/40 |
| Acton West | 23/44 |
| West Ealing | 23/47 |
| West Ealing Loop | 23.49 ~ 23.52 |
| West Ealing | 23/54 |
| Acton West | 23/58 |
| Acton Yard T.C. | 00.02a |
29/05/18 :
5Z29 : (35028 with 17096) : Bishops Lydeard to Bristol St Philips Marsh HST Depot
| | |
| --- | --- |
| Location | Booked |
| Bishops Lydeard | 13.25d |
| Norton Fitzwarren | 13/39 |
| Taunton | 13.44 ~ 13.56 |
| Cogload Jn | 14/03 |
| Bridgwater | 14/11 |
| Uphill Jn | 14/25 |
| Worle Jn | 14/29 |
| Parson Street | 14/48 |
| Bristol West Jn | 14/51 |
| St Philips Marsh HST Depot | 15.00a |