3rd January 1958
London Transport
Silver Train
| | |
| --- | --- |
| Stock Used | 1956 7-car Tube Stock (either Met Camm, BRCW or GRCW) |
Route :
| | |
| --- | --- |
| Stock | Route |
| as listed | Acton Town - Hounslow West |
| as listed | Hounslow West - Acton Town |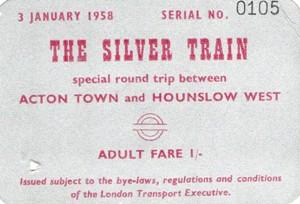 From The John Debens Ticket Collection.
Source : Rod Miebs



Review
(by Rod Miebs)
An annual "Schoolboys and Schoolgirls Exhibition" was held at the Royal Horticultural Halls, Victoria SW1, early in the New Year in the 50s. I went to a number of them.
In 1958 London Transport had a stand and were selling tickets for a non-stop run from Acton Town to Hounslow West, then a terminus, and back. This was to show off the 1956 Tube Stock, Three sets were built being the prototypes for the 1959 Tube Stock.
I bought a ticket for a Boy or Girl costing 6d. It was dated for 03 Jan 1958, I travelled in the afternoon after visiting the exhibition.
The working may have run over a number of days at that time.