26th April 1958
Ian Allan
The Pennine Limited
| | |
| --- | --- |
| Locos Used | 41063, 41100, 60157 & 71000 |
| Stock Used | 9 coaches including 'Devon Belle' Pullman observation car |
Route : Reporting Code 510 (throughout?)
| | |
| --- | --- |
| Loco(s) | Route |
| 60157 | London Kings Cross - (via ECML) - Doncaster - Shaftholme Jn - Knottingley - Pontefract Monkhill - Cutsdyke Jn - Castleford - Ledston - Garforth - Leeds City |
| 41100 + 41063 | Leeds City - Farnley Jn - Huddersfield - Stalybridge - Stockport - Crewe |
| 71000 | Crewe - Stafford - Lichfield - Rugby - Bletchley - Tring - Watford Junction - London Euston |
Notes :
(1) Pre-tour advertising clearly named this trip as 'The Pennine Pullman II'. Bruce Nathan confirms this and also the reason for the name change; BR standard first class stock and LNER restaurant/kitchen cars were used instead of Pullmans. 41100 + 41063 carried reporting code 510 but was this used throughout?
Sources : David Whittaker & John Debens



Photo Review

The train at Leeds led by 41100 (photo: Bruce Nathan)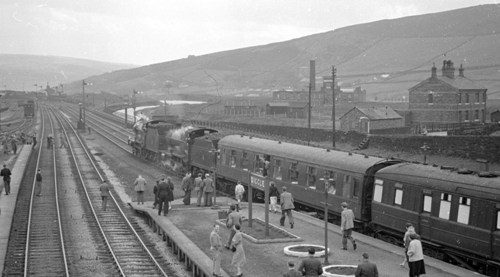 The train at Diggle behind 41100 & 41063 (photo: Bruce Nathan)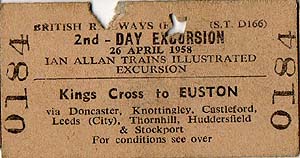 from The John Debens' Ticket Collection.


Timings (Booked & Actual)
(from Bruce Nathan)
| | | | |
| --- | --- | --- | --- |
| Miles | Location | Booked | Actual |
| 0.0 | Kings Cross | 09.15d | 09.15 |
| 10.1 | Greenford SB | 09/29 | 09/28½ |
| 17.7 | Hatfield | 09/37 | 09/35½ |
| 31.9 | Hitchin | 09/49½ | 09/51½ |
| 44.1 | Sandy | 09/58 | 10/00½ |
| 58.9 | Huntingdon North | 10/09½ | 10/13½ |
| 76.4 | Peterborough North | 10/30½ | 10/30 |
| 79.5 | Werrington Jn | 10/35 | 10/35 |
| 88.6 | Essendine | 10/42 | 10/42½ |
| 100.1 | Stoke SB | 10/52 | 10/52 |
| 105.5 | Grantham | 10.59½a ~ 11.03½d | 10.57 ~ 11.03 |
| 109.7 | Barkston South Jn | 11/09 | 11/09 |
| 120.1 | Newark North Gate | 11/17½ | 11/17½ |
| 138.6 | Retford | 11/36 | 11/36 |
| 156.0 | Doncaster | 12.00a ~ 12.02d | 11.56½ ~ 12.00½ |
| 160.2 | Shaftholme Jn | 12/10 | 12/07½ |
| ? | Knottingley | 12.30a ~ 12.37d | 12.23 ~ 12.35½ |
| ? | Pontefract Monkhill | 12/41 | 12/42 |
| ? | Cutsdyke Jn | 12/47 | 12/48 |
| ? | Garforth | 13/12 | 13/11½ |
| ? | Leeds City | 13L32a ~ 14L18d | 13.25½ ~ 14.18½ |
| ? | Farnley & Wortley | 14/23 | 14/24 |
| ? | Morley Row | 14/28 | 14/29½ |
| ? | Thornhill LNW Jn | 14/39 | 14/39½ |
| ? | Mirfield | 14/42 | 14/42 |
| ? | Heaton Lodge Jn | 14/44 | 14/44 |
| ? | Huddersfield | 14.50a ~ 14.55d | 14.50 ~ 14.56½ |
| ? | Marsden | 15/10 | 15/11½ |
| ? | Diggle | 15.19a ~ 15.24d | 15.18½ ~ 15.24½ |
| ? | Greenfield | 15/28 | 15/29 |
| ? | Stalybridge | 15.35a ~ 15.43d | 15.36 ~ 15.42½ |
| ? | Stockport Edgeley | 15.58a ~ 16.03d | 15.56½ ~ 16.01 |
| ? | Crewe | 16L44a ~ 16L52d | 16.42 ~ 16.57 |
| ? | Euston | 19.48a | 19.51 |