31st May 1958
Stephenson Locomotive Society (Midland Area)
North Staffs Rail Tour (Part 2)
| | |
| --- | --- |
| Locos Used | at least 42378, 42482 & 42939 |
| Stock Used | LMS corridor stock |
Route : reporting number W725 (throughout?)
| | |
| --- | --- |
| Loco(s) | Route |
| 42482 | Birmingham New Street - ??? - Stafford - Newport - Hadley Jn - Stafford Jn - Wellington - Market Drayton Jn - Peplow - Market Drayton - Silverdale Jn - Pipe Gate - Keele - Silverdale - Newcastle - Hartshill - Newcastle Jn - Stoke-on-Trent |
| 42939 | Stoke-on-Trent - Newcastle Jn - Etruria - ??? - Tunstall - Newchapel & Goldenhill - Kidsgrove Liverpool Road |
| 42939 (1) | Kidsgrove Liverpool Road - Newchapel & Goldenhill - Tunstall - Longport Jn (2) |
| 42939 | Longport Jn - Chatterley - Kidsgrove Central - Lawton Jn - Hassell Green - Sandbach - Middlewich - Northwich Sandbach Jn - Hartford Jn CLC - Hartford Jn LNW - Acton Bridge |
| 42939 | Acton Bridge - Hartford Jn LNW - Winsford - Crewe |
| 42939 | Crewe - Radway Green & Barthomley - Alsager East Jn |
| 42939 | Alsager East Jn - Jamage Jn - Leycett - Keele - Silverdale - Newcastle - Hartshill - Newcastle Jn - Stoke-on-Trent |
| 42482 | Stoke-on-Trent - Trentham Jn - Trentham Gardens |
| 42482 | Trentham Gardens - Trentham Jn |
| 42482 | Trentham Jn - Stone - Norton Bridge - Stafford - Wolverhampton - ??? - Birmingham New Street |
Notes :
(1) Banked from Kidsgrove Liverpool Road to ??? by 42378.(2) Train was booked to reverse at Longport.
(2) Train was booked to reverse at Longport.
(3) Route confirmation required. Peter Darke has photographs in his collection showing 42482 at Stafford & Market Drayton, and 42939 at Kidsgrove (London Road). Andrew Fairholm has tracked down photographs of 42482 at Market Drayton, 42378 at Kidsgrove Liverpool Road, 42939 at Kidsgrove Liverpool Road and Acton Bridge and finally, 42482 again at Trentham Gardens.
(4) Train arrived back into Birmingham New Street some 100mins late, an hour of the delay being incurred between Stafford and Birmingham in the evening resulting in many tour participants being stranded having missed last trains home. Due to concerns over the ability of the LMR to operate charters effectively, the SLS decided to cancel all future tours on the LMR until such assurances were received that passengers would not in future be stranded in the event of delays. Tours to Derby, Horwich and Crewe were cancelled on the 15th and 22nd June, but then the train on the 22nd resurrected as a test of assurances received from the LMR. Passengers booked on the 15th June tour were able simply to turn up for the 22nd June train and exchange tickets on the train, else return them for a refund if they chose otherwise.
Sources : Andrew Fairholm, Brian Halford, Peter Darke & Ian Clark (SLS)



Photo Review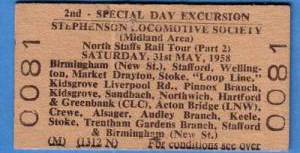 From Andrew Fairholms ticket collection.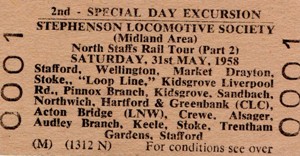 From The John Debens Ticket Collection.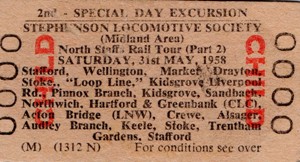 Timings (Booked & Actual)
(from Ian Clark (SLS))
| | | |
| --- | --- | --- |
| Location | Booked | Actual |
| Birmingham | 13.15d | 13.15 |
| Stafford | 13.57a ~ 14.05d | 13.57 ~ 14.04 |
| Wellington | 14.46 ~ 14.47 | 14.33 ~ 14.39 |
| Market Drayton | 15w15 ~ 15w21 | 15.12 ~ 15.22½ |
| Silverdale Jn | 15/22 | 15/24 |
| Pipe Gate | 15/32 | 15/33½ |
| Silverdale | 15/45 | 15/46 |
| Newcastle | 15/50 | 15/51½ |
| Hartshill | 15/52 | ? |
| Stoke-on-Trent | 15.56 ~ 16.04 | 15.55½ ~ 16.03½ |
| Etruria | 16/07 | 16/06½ |
| Tunstall | 16/14 | 16/15 |
| Newchapel & Goldenhill | 16/17 | ? |
| Kidsgrove Liverpool Road | 16w21 ~ 16w30 | 16.31½ ~ 16.33 |
| Newchapel & Goldenhill | 16/35 | 16/39 |
| Tunstall Jn | 16/39 | 16/43 |
| Pinnox Jn | 16/41 | 14/44½ |
| Longport Jn | 16/44 | 16.47 ~ 16.57 |
| Longport | 16.45 ~ 16.53 | DIV |
| Kidsgrove Central | 16/58 | 17/04 |
| Lawton Jn | 17/01 | 17/06½ |
| Hassell Green | 17/10 | 17.14 ~ 17.20 |
| Elton Crossing | 17/21 | 17/28 |
| Sandbach | 17/23 | 17.30 ~ 17.31 |
| Northwich Sandbach Jn | 17.39 ~ 17.45 | 17.54 ~ 17.55 |
| Hartford Jn CL | 17/51 | 18/02½ |
| Hartford Jn LNW | 17/53 | 18/19 |
| Acton Bridge | 17.57 ~ 18.11 | 18.25 ~ 18.43 |
| Winsford Jn | 18/19 | 18/52½ |
| Coppenhall Jn | 18/27 | 18/59½ |
| Crewe | 18L33 ~ 18L38 | 19.04 ~ 19.07 |
| Alsager East Jn | 18.49 ~ 18.57 | 19.20 ~ 19.46 |
| Leycett | 19/15 | 19/59 |
| Silverdale | 19/21 | 20/05 |
| Newcastle | 19/26 | 20/10 |
| Hartshill | 19/28 | 20/12½ |
| Stoke-on-Trent | 19w31 ~ 19w36 | 20.18 ~ 20.25 |
| Trentham Jn | 19/41 | ? |
| Trentham Gardens | 19.46 ~ 19.54 | ??.?? ~ 20.45 |
| Trentham Jn | 20.00 ~ 20.08 | ??.?? ~ 20.58 |
| Stone | 20/14 | 21.04 ~ 21.07 |
| Norton Bridge | 20/20 | 21/12½ |
| Stafford | 20.28a ~ 20.34d | ? |
| Wolverhampton | 20.57a ~ 20.59d | ? |
| Birmingham | 21.25a | ? |