22nd June 1958
Stephenson Locomotive Society (Midland Area)
(Special Train to Derby, Horwich and Crewe)
Route :
Reporting number : M990 throughout
| | |
| --- | --- |
| Loco | Route |
| 45265 | Birmingham New Street - Wolverhampton HL - Derby (for shed & works visit) - Manchester Victoria - Horwich (for works visit) |
| 45265 | Horwich - Crewe (for North Shed visit) |
| 45265 | Crewe - Crewe Carriage Works Siding (for Works visit) |
| 45265 | Crewe Carriage Works Siding - Crewe - Wolverhampton HL - Birmingham New Street |
Notes :
(1) Route confirmation required. A note with the tour timings stated that; At Crewe after the North Shed visit, the train will proceed to Carriage Works Siding on the West Side of Chester line adjacent to 'scrap' shed; it will return from this point. Passengers were to make their way from Crewe station to the South Shed on foot, but from there Crossville buses were laid on to get them to the Works.
(2) Roy Bealby comments : Two trips were arranged for 15 and 22 June but BR cancelled them because of Sunday track work in the Stafford/Birmingham area. After protests BR agreed to run this trip for which 15th June tickets sold would be accepted. Ian Clark (SLS) adds: The tours on 15th & 22nd June were cancelled owing to problems experienced on the SLS tour of 31st May which resulted in a 100mins late arrival back into Birmingham, causing many passengers to miss their connections home. It was decided to cancel all tours on the LMR until assurances were received from the LMR that passengers would not in future be stranded as a result of late running. Such assurances must presumably have been received as this ran in order to test those assurances. Passengers with tickets for the 15th June train were allowed to transfer to this one, or claim a refund.
Sources : Ray Humphries, Roy Bealby & Ian Clark (SLS)



Photo Review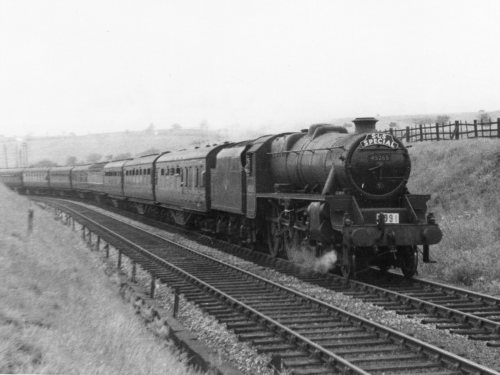 45265 near Horwich (photo: B. Hilton / The John Debens Collection)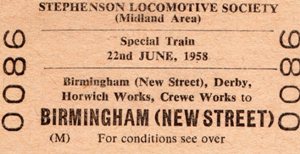 From the John Debens Ticket Collection.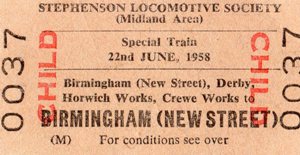 Timings (Booked Only)
(from Ian Clark (SLS))
| | |
| --- | --- |
| Location | Booked |
| Birmingham New Street | 08.45d |
| Derby | 09.46a ~ 10.35d |
| Manchester Victoria | 12/45 |
| Horwich | 13.16a ~ 14.43d |
| Crewe | 16.16a ~ 17.10d |
| Crewe Carriage Works | 17.20a ~ 17.35d |
| Crewe | 19.45a ~ 19.50d |
| Wolverhampton HL | 20.48a ~ ??.??d |
| Birmingham New Street | 21.18a |