6th September 1958
Stephenson Locomotive Society (Edinburgh Section)
Lothian Lines Tour
| | |
| --- | --- |
| Locos Used | 67492 & 78049 |
| Stock Used | 4x ex-LNER coaches |
Route : Headcode 213 throughout
| | |
| --- | --- |
| Loco(s) | Route |
| 67492 | Edinburgh Waverley - Haymarket - Craiglockhart Jn - Duddingston - Niddrie West Jn - Monktonhall Jn - Smeaton - Ormiston - Winton - Macmerry |
| 67492 (2) | Macmerry - Winton - Ormiston - Smeaton - Monktonhall Jn (2) - Wanton Walls Jn - (via Lothian Lines) - Niddrie North Jn - Leith South Jn - Portobello West Jn - Piershill Jn - Lochend Jn - Easter Road - Bonnington South Jn - Bonnington East Jn - North Leith goods yard (3) |
| 67492 (4) | North Leith goods yard - (5) Bonnington East Jn - Bonnington South Jn |
| 67492 | Bonnington South Jn - Bonnington North Jn (5) - Trinity Jn - Granton (ex-LNE) - Granton (ex-LMS) - Breakwater Jn - Pilton West Jn - Crew Jn - Murrayfield - Coltbridge Jn - Dalry Jn - Edinburgh Princes Street |
Notes :
(1) Route confirmation required - as shown above is from booked timings. Tour timing sheet referred to this outing as the 'Edinburgh Excursion'.
(2) 78049 provided assistance in rear 'from Inveresk Junction' (believed an alternative name for Monktonhall Jn?), but to where?
(3) Booked to reverse at Leith Citadel (formerly North Leith) station however 'due to insufficient platform clearance the train entered the goods yard at North Leith instead.
(4) Loco propelling.
(5) Apparent contradiction in the tour itinerary over the route at this point - timing sheet shows the train returning to Bonnington South Jn (2min stop - to reverse) however the route description says the train will diverge right at Bonnington East Jn, passing Bonnington South (Square Crossing) on the left before reaching Trinity Jn. An SLS journal of the time describes the train being propelled back from North Leith ('to Bonnington Jn') therefore it is assumed a reversal took place at South Jn to put the loco leading again to Granton. It is therefore believed that the timing sheet was correct and the route description in the tour brochure in error.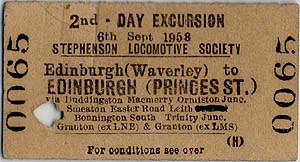 From The John Debens Ticket Collection.
Sources : John Debens, John Robin & Ian Clark (SLS)



Timings (Booked Only)
(from John Debens)
| | |
| --- | --- |
| Location | Booked |
| Edinburgh Waverley | 13.55d |
| Haymarket | 13/58 |
| Gorgie Jn | 14/00 |
| Duddingston | 14.10 ~ 14.20 |
| Niddrie West Jn | 14/23 |
| Monktonhall Jn | 14/31 |
| Smeaton Jn | 14/36 |
| Ormiston Jn | 14/49 |
| Macmerry | 14.57 ~ 15.07 |
| Ormiston Jn | 15.17 ~ 15.27 |
| Smeaton | 15.42 ~ 15.50 |
| Monktonhall Jn | 14/55 |
| Wanton Walls | 16/01 [Lothian Lines] |
| Niddrie North Jn | 16/05 |
| Leith South Jn | 16/10 |
| Portobello West Jn | 16/12 |
| Piershill Jn | 16/14 |
| Lochend Jn | 16/15 |
| Easter Road | 16.18 ~ 16.23 |
| Bonnington South Jn | 16/28 |
| Bonnington East Jn | 16/29 |
| Leith Citadel | 16.34 ~ 16.42 |
| Bonnington East Jn | 16/55 |
| Bonnington South Jn (see note 3 above) | 16.59 ~ 17.01 |
| Bonnington South (Square Crossing) | 17.04 ~ 17.09 |
| Trinity Jn | 17.12 ~ 17.17 |
| Granton (ex-LNE) | 17.22 ~ 17.32 |
| Granton (ex-LMS) | 17.37 ~ 17.47 |
| Crew Jn | 17/52 |
| Dalry Road | 17/59 |
| Edinburgh Princes Street | 18.02a |