1st March 1980
British Rail
(Football Special)
| | |
| --- | --- |
| Loco Used | 47050 |
| Stock Used | 35459+4366+4947+4482+4372+4485+4364+4483+35298+4960 |
Route : 1Z79 throughout
| | |
| --- | --- |
| Loco | Route |
| ?47050? | ??? - Ipswich |
| 47050 | Ipswich - ??? |
Notes :
(1) For Division 1 match (final score: Ipswich Town 6:0 Manchester United). Seen at Bury St Edmunds in the evening.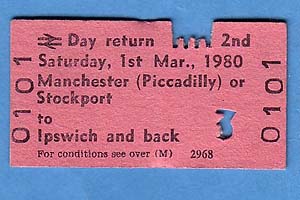 From Andrew Fairholm's Ticket Collection -
is this from the same train, or a different one?
Sources : Andrew Fairholm & Alan Chilestone



Back to "The Railtour Files"