2nd August 1980
British Rail (S.R. - S.E. Division)
Kentish Belle Charity Railtour
| | |
| --- | --- |
| EMU Used | Class 411 (4-CEP) ???? |
Route :
| | |
| --- | --- |
| EMU | Route |
| as listed | London Victoria - ??? |
Notes :
(1) Brian Halford comments: This train was organised by BR as a staff-only special. It was unusual that it was arranged primarily as a staff training trip for all rail staff (whether Regional HQ, Divisional staff, station staff or train crew). A small charge was payable which I believe was about £2. Route, but not necessary in the correct order;
Started Victoria (approx. 0900) , Lewisham, Crayford Spur, Lee Spur (Lee-Grove Park), also visited the Woodside-Selsdon line where a photographic stop was made at Coombe Road. Other routing I cannot remember but it was all on electrified lines in the South East London/Kent area.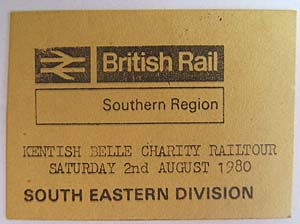 From Brian Halford's ticket collection.