13th December 1980
N.E.L.P.G.
The Northumbrian
| | |
| --- | --- |
| Locos Used | 26034, 40070, 47280 & steam: 4767 |
| Stock Used | 11x mark 1's (vb 90mph) |
Route : 1Z25 throughout
| | |
| --- | --- |
| Loco(s) | Route |
| 4767 | Middlesborough - Thornaby - Stockton - Hartlepool - Sunderland - Pelaw - Park Lane Jn - High Level Bridge Jn - Newcastle - Scotswood - Blaydon - Hexham - Haltwhistle - MP40 (Greenhead) (1) |
| 47280 (2) | MP40 - Low Row |
| 26034 (3) | Low Row - Carlisle |
| 4767 | Carlisle - Petteril Bridge Jn - (via S&C) - Settle Jn - Hellifield - Skipton - Shipley - Leeds - Cross Gates - Church Fenton - York |
| 40070 (4) | York - (via ECML) - Northallerton - Eaglescliffe - Stockton - Hartlepool - Sunderland - Pelaw - Park Lane Jn - Greensfield Jn - King Edward Bridge East Jn - King Edward Bridge North Jn - Newcastle |
Notes:
(1) 44767 failed at Greenhead (milepost 40, shortly after passing through Haltwhistle) and was assisted (pushed) to Low Row by 47280. 26034 then dragged the train to Carlisle before removing 4767 for repairs.
(2) Loco propelling train.
(3) Plus 4767 and train.
(4) 55002 was booked motive power but was not available.
(5) Gordon Lacy comments: It became apparent quite early on that the Black 5 wasn't steaming well! As if that wasn't enough, there were high winds & rain to contend with. A signal failure at Prudhoe & a long stop outside Haltwhistle put us 26 down. When we ground to a halt at mp40, we thought that was the day over! 47280 eventually appeared & propelled the whole train forward to Low Row where the unexpected sight of 26034 was waiting to cross over to relieve the 47 & drag us on to Carlisle. The fitters worked their socks off to get the loco fit enough to take up its return working. I was fortunate enough to (stereo)tape record the ensuing southbound ascent of Ais Gill from the, by now, second coach, the earlier steaming problem having been sorted! The Leeds crew change was subsequently made at Keighley, due to still being a full hour down.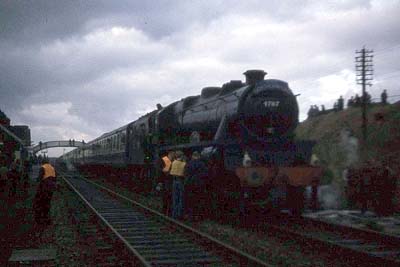 4767 pauses at Appleby for water (photo: Gordon Lacy)
Sources : Alex McGlasham & Gordon Lacy



Timings (Booked & Actual)
(from Gordon Lacy)
| | | |
| --- | --- | --- |
| Location | Booked | Actual |
| Middlesborough | 07.40d | 07.43½ |
| Thornaby | 07/47 | 07/51 |
| Stockton | 07.54a ~ 07.56d | 07.57½ ~ 08.00 |
| Hartlepool | 08.17a ~ 08.19d | 08.31 ~ 08.33 |
| Easington | 08/33 | 08/51 |
| Sunderland | 08.48a ~ 08.50d | 09.06 ~ 09.08 |
| Pelaw | 09/04 | 09/24 |
| Gateshead East Jn? | 09/12 | 09/15 |
| Newcastle | 09w15a ~ 09w40d | 09.37 ~ 09.50½ |
| Blaydon | 09/48 | 09/58 |
| Hexham | 10/10 | 10/24½ |
| Haltwhistle | 10/30 | 10/56 |
| MP40 | ??/?? | 11.05 ~ 11.59 |
| Low Row | ??/?? | 12.13 ~ 12.20 |
| Brampton Jn | 10/45 | 12/26 |
| Petteril Bridge Jn | 11/01 | 12/41 |
| Carlisle | 11.05a ~ 12.40d | 12.44 ~ 14.24 |
| Petteril Bridge Jn | ? | 14/28½ |
| Armathwaite | ? | 14/45 |
| Appleby | 13w25a ~ 14w20d | 15.13 ~ 15.32 |
| Kirkby Stephen | 14/42 | 15/51 |
| Ais Gill | 15/00 | 16/02½ |
| Garsdale | 15w08a ~ 15w25d | 16.08 ~ 16.38 |
| Dent | 15/33 | 16/47½ |
| Blea Moor | 15/40 | 16/53 |
| Settle Jn | 16/02 | 17/10 |
| Hellifield | 16/07 | 17/14½ |
| Skipton | 16w20a ~ 16w35d | 17.33 ~ 17.35 |
| Keighley | 16/51 | 17c51 ~ 17c52 |
| Shipley Leeds Jn | 17/01 | 18/02½ |
| Wortley Jn | 17/16 | 18/21 |
| Leeds | 17c20a ~ 17c25d [P5] | 18.26 ~ 18.30½ |
| Cross Gates | 17/35 | 18/40 |
| Micklefield | 17/45 | 18/48 |
| Church Fenton | 17/52 | 18/53 |
| York | 18L00a ~ 18L35d [P14] | 19.06 ~ ??.?? |
| Thirsk | 18/54 | ? |
| Northallerton | 19/00 | ? |
| Eaglescliffe | 19/17 | ? |
| Stockton | 19.23a ~ 19.25d | ? |
| Hartlepool | 19.48a ~ 19.50d | ? |
| Easington | 20/02 | ? |
| Sunderland | 20.15a ~ 20.17d | ? |
| Pelaw | 20/37 | ? |
| King Edward Bridge Jn | 20/45 | ? |
| Newcastle | 20.48a | ? |