14th January 1984
Lea Valley Railway Circle
Kentish Katabasis
Route : 1Z68 throughout (SR Headcode: 2)
| | |
| --- | --- |
| DEMU | Route |
| 1031 | Watford Junction Wembley Central - Willesden Junction LL - Kensal Green Jn - Camden Road Jn - Dalston West Jn - Broad Street |
| 1031 | Broad Street - Dalston West Jn - Camden Road Jn - Primrose Hill - Willesden SW Sidings - Acton Wells Jn - Kew East Jn - Barnes - Clapham Junction - Brixton - Nunhead - Lewisham - Bromley North |
| 1031 | Bromley North - Lee Spur - Sidcup - Dartford - Gravesend - Grain |
| 1031 | Grain - Gravesend |
| 1031 | Gravesend - Strood - Chatham - Gillingham - Gillingham Yard |
| 1031 | Gillingham Yard - Chatham Dockyard (to gates only?) |
| 1031 | Chatham Dockyard - Gillingham Yard - Faversham - Margate - Richborough sidings - Minster - Canterbury West - Ashford - Maidstone East - Bromley South - Beckenham Junction - New Beckenham - Lewisham - Nunhead - Brixton - Clapham Junction - Kensington Olympia - Wembley Central - Watford Junction |
Notes :
(1) Page originally uploaded with the organiser as Hertfordshire Railtours.
Sources : David Hills (Compiled from contemporary reports), Adrian Brown & Chris Totty



Photo Review
(from 'Chris')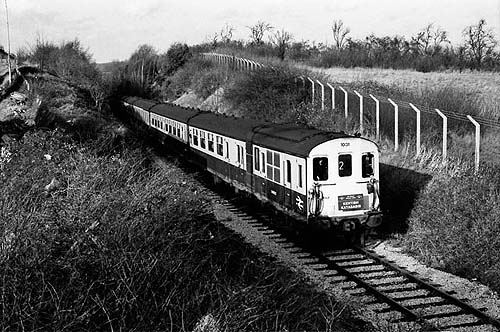 The tour heads towards Gillingham on the Chatham Dockyard branch.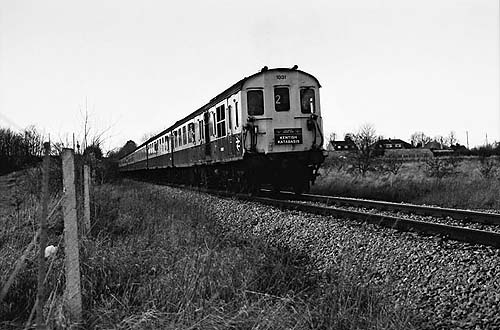 ...and is seen again on the Grain branch, possibly at Sharnal Street.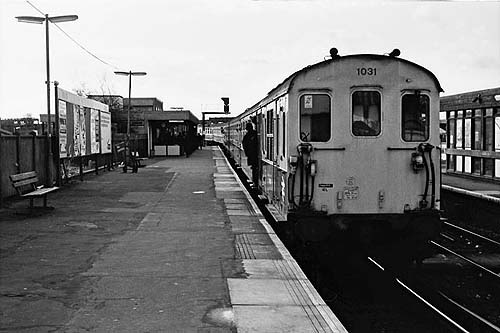 ...and at Strood, heading towards Rochester.


Timings (Booked Only)
(from Chris Totty)
| | |
| --- | --- |
| Location | Booked |
| Watford Junction | 07.10d [DC Bay] |
| Wembley Central | 07.34a ~ 07.35d [DC] |
| Willesden Junction LL | 07.41a ~ 07.42d |
| Kensal Green Jn | 07/45 |
| Camden Road Jn | 07/58 |
| Dalston West Jn | 08/06 |
| Broad Street | 08.12a ~ 08.20d |
| Dalston West Jn | 08/26 |
| Camden Road Jn | 08/36 |
| Willesden Junction | 08/43 |
| South West Sidings | 08c45 ~ 08c47 |
| Acton Wells Jn | 08/53 |
| Kew East Jn | 08/55 |
| Barnes | 09/03 |
| Clapham Junction | 09.08a ~ 09.09d |
| Longhedge Jn | 09/12 |
| Factory Jn | 09/21 |
| Brixton | 09/24 |
| Cambria Jn | 09/25½ |
| Nunhead | 09/28½ |
| Lewisham | 09/32 |
| Parks Bridge Jn | 09/33½ |
| Hither Green | 09/35 |
| Grove Park | 09/37 |
| Bromley North | 09.42a ~ 09.55d |
| Grove Park | 10/00 |
| Lee Jn | 10/07 |
| Sidcup | 10/12 |
| Crayford | 10/15½ |
| Dartford | 10/18 |
| Gravesend | 10/27 |
| Hoo Jn | 10c33 ~ 10c34 |
| Signal D12 | 10t40 ~ 10t42 |
| Grain | 11.05a ~ 11.25d |
| Signal D19 | 11t46 ~ 11t48 |
| Gravesend | 12.02 ~ 12.10 |
| Strood | 12/20 |
| Rochester Bridge Jn | 12/21½ |
| Gillingham | 12.27½ ~ 12.35 |
| Chatham Dockyard Gates | 12.50 ~ 13.00 |
| Gillingham | 13/15 |
| Sittingbourne | 13/24½ |
| Faversham | 13/31½ |
| Herne Bay | 13/45½ |
| Margate | 14/01½ |
| Ramsgate | 14p10a ~ 14p20d |
| Minster South Jn | 14/26 |
| Richborough Sidings | 14.31a ~ 15.03d |
| Minster South Jn | 15/10 |
| Minster | 15/13 |
| Canterbury West | 15/25 |
| Ashford | 15/44 |
| Lenham | 15/57 |
| Maidstone East | 16/07½ |
| Borough Green | 16/21 |
| Otford Jn | 16/26½ |
| Swanley | 16/35½ |
| Bickley Jn | 16/40½ |
| Bromley South | 16.42½ ~ 16.43½ |
| Shortlands Jn | 16/46 |
| Beckenham Junction | 16/47½ |
| New Beckenham | 16/50½ |
| Lewisham | 16.57 ~ 16.58 |
| Nunhead | 17/02 |
| Cambria Jn | 17/07 |
| Brixton | 17/08½ |
| Factory Jn | 17/11½ |
| Longhedge Jn | 17/14 |
| Clapham Junction | 17.17a ~ 17.23d |
| Latchmere Jn | 17/26 |
| Kensington Olympia | 17/33 |
| North Pole Jn | 17/38 |
| Mitre Bridge Jn | 17/40 |
| Willesden No.7 | 17/44 |
| Wembley Central | 17.54a ~ 17.55d |
| Watford Junction | 18.08a |