4th-6th May 1984
D.A.A. Tours
The Anglo-Scottish Freighter
| | |
| --- | --- |
| Locos Used | 20110, 20146, 20211, 20212, 25316, 25321, 26004, 26005, 37149, 37152, 47555, 85036 & 86215 |
| Stock Used | 17137+13529+13517+13607+13589+1738+13522+13540+13521+17132 (1) |
Route : 1Z11 throughout
| | | |
| --- | --- | --- |
| Date | Loco(s) | Route |
| 04/05 | 25316 + 25321 | London Marlebone - West Ruislip - Princes Risborough - Aylesbury - Quainton Road - Claydon LNE Jn - (via Bletchley Flyover) - Fenny Stratford - Bedford (via slow line) - Sharnbrook - (via fast line) - Kettering - Coalville - Burton-on-Trent - Stenson Jn - Sheet Stores Jn - Trent - Long Eaton LC - Toton |
| 04/05-05/05 | 47555 | Toton - Pye Bridge Jn - Pinxton - Kirkby Summit Jn - Shirebrook - Shireoaks East Jn - Worksop |
| 04/05-05/05 | 47555 | Worksop - Woodhouse Jn - Darnall West Jn - Attercliffe Jn - Shepcote Lane Jn - Catcliffe Jn - Treeton North Jn - Rotherham - Aldwarke Jn - Mexborough - Doncaster - (via ECML) - Northallerton - Eaglescliffe - Stockton - Norton South Jn - Ferryhill South Jn - Durham - Tyne Yard - Low Fell Jn - Low Fell Sidings Jn - Bensham Curve Jn - King Edward Bridge West Jn - Newcastle |
| 05/05 | 47555 | (1) Newcastle - signal N93 |
| 05/05 | 47555 | signal N93 - Newcastle (1) |
| 05/05 | 47555 | Newcastle - (2) High Level Bridge - Gateshead - King Edward Bridge North Jn - Newcastle (2) - (2) (via ECML) - Piershill Jn - Abbeyhill Jn - Edinburgh Waverley |
| 05/05 | 26004 + 26005 | Edinburgh Waverley - Haymarket - Gorgie Jn - Craiglockhart Jn - Niddrie West Jn - Portobello Jn - Edinburgh Waverley - Haymarket - Dalmeny - Inverkeithing - Burntisland - Kirkaldy - Thornton South Jn - Thornton West Jn - Cowdenbeath - Dunfermline - Inverkeithing North Jn - Dalmeny - Winchburgh Jn - Polmont - Falkirk Grahamston - Larbert Jn - Stirling |
| 05/05 | 37152 + 37149 | Stirling - Larbert Jn - Falkirk Grahamston - Grangemouth Jn - Fouldubs Jn - Grangemouth West Yard |
| 05/05 | 37149 + 37152 | Grangemouth West Yard - Fouldubs Jn - Grangemouth Jn - Falkirk Grahamston - Carmuirs West Jn - Greenhill Lower Jn - Cumbernauld - Coatbridge Jn - Mossend - Braidhurst Down Loop |
| 05/05 | 20212 + 20211 | Braidhurst Down Loop - Mossend - Whifflet - Sunnyside Jn - Gunnie Engine Reversing Siding |
| 05/05 | 20211 + 20212 | Gunnie Engine Reversing Siding - Sunnyside Jn - Whifflet - Mossend - Braidhurst Down Loop |
| 05/05 | 20212 + 20211 | Braidhurst Down Loop - Mossend - Whifflet North Jn - Langloan Jn - Carmyle Jn - Rutherglen East Jn - Larkfield Jn - Terminus Jn - Shields Jn - Paisley Gilmour Street - Kilwinning - Irvine - Barassie - Ayr |
| 05/05 | 20146 + 20110 | Ayr - Barassie - Irvine - Byrehill Jn - Dubbs Jn - South Beach - West Kilbride - Hunterston Reception (3) |
| 05/05 | 20110 + 20146 | Hunterston Reception - West Kilbride - South Beach - Dubbs Jn - Byrehill Jn - Irvine - Barassie - Barassie Jn (4) |
| 05/05 | 20146 + 20110 | Barassie Jn - Barassie - Kilmarnock |
| 05/05 | 20110 + 20146 | Kilmarnock - Lugton - Barrhead - Muirhouse South Jn - Larkfield Jn - Rutherglen East Jn - Newton - Uddingtson - Mossend South Jn - Motherwell - Hamilton Central - Newton - Kirkhill - Kings Park - Mount Florida - Pollockshields East - Glasgow Central |
| 05/05 | 47555 | Glasgow Central - Polmadie |
| 05/05-06/05 | 47555 | Polmadie - Larkfield Jn - Muirhouse South Jn - Barrhead - Lugton - Kilmarnock - New Cumnock - Dumfries - Carlisle - (via WMCL) - Crewe |
| 06/05 | 85036 | Crewe - Madeley - Norton Bridge - Stafford - Portobello Jn - Bescot - Perry Barr South Jn - Aston - Proof House Jn - Birmingham New Street |
| 06/05 | 86215 | Birmingham New Street - Proof House Jn - Stechford - Coventry - Rugby - Northampton - Hanslope Jn - (via slow line) - Bletchley - Hemel Hempstead - (via fast line) - Watford Junction - London Euston |
Notes :
(1) Following a failed attempt at York (replacing heating/lighting fuses), coach 13522 was replaced with 13455 at Newcastle. LASERman comments: I recall no heat in our coach but body heat had just about got it to a reasonable temperature on the first night when some fool decided it needed to be changed at Newcastle for a coach that seemed far colder and took the next day to warm up.
(2) Was booked via the Blythe & Tyne but a circuit of bridges at Newcastle reported to have a been done as compensation for loss of Blyth & Tyne section (lost due to the miners strike).
(3) Was booked to go to the Ore Terminal, but didn't (miners strike again?).
(4) A query from Adrian Nicholls: I'd like to understand exactly what happened on arrival at Barassie Jn from Hunterston. The train was booked to wait for the 10.20 Euston to Stranraer Harbour to clear the single line to Kilmarnock but this train was late and seeing as the tour was load 10 plus 2x class 20's I am sure the train reversed in Barassie Reversing Sidings (i.e. clear of the mainline and on the formation of the old Troon avoiding line). I have sought advice from two friends on the tour with me and neither can confirm what I suspect took place. Barassie Down Loop adjacent to the mainline is 1180ft long 'now' but was it then as the whole route was modernised with the Ayrshire Coast electrification in the mid 1980's. This is the response from Andy Pullar: my notes indicate the tour reversed in the Barassie Down Passenger Loop not on the formation of the old Troon avoiding line.
Sources : Nick Ross & LASERman



Tour Review
(from Nick Ross)
The tour began with 2 mysteries 1/ how to find the unfamiliar haunt of Maylebone from nearby Baker St and 2/ was 25316 required as it was not in our books having been a recent reinstatement. The consist of 13 Luxury early Mk II's of the FK variety made the prospect of 2 overnights aboard more bearable. An on-time 1015 departure soon saw us thrashing through the Chilterns to Aylesbury where the ever keen barrier gripper was most concerned as hundreds of tour participants passed through, apparently ticket less, to phot the rats from the main footbridge North of the station.
Our compo consist contained a keen track basher and the gentle rolling stagger from Claydon Jn - Bletchley Flyover soon had him well asleep after his early start from Brum. On him waking in the Woburn Sands area he was absolutely withered that we had failed to wake him as he could not count the Claydon-Bletchley track as scored due his slumberous state. This was despite our assurances that we had done the route and it was as dull as ever, a loud Sulzer attack on Sharnbrook ended further debate. Onto the Leicester - Coalville - Burton freight artery one of the few amusing things I was to see as a result of the miner's dispute was to see the tour pass alongside a police football match near a colliery on a break between shifts. Much bellowing of "support the Miners" raised laughter on both sides as our rats plodded North. Approaching Burton some granny was out to wave her Union Jack as the train passed, the importance people attach to big pairs of rats is incredible.
A last pick up at Burton saw large logo liveried months old 56129 pass South on tanks. At Toton the big disappointment of the tour in 47555 was attached for the heavy mileage section to Edinburgh. The requested 40 for the overnight sections had been refused because of a 40's apparent inability to heat the train. This was very ironic as some stock/loco fault meant no EH therms were available anyway. A 2 hour break at York allowed us to wander off to the stabling point, chip shop and pubs. Even on a busy Friday night the tour participants tended to stand out, the bags being a give away! The requested Blyth section was refused be cause of the Miner's dispute but some dive under South of Newcastle compensated the track bashers. An early morning hour's break at Edinburgh saw 200 people doing a move to Haymarket on 27018 on the 0630 Edinburgh-Dundee. Thick fog engulfed Haymarket station approaches as the arrival time for the return train, the 2350 Inverness-Edinburgh portion came. Some wag shouts "it's on the other platform", a few panicked until 47508 drew up at the normal platform. The fun continued with a right time departure for the regulation tour of the Thornton loop before reaching Polmont and Stirling.
Here a "big pair" in 37152/37149 were waiting to back on for the run to Grangemouth. We saw little of the branch as the only operational run round was short of the branch end. "Waste of time, that was" claimed the guard. Back on the main-line the syphons opened up for the run to Moss End. More big pairs emerged from Motherwell Depot with 20211/20212 taking us South in brilliant sun to the black hole itself, Ayr. 20110/20146 were equally well received for the return run back to Glasgow C for an early evening arrival. A third long break here saw us all going in different directions a fair few doing our move of various 303's to Dumbarton then 37081and Ethel 97251 to Queen St on the 1740 from Fort Bill. Saturday night revelry was in full swing walking down Argyll street to Glasgow Central for a 2300 departure behind the ever icy 47555. Our track bashing compo compatriot helped us to fall asleep as he advised how he done a unit to Gourock and got off for a few seconds at every station before rejoining the same service!
"It's a roarer" came the gen as 85036 backed on to replace 47555 at Crewe for a run into New St via BS and Duddeston. Engineering work enforced this devious routing and unfortunately the roarer managed to loose itself at New St rather than run round. 86215 was the last loco to do a now quiet tour back to Euston for a half eight Sunday morning arrival. 83015 backed on as ECS engine but by now we were all homeward bound. A "great tour" was all over.
Nick Ross



Photo Review
(all photos: Chris Thompson)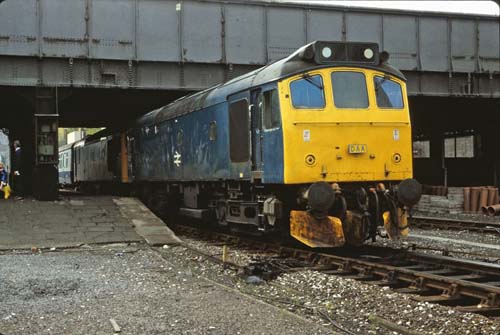 25316 & 25321 at London Marylebone.

47555 pauses at Worksop.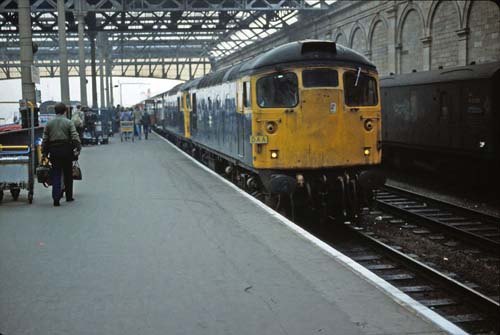 26004 & 26005 at Edinburgh Waverley.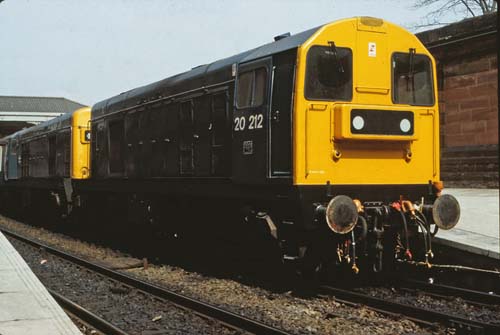 20212 & 20211 at Ayr.


Timings (Booked & Actual)
(from LASERman & Andy Pullar)
| | | |
| --- | --- | --- |
| Location | Booked | Actual |
| Marylebone | 10.15d | 10.16 |
| Neasden South Jn | 10/23 | 10/24 |
| Northolt Jn | 10/31 | 10/34 |
| West Ruislip | 10/35 | 10/37 |
| High Wycombe | 10/55 | 10/52 |
| Princes Risborough | 11/05 | 11/04 |
| Aylesbury | 11.20a ~ 11.50d | 11.17 ~ 11.50 |
| Claydon LNE Jn | 12t00a ~ 12t16d | 12/11 |
| Bletchley Flyover Summit | ??/?? | 12.50 ~ 12.51 |
| foot of flyover | 12/55 | ? |
| Fenny Stratford | ??/?? | 12/56 |
| Millbrook Home Signal | ??/?? | 13.14a ~ 13.15d |
| Bedford St Johns Home Signal | ??/?? | 13.27a ~ 13.31d |
| Bedford St Johns West Jn | 13/30 | 13/34 |
| Bedford St Johns North Jn | ??/?? | 13/36 |
| Bedford Midland | 13c38a ~ 13c40d | 13.42 ~ 13.43 |
| Sharnbrook | 13/58 | 13/57 |
| Wellingborough | 14/09 | 14/09 |
| Kettering | 14/15½ | 14/17 |
| Market Harborough | 14/25½ | 14/28 |
| Kibworth | 14/31 | ? |
| Wigston North Jn | 14/41 | 14/39 |
| Knighton South Jn | 14/46 | 14/44 |
| Saffron Lane LC | 14/48 | 14/47 |
| Desford Colliery | 15/10 | 15/04 |
| Bagworth | 15/17 | 15/12 |
| Mantle Lane | 15/27 | ? |
| Moira West Jn | 15/49 | 15/37 |
| Leicester Jn | 16/07 | 15/58½ |
| Burton-on-Trent | 16.10a ~ 16.11d | 15.59 ~ 16.10 |
| Stenson Jn | 16/19 | 16/19 |
| Sheet Stores Jn | 16/35 | 16/41½ |
| Trent | 16/37 | 16/44 |
| Long Eaton LC | 16/40 | 16/45 |
| Toton | 16L45a ~ 17L00d | 16.47 ~ 17.11 |
| Stanton Gate | 17/09 | ? |
| Trowell Jn | 17/11 | 17/15 |
| Pye Bridge Jn | 17/21 | 17/26 |
| Pinxton | 17/27 | 17/29 |
| Kirkby Summit Jn | 17/37 | 17/36 |
| Mansfield South Jn | 17/46 | 17/40 |
| Shirebrook | 18/00 | 18/50½ |
| Elmton & Cresswell Jn | 18/19 | 17/58 |
| Shireoaks East Jn | 18/31 | 18/30½ |
| Worksop | 18.33a ~ 18.53d | 18.33½ ~ 18.51 |
| Woodhouse Jn | 19/10 | 19/05 |
| Darnall West Jn | 19/16 | 19/13 |
| Attercliffe Jn | 19/18 | 19/15 |
| Shepcote Lane Jn | 19/21 | 19/19½ |
| Treeton North Jn | 19/38 | 19/32 |
| Rotherham | 19/45 | 19/35 |
| Aldwarke Jn | 19/50 | 19/40 |
| Mexborough | 19.57a ~ 20.10d | 19/46 |
| Hexthorpe Jn | 20/18 | 19/53 |
| Doncaster | 20c23a ~ 20c25d | 20.00 ~ 20.07 |
| Shaftholme Jn | 20/31 | 20/12 |
| Temple Hirst Jn | 20/37 | 20/21 |
| Hambleton North Jn | 20/41 | 20/27 |
| Colton Jn | 20/50 | 20/32 |
| York | 20.56a ~ 23.40d | 20.38 ~ 23.54 |
| Thirsk | 00/01 | 00/11 |
| Northallerton | 00/08 | 00/19½ |
| Eaglescliffe | 00/25 | 00/37 |
| Stockton | 00/30 | 00/41 |
| Norton South Jn | 00/33 | 00/45½ |
| Ferryhill South Jn | 00/57 | 01/04 |
| Tursdale Jn | 00/59 | ? |
| Durham | 01/07 | 01/14 |
| King Edward Bridge West Jn | 01/25 | 01/36 |
| Newcastle | 01c27a ~ DIV | 01.39 ~ 02.24 |
| signal N93 | DIV | 02.30½a ~ 02.04d |
| Newcastle | DIV | 02.07½a ~ 02.15d |
| Gateshead | DIV | 02/18 |
| King Edward Bridge North Jn | DIV | 02/23 |
| Newcastle | DIV ~ 01c29d | 02/26 |
| Benton Jn | 01/37 | ? |
| Earsdon | 01/42 | DIV |
| Bedlington | 01/56 | DIV |
| Morpeth North Jn | 01/04 | 02/41 |
| Longhirst LC | 02c09a ~ 02c11d | ? |
| Alnmouth | 02/26 | ? |
| Belford | 02/38 | ? |
| Berwick-upon-Tweed | 02/50 | ? |
| signal EG403 | 02/58 | ? |
| Reston | 03/05 | ? |
| Grantshouse | 03/11 | ? |
| Dunbar | 03/22 | 03/51 |
| Drem | 03/32 | 04/01 |
| Portobello Jn | 03/52 | 04/16 |
| signal EP615 | 03/55 | ? |
| Lochend Jn | 03/58 | 04/22½ |
| Abbyhill Jn | ?DIV? | 04/25 |
| Edinburgh Waverley | 04L03a ~ 04L13d | 04.28 ~ 04.55 |
| Haymarket | 04/16 | 05/58 |
| Haymarket Central Jn | 04/17 | 04/59 |
| Gorgie Jn | 04/19 | 05/00½ |
| Craiglockhart Jn | 04/21 | 05/02 |
| Niddrie West Jn | 04/32 | 05/12 |
| Portobello Jn | 04/40 | 05/15 |
| signal EP615 | 04/43 | ? |
| Lochend Jn | 04/46 | 05/21 |
| Edinburgh Waverley | 04.51a ~ 07.20d | 05.26 ~ 07.20 |
| Haymarket | 07/23 | 07/25 |
| Dalmeny | 07/31 | 07/33 |
| Inverkeithing | 07/38 | 07/38 |
| Burntisland | 07/48 | 07/48 |
| Kirkaldy | 07/58 | 07/58 |
| Thornton South Jn | 08/03 | 08/05 |
| Thornton West Jn | 08/05 | 08/07 |
| Cardenden | 08/12 | 08/12½ |
| Cowdenbeath | 08/18 | 08/19 |
| Dunfermline | 08/25 | ? |
| Inverkeithing North Jn | 08*31a ~ 08*37d | 08.31 ~ 08.34 |
| Inverkeithing | 08/38 | 08/39 |
| Dalmeny Jn | 08*44a ~ 08*48d | ? |
| Winchburgh Jn | 09/03 | ? |
| Linlithgow | 09/08 | 09/04½ |
| Polmont | 09/12 | ? |
| Falkirk Grahamston | 09/19 | 09/19 |
| Carmuirs East Jn | 09/22 | 09/23 |
| Larbert Jn | 09/27 | 09/24 |
| Stirling | 09L38a ~ 09L50d | 09.35 ~ 09.51½ |
| Larbert Jn | 10/01 | 10/04 |
| Carmuirs East Jn | 10/02 | 10/05 |
| Falkirk Grahamston | 10/05 | 10/08½ |
| Grangemouth Jn | 10/07 | 10/09½ |
| Fouldubs Jn | 10/17 | 10/14 |
| Grangemouth West Yard | 10.19a ~ 10.29d | 10.15 ~ 10.26 |
| Fouldubs Jn | 10/31 | 10/28 |
| Grangemouth Jn | 10/37 | 10/32½ |
| Falkirk Grahamston | 10/39 | 10.33½a ~ 10.34 |
| Carmuirs East Jn | 10/42 | 10/38 |
| Carmuirs West Jn | 10/43 | 10/39 |
| Greenhill Lower Jn | 10/46 | 10/41½ |
| Garnqueen North Jn | 11/02 | 10/59 |
| Gartsherrie South Jn | 11/05 | 11/01 |
| Coatbridge Jn | 11/07 | 11/02½ |
| Mossend | 11/12 | ? |
| Mossend North Jn | 11/13 | 11/07 |
| Mossend South Jn | 11/14 | 11/08 |
| Braidhurst Down Loop | 11L17a ~ 11L27d | 11.14½ ~ 11.32½ |
| Mossend South Jn | 11/30 | 11/35½ |
| Mossend North Jn | 11/31 | 11/36½ |
| Mossend | 11/32 | 11/37 |
| Whifflet South Jn | 11/38 | 11/41 |
| Sunnyside Jn | 11/42 | 11/49 |
| Gunnie Engine Reversing Siding | 11.45a ~ 11.58d | 11.50½ ~ 12.05½ |
| Sunnyside Jn | 12/01 | 12/13½ |
| Whifflet South Jn | 12/07 | 12/18 |
| Mossend | 12/09 | ? |
| Mossend North Jn | 12/10 | 12/22½ |
| Mossend South Jn | 12/11 | 12/23½ |
| Braidhurst Down Loop | 12.14a ~ 12.24d | 12.28 ~ 12.40½ |
| Mossend South Jn | 12/27 | 12/45 |
| Mossend North Jn | 12/28 | 12/45½ |
| Mossend | 12/34 | ? |
| Whifflet North Jn | 12/42 | 12/51 |
| Langloan Jn | 12/44 | ? |
| Carmyle Jn | 12/55 | 13/00 |
| Rutherglen East Jn | 12/57 | 13/06 |
| Larkfield Jn | 13/04 | 13/23½ |
| Terminus Jn | 13/06 | 13/13½ |
| Shields Jn | 13/08 | ? |
| Arkleston Jn | 13/13 | 13/22½ |
| Paisley Gilmour Street | 13/15 | 13/25 |
| Elderslie | 13/18 | 13/28 |
| Lochside | 13/30 | 13/36½ |
| Dalry | 13/36 | ? |
| Kilwinning | 13/41 | 13/48½ |
| Irvine | 13/48 | 13/53 |
| Barassie | 13/53 | 13/57 |
| Prestwick | 14/02 | 14/03½ |
| Ayr | 14L10a ~ 14L27d | 14.11 ~ 14.27 |
| Prestwick | 14/32 | 14/36 |
| Barassie | 14/37 | 14/42 |
| Irvine | 14/45 | 14/48 |
| Byrehill Jn | 14/47 | 14/52½ |
| Dubbs Jn | 14/49 | 14/55 |
| South Beach | 14/57 | 15/00½ |
| West Kilbride | 15/04 | 15/08 |
| Hunterston Reception | ? | 15.17a |
| Hunterston Ore Terminal | ??.??a ~ ??.??d | DIV |
| Hunterston Reception | ? | 15.45½d |
| West Kilbride | 15/47 | 15/50 |
| South Beach | 15/55 | 15/54½ |
| Dubbs Jn | 16/03 | 16/09½ |
| Byrehill Jn | 16/05 | 16/12 |
| Irvine | 16/08 | 16/15 |
| Barassie Jn | 16.13a ~ 16.46d | 16.22 ~ 17.06½ [DPL] |
| Kilmarnock | 16.59a ~ 17.20d | 17.24 ~ 17.36 |
| Lugton | 17/38 | 17/51½ |
| Barrhead | 17/44 | 17/58½ |
| Busby Jn | 17/52 | 18/02½ |
| Muirhouse South Jn | 17/56 | 18/05½ |
| Larkfield Jn | 18/05 | 18/07½ |
| Rutherglen East Jn | 18/12 | ? |
| Newton | 18/15 | 18/16½ |
| Uddingston | 18/19 | 18/20½ |
| Mossend West Jn | 18/26 | 18/27½ |
| Mossend South Jn | 18/27 | 18/28½ |
| Motherwell | 18/35 | 18/31½ |
| Hamilton Central | 18/42 | 18/38½ |
| Newton | 18/51 | 18/44½ |
| Kirkhill | 18/54 | 18/49½ |
| Kings Park | 19/00 | 18/55 |
| Queens Park | 19/08 | 19/01½ |
| Pollockshields East | 19/09 | 19/03 |
| Glasgow Central | 19.12a ~ 23.02d | 19.07½ ~ 23.03 |
| Polmadie | 23.10a ~ 23.25d | 23.11½ ~ 23.28½ |
| Larkfield Jn | 23/30 | 23/33½ |
| Muirhouse South Jn | 23/32 | 23/36 |
| Busby Jn | 23/41 | 23/39 |
| Barrhead | 23/47 | 23/43½ |
| Lugton | 23/53 | 23/52 |
| Kilmarnock | 00/03 | ? |
| Hurlford | 00/06 | ? |
| Mauchline | 00/20 | ? |
| New Cumnock | 00/39 | ? |
| Kirkconnel | 00/46 | 00/41 |
| Holywood | 01/10 | ? |
| Dumfries | 01/14 | ? |
| Annan | 01/32 | 01/24½ |
| Gretna Jn | 01/43 | 01/40 |
| Carlisle | 01c53a ~ 02c00d | 01.56½ ~ 02.19 |
| Penrith | 02/26 | 02/19 |
| Tebay | 02/48½ | ? |
| Oxenholme | 02/58 | ? |
| Carnforth | 03/07 | ? |
| Lancaster | 03/11½ | ? |
| Preston | 03/34½ | 03.29½a ~ 03.31½d |
| Euxton Jn | 03/42 | ? |
| Balshaw Lane Jn | 03/44 | ? |
| Wigan North Western | 03/51½ | ? |
| Springs Branch Jn | 03/52½ | ? |
| Winwick Jn | 03/58 | ? |
| Warrington Bank Quay | 04/01 | 04/08½ |
| Acton Grange Jn | 04/02½ | 04/10½ |
| Weaver Jn | 04/07½ | ? |
| Winsford | 04/29 | ? |
| Crewe Coal Yard SB | 04/50½ | ? |
| Crewe | 04L53a ~ 05L03d | 04.32½ ~ 05.00 |
| Madeley | 05/11½ | 05/09½ |
| Norton Bridge | 05/22 | 05/17½ |
| Stafford | 05/30 | 05.25½a ~ 05.31½d |
| Bushbury Jn | 05/48 | 05/46 |
| Portobello Jn | 05/51 | ? |
| Bescot | 05/55 | 05/54 |
| Perry Barr North Jn | 05/59 | 06/00½ |
| Aston | 06/02 | 06/04 |
| Proof House Jn | 06/05½ | 06/07½ |
| Birmingham New Street | 06.08a ~ 06.23d | 06L09½a ~ 06L23½d |
| Proof House Jn | 06/26 | 06/25 |
| Stechford | 06/29 | 06/28 |
| Coventry | 06/39 | 06/37½ |
| Rugby | 06/48 | 06/46 |
| Long Buckby | 06/56 | 06/54 |
| Northampton | 07/05 | 07/02 |
| Hanslope Jn | 07/14 | 07/10 |
| Bletchley | 07/28½ | 07/18 |
| Tring | 07/37 | 07/31½ |
| Watford Junction | 07/53 | 07/53 |
| Willesden WL Jn | 08/13 | ? |
| Euston | 08.21a | 08.20½ |