19th May 1984
Diesel & Electric Group
The Southern Mariner Railtour
| | |
| --- | --- |
| Locos Used | 33106 & 73102 |
| Stock Used | at least 4TC 421 |
Route : 1Z48 throughout
London Bridge to Hastings : SR headcode 48
Hastings to London Bridge : SR headcode 11
| | |
| --- | --- |
| Loco | Route |
| 73102 | London Bridge - Peckham Rye - Tulse Hill - Streatham - Sutton - Epsom - Leatherhead - Effingham Junction - Guildford - Haslemere - Havant - Hilsea - Portsmouth Harbour |
| 33106 | Portsmouth Harbour - Hilsea - Havant - Chichester - Worthing - Hove - Preston Park |
| ?33106? | Preston Park - Brighton |
| 33106 | Brighton - Lewes - Polegate - Eastbourne |
| 33106 | Eastbourne - Pevensey Bay - Hastings - Ore - Rye - Ashford |
| 33106 | Ashford - Folkestone East |
| 33106 | Folkestone East - Folkestone Harbour |
| 33106 | Folkestone Harbour - Folkestone East |
| 33106 | Folkestone East - Dover Western Docks |
| 33106 | Dover Western Docks - Deal - Sandwich - Ramsgate - Margate - Herne Bay - Faversham - Sittingbourne - Gillingham - Strood - Gravesend |
| 33106 | Gravesend - Hoo Jn - Grain |
| 33106 | Grain - Hoo Jn - Gravesend - Dartford - Woolwich Arsenal - Blackheath - Lewisham - New Cross Gate - London Bridge |
Notes:
(1) A tour using Sarah Siddons the same day was described as cancelled (further details required). It was also commented that between Barnham & Chichester the tour should have passed a VSOE excursion (further details required). At one of the locations (Chris Tompson believes Eastbourne) there was a DMU parked up with Excursion in the destination headcode and stickers saying 1Z36. Vehicle 53890 was in the consist - was this a railtour, if so further details are required.
(2) Route confirmation required.
Sources : various including Chris Thompson



Photo Review
(all photos from: Chris Thompson)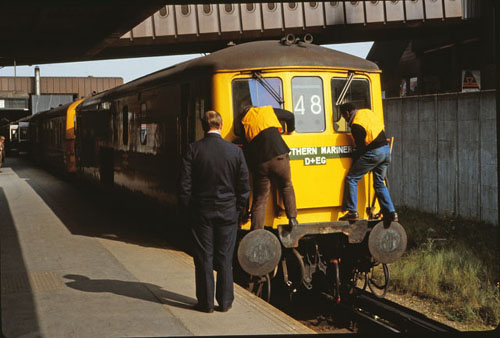 The headboard goes on 73102 at London Bridge.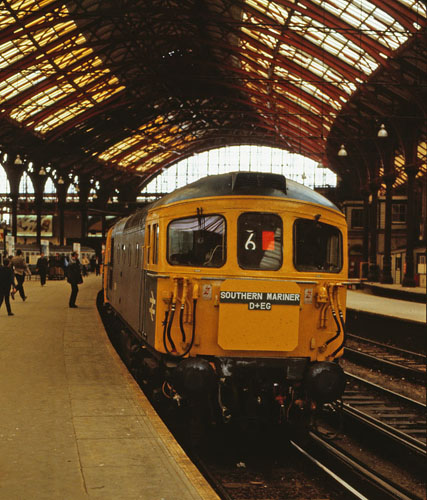 33106 at Brighton.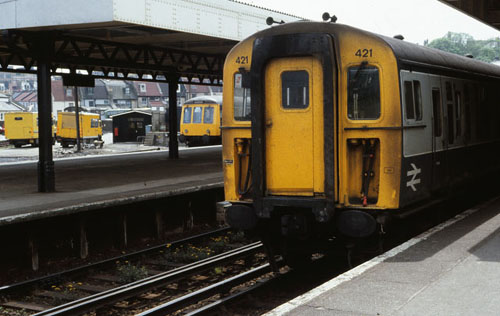 421 at Hastings. The DMU in the background was also charter, 1Z36.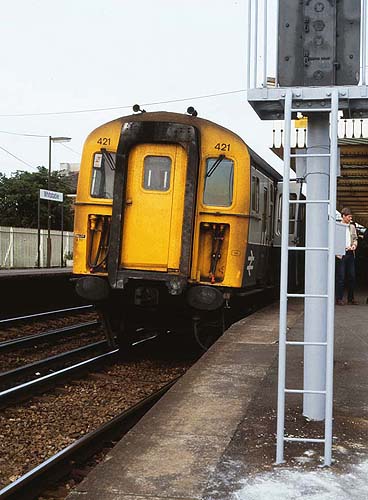 421 at Whitstable.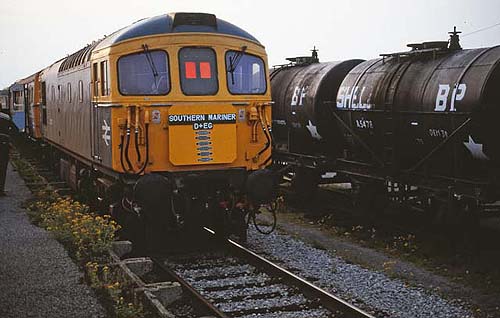 33106 at Grain.


Timings (Booked Only)
| | |
| --- | --- |
| Location | Booked |
| London Bridge | 09.30d |
| South Bemondsey Jn | 09/33 |
| Peckham Rye | 09/36 |
| Tulse Hill | 09/40 |
| Streatham | 09/43 |
| Streathan South Jn | 09/44 |
| Mitcham Junction | 09/47½ |
| Sutton | 09/54½ |
| Epsom | 10c03a ~ 10c03d |
| Leatherhead | 10/10 |
| Effingham Junction | 10c18a ~ 10c18d |
| Guildford | 10/29 |
| Shalford Jn | 10/31 |
| Haslemere | 10/50 |
| Petersfield | 11/00 |
| Havant | 11/17 |
| Portcreek Jn | 11/21 |
| Portsmouth & Southsea | 11/27 |
| Portsmouth Harbour | llL30a ~ 11L45d |
| Portsmouth & Southsea | 11/48 |
| Portcreek Jn | 11/53 |
| Havant | 11/57 |
| Chichester | 12/07 |
| Barnham | 12/13 |
| Arundel Jn | 12/17 |
| Worthing | 12/30 |
| Shoreham by Sea | 12/39 |
| Hove | 12/46 |
| Preston Park (up loop) | 12.49a ~ 12.55d |
| Brighton | 12.58a ~ 13.08d |
| Lewes | 13/19 |
| Southerham Jn | 13/22 |
| Polegate | 13/33 |
| Eastbourne | 13.39a ~ 13.49d |
| Hampden Park | 13/53 |
| Pevensey & Westham | 13/58 |
| Bexhill | 14/07 |
| Bopeep Jn | 14/11 |
| Hastings | 14.15a ~ 14.24d |
| Ore | 14/27 |
| Rye | 14/42 |
| Appledore | 14/51 |
| Ashford | 15.03a ~ 15.13d |
| Folkestone East | 15.31a ~ 15.41d |
| Folkestone Harbour | 15.46a ~ 16.01d |
| Folkestone East | 16.06a ~ 16.20d |
| Dover Western Docks | 16.30a ~ 16.45d |
| Dover Priory | 16/50 |
| Buckland Jn | 16/52 |
| Deal | 17/04½ |
| Sandwich | 17/09 |
| Ramsgate | 17c22a ~ 17c23d |
| Margate | 17/34 |
| Herne Bay | 17/49 |
| Whitstable | 17p55a ~ 18p10d |
| Faversham | 18/19 |
| Sittingbourne | 18/26 |
| Gillingham | 18/38 |
| Rochester Bridge Jn | 18/44 |
| Strood | 18/45 |
| Gravesend | 18.55a ~ 19.01d |
| Hoo Jn Staff Halt | 19.07a ~ 19.08d |
| Signal D12 | 19t13½a ~ 19t16d |
| Grain | 19.39a ~ 19.54d |
| Signal D12 | 20t27a ~ 20t27d |
| Signal D19 | 20/31 |
| Gravesend | 20/37 |
| Dartford | 20/46 |
| Crayford Creek Jn | 20/48½ |
| Woolwich Arsenal | 20/55½ |
| Charlton | 20/59 |
| Blackheath | 21/02 |
| Lewisham | 21/03½ [RL] |
| New Cross Gate | 21/07 |
| North Kent East Jn | 21/08 |
| Spa Road Jn | 21/10 |
| London Bridge | 21.12a |