28th May 1984
L.N.E.R. Society Railtours
The Settle & Carlisle Express
| | |
| --- | --- |
| Locos Used | 40015, 85001 & 86218 'Planet' |
Route : 1T19 throughout
| | |
| --- | --- |
| Loco | Route |
| 86218 | London Euston - Northampton - Rugby - (via WCML) - Carlisle |
| 40015 | Carlisle - Petteril Bridge Jn - (via S&C) - Settle Jn - Hellifield - Clitheroe - Blackburn - Lostock Hall Jn (1) - Farington Jn - Wigan North Western |
| 85001 | Wigan North Western - (via WCML) - Rugby - Northampton - London Euston |
Notes :
(1) This tour Page was initially uploaded with the change of loco shown to have taken place at Preston, however a subsequent check of my haulage records gives that the change in fact took place at Wigan North Western. This seems to be further confirmed by my track-bashing records which indicate that I scored the Lostock Hall Jn - Farington Jn curve on this date. Confirmation of the routing and that the loco change did indeed take place at Wigan North Western would thus be appreciated!
Sources : Gary Thornton (joined/left train at Northampton) & Harry Harper



Tour Review
(by Gary Thornton)
The day after being a passenger on the LNER Society Railtours tour to Portsmouth (for the Isle of Wight) I was out again on another LNER outing - this time to Carlisle! A colleague joined me and we had a short journey to Northampton to join the tour, headed by 86218. A straight run down the WCML to Carlisle was uneventful (to the point I can;t think of anything to say about it!).
During the layover at Carlisle we walked part of the closed track towards Kingmoor, got refused a look round the depot, and headed back to the station for some spotting and photting.
We were heading home via the Settle & Carlisle lien (which I required at this time) so I was expecting a class 47 to appear but was pleasantly surprised when 40015 turned up, shunted around then got bolted to our train. A few cranks appeared and I think LNER let them on.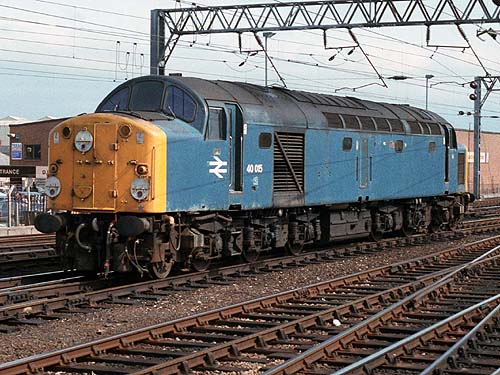 40015 at Carlisle about to couple-up for the run home (photo: Gary Thornton)
The route took us from the S&C via Clitheroe to Preston Wigan North Western (see note 1 above) where we swapped to an electric for the journey home - 85001 - a loco I had already travelled behind on another LNER Society Railtours trip back in 1979 :-(
A good couple of days railtouring - simple but enjoyable!