28th July 1984
R.E.S.L.
The Plant Invader
| | |
| --- | --- |
| Locos Used | 20054, 20093, 33020, 33028, 33031, 33039, 56011 & 58010 |
| Stock Used | SR air braked boat train set |
Route : 1Z69 throughout
| | |
| --- | --- |
| Loco(s) | Route : |
| 33028 + 33031 | London Waterloo - Clapham Junction - Brent Jn |
| 56011 | Brent Jn - St Albans - Bedford - Kettering - Oakham - Loughborough - Toton |
| 58010 | Toton - Trowell Jn - Chesterfield - Darnall - Tinsley Freight Yard |
| 20054 + 20093 | Tinsley - Rotherham - Doncaster (1) |
| 20054 + 20093 | Doncaster - Mexborough - Sheffield |
| 58010 | Sheffield - Derby |
| 56011 | Derby - Leicester - Market Harborough - Wellingborough - (fast line?) - Bedford - St Albans - Brent Jn |
| 33020 + 33039 | Brent Jn - Barnes - Clapham Junction (2) |
Notes :
(1) For visit to Doncaster Works Open Day. Andy Cole has a photo of the tour at Doncaster with 08876 at the south end - was this used on the tour or was it just to shunt the stock out of the station whilst tour participants visited the works?
(2) Train terminated at Clapham Junction due to sticking brake blocks.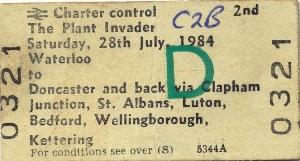 A tour ticket, courtesy of Brian Halford.
Sources : Alan Costello & PRAR



Timings (Booked Only)
(from PRAR)
| | | | | |
| --- | --- | --- | --- | --- |
| M.C | Location | Booked (out) | Booked (rtn) | M.C |
| 0.00 | Waterloo | 08.00d | ??.??a | ???.?? |
| 2.81 | Queenstown Road | 08/04 | ??/?? | ???.?? |
| 3.93 | Clapham Junction (WL plat) | 08.07a ~ 08.09d | 21.12a | 392.14 |
| 7.09 | Barnes | 08/15 | 21/07 | 388.98 |
| 9.43 | New Kew Jn | 08/20 | 21/02 | 386.64 |
| 9.98 | Kew East Jn | 08/23 | 20/59 | 386.09 |
| 10.72 | South Acton Jn | 08/25 | 20/57 | 385.35 |
| 12.50 | Acton Wells Jn | 08/28 | 20/54 | 383.57 |
| 15.44 | Dudding Hill Jn | 08/32 | 20/50 | 380.63 |
| 16.48 | Brent Jn | 08L34 ~ 08L54 | 20L28 ~ 20L48 | 379.59 |
| 17.51 | Hendon | 08/58 [FL] | 20/24 | 378.56 |
| 30.32 | St Albans City | 09.10a ~ 09.11d | 20.06a ~ 20.08d | 365.75 |
| 40.67 | Luton | 09.22a ~ 09.23d | 19.49a ~ 19.51d | 355.40 |
| 50.73 | Flitwick | 09/32 | 19/37 | 345.34 |
| ??.?? | Bedford South Jn | 09/39 [SL] | ??/?? | ???.?? |
| 60.35 | Bedford Midland | 09.41a ~ 09.43d | 19.24a ~ 19.26d | 335.83 |
| ??.?? | Bedford North Jn | 09/45 [FL] | ??/?? | ???.?? |
| 70.18 | Sharnbrook | 10/00 | 19/17½ | 236.00 |
| 75.68 | Wellingborough | 10.09a ~ 10.11d | 19.06a ~ 19.08d | 320.50 |
| 81.24 | Kettering Jn | 10/19 [SL] | 18/59 [ML] | 314.94 |
| 82.55 | Kettering | 10.22a ~ 10.24d | 18.48a ~ 18.57d | 313.63 |
| 85.50 | Glendon North Jn | 10/29 | 18/41 [SL] | 310.68 |
| - | Market Harborough | - | 18.29a ~ 18.30d | 302.71 |
| - | Kibworth | - | 18/23 | 296.75 |
| - | Wigston North Jn | - | 18/16 | 289.75 |
| - | Leicester | - | 18.08½a ~ 18.10½d | 286.60 |
| - | Sheet Stores Jn | - | 18/03 | 265.91 |
| - | Spondon | - | 17/43 | 259.80 |
| - | London Road Jn | - | 17/39 | 257.37 |
| - | Derby | - | 17L23 ~ 17L38 | 257.18 |
| - | Ambergate Jn | - | 17/09½ | 247.27 |
| 100.77 | Manton | 10/45 | - | - |
| 104.03 | Oakham | 10/49 | - | - |
| 115.82 | Melton Mowbray | 10/59 | - | - |
| 125.59 | Syston East Jn | 11/10 | - | - |
| 125.80 | Syston East Jn | 11/12 | - | - |
| 133.07 | Loughborough | 11/21 | - | - |
| 140.69 | Trent | 11/28 | - | - |
| 141.82 | Trent Jn | 11/29 | - | - |
| 142.82 | Toton Centre | 11L32 ~ 11L47 | - | - |
| 155.35 | Pye Bridge Jn | 12/04 | - | - |
| ???.?? | Morton | 12/09 | - | - |
| 163.63 | Clay Cross South Jn | 12/16 | 17/00 | 237.17 |
| 167.74 | Chesterfield | 12/20 | 16/55 | 233.04 |
| - | Dronfield | - | 16/51 | 227.77 |
| - | Dore | - | 16/48 | 225.04 |
| - | Sheffield | - | 16L31 ~ 16L41 | 220.79 |
| - | Wincobank Station Jn | - | 16/24 | 217.54 |
| 177.08 | Beighton Jn | 12/32 | - | - |
| 178.45 | Woodhouse Jn | 12/36 | - | - |
| 181.82 | Darnall | 12/42 | - | - |
| 184.38 | Shepcote Lane | 12/47 | - | - |
| 185.62 | Tinsley Express Frieght Yard | 12L52 ~ 13L02 | - | - |
| 186.77 | Treeton North Jn | 13/10 | - | - |
| 189.53 | Rotherham | 13/15 | 16/22 | 215.33 |
| 192.03 | Aldwarke Jn | 13/19 | 16/18 | 212.83 |
| 195.40 | Mexborough | 13/26 | 16/11 | 209.46 |
| 200.43 | Hexthorpe Jn | 16/05 | 16/05 | 204.43 |
| 202.43 | Doncaster | 13.38a | 16.00d | 202.43 |