8th September 1984
The Railway Enthusiasts Society Limited
Solway Firth Express
| | |
| --- | --- |
| Locos Used | 33003, 73134 & 40122 |
Route : 1Z39 throughout
| | |
| --- | --- |
| Loco | Route |
| 73134 | London Victoria - Reading |
| 40122 | Reading - Oxford - Banbury - Leamington Spa - Kenilworth - Coventry - Birmingham International - Stechford - Aston - Perry Barr North Jn - Bescot - Bushbury Jn - Stafford - (via WCML) - Carlisle |
| 40122 | Carlisle - (via S&C) - Settle Jn - Keighley - Shipley - Whitehall Jn - Engine Shed Jn - Methley Jn - Altofts Jn - Normanton - Turners Lane Jn - Hare Park Jn - Moorthorpe - Swinton - Rotherham Masborough - Sheffield - Dore Station Jn - Chesterfield - Ambergate Jn - Derby - Spondon - Trent - (via MML) - Cricklewood (1) |
| 33003 | Cricklewood - London St Pancras (1) |
Notes :
(1) Was booked to return via Dudding Hill & Acton Wells Jn to Reading & Victoria but there was a "crewing problem" (guard did not knwo the route) hence the diversion into St Pancras.
Sources : Nick Greaves, Ian Hudson, Harry Harper & Dale W FickÚs



Tour Review
(from Ian Hudson)
The tour started I Believe from Victoria with a 73 as far as Reading. From here 40122 produced (although some had predicted 028) and wheeled it's way to Banbury.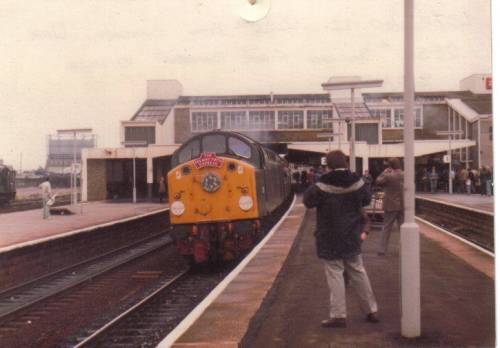 40122 captured on film at Banbury (photo: Ian Hudson)
The route there after was Coventry-Stechford-Aston-Bescot-Bushbury-Stafford then WCML to Preston. on arriving, Preston panel (who these days don't seen to be able to have more than one train moving at a time) seemed to have arranged a nice run by as 122 and 192 (on a Blackpool-Euston) arrived simultaneously in adjacent platforms. with 192 released it was run back to stop alongside 122, sadly opposite side of the island platform. Great phot, if you had a fish eye lens on you!
From here 122 received a reasonable battering over Shap to a brief break at Carlisle.
With 122 back in harness the "de rigor" trip over the S&C took place and down the West Riding to a driver change on the Leeds avoider, thence Engine Shed Junc-Methly-Altofts-Normanton-Turners Lane-Hare Park-Moorthorpe. From there it was direct Sheffield and Derby giving a rare old "redging" of the old girl, with a stop at St Albans, down to Cricklewood.
At this point (as ever with 80s tours) the apparent good performance up to now had obviously streached the fabric too far and things started to unravel.
122 was promptly detached and blasted off in the direction of St Pancras. 33003 was swiftly attached and all seemed well. Movement was absent from the equation however and after a long period of watching the power saving floodlights of Cricklewood EMU depot turns themselves on and off word passed of a small problem.
The guard provided didn't have a tube of glue about the route to the Western Region, the trains route back to Reading and Victoria, so with no one else available it wasn't going there!
Thus a slow Sulzer plod took place into St Pancras where participants were treated to the sight of 122 contenting itself with a parcels train!
As a side bar, it's odd to reflect that a certain magazine of the day published a nice photo of 122 at St Pancras (except it was on yellow paper, you know the one I mean) but made no reference to 33003s presence there even though it was in the corner of the phot! Odd coves magazine editors.
A rewarding day out none the less, what price to repeat it I wonder...