16th September 1984
Hertfordshire Railtours
The Midland Macedoine
| | |
| --- | --- |
| Locos Used | 45019, 45107, 56020, 56107 & 58007 |
| Stock Used | 5590+1859+21268+13401+13398+13388+13404+13394+13393+34641 |
Route : 1Z27 throughout
| | |
| --- | --- |
| Loco(s) | Route |
| 56107 | London St Pancras - Luton - Bedford - Kettering - Corby - Melton Mowbray - Syston South Jn - Leicester |
| 56107 | Leicester - Loughborough - Trent Jn - Spondon - Derby (1) |
| 58007 (2) | Derby - Sinfin Central |
| 45107 (3) | Sinfin Central - Derby |
| 58007 | Derby - Spondon - Trent Jn - Toton - Clay Cross South Jn - Chesterfield - Dore South Jn - Dore West Jn - Edale - Chinley East Jn - Chinley South Jn - Peak Forest - Buxton Headshunt |
| 45019 | Buxton Headshunt - Buxton |
| 58007 | Buxton - Dove Holes - Hazel Grove - Edgeley Jn - Stockport - Manchester Piccadilly |
| 58007 | Manchester Piccadilly - Stockport - Macclesfield - Stoke-on-Trent - Uttoxeter - Stenson Jn - Derby |
| 56020 | Derby - Loughborough - Leicester - Market Harborough - Bedford - Luton - London St Pancras |
Notes :
(1) Having arrived from London, 56107 failed on the train at Derby and was dragged off by 08842, to be replaced for the top & tail move to/from Sinfin by 45107, meanwhile 58007 was attached to the other end.
(2) 45107 on rear.
(3) 58007 on rear.
Sources : Paul Bettany (joined train at St Pancras, left train at Derby),
Craig Simmons, Roger Elliott, Robin Addison, Mike Tetlow & LASERman



Photo Review
(all photos from: 'Chris')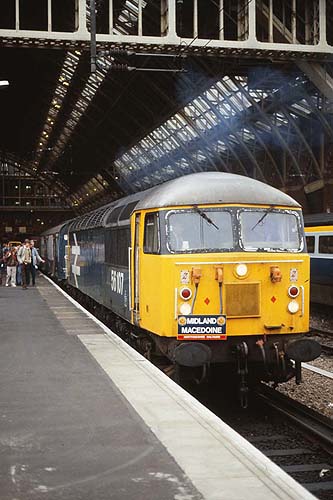 56107 at St Pancras at the start of the day.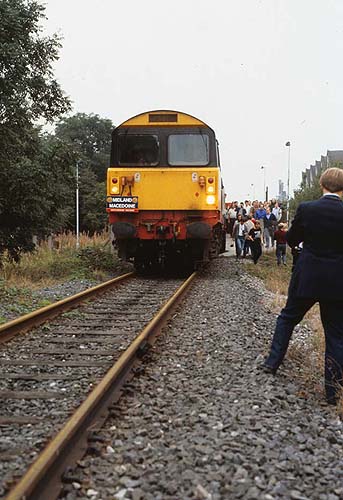 58007 at....?Sinfin Central?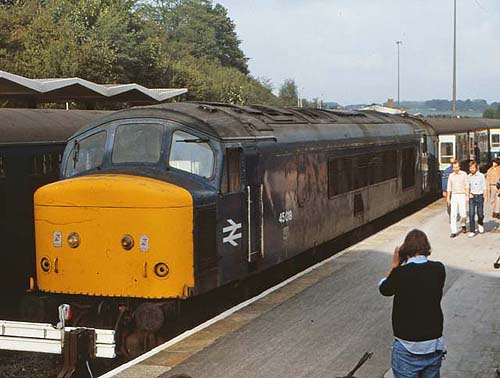 45019 at Buxton.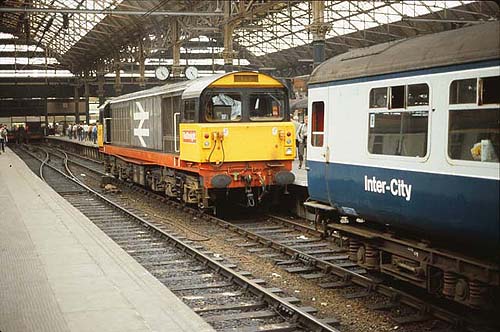 58007 at Manchester Piccadilly.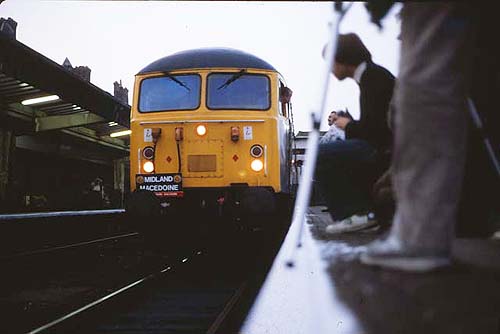 56020 at Derby in the evening, about to leave to back to London.


Timings (Booked & Actual)
(from Robin Addison & LASERman)
Location

Booked

Actual

Booked

Actual

St Pancras

09.05d

09.22½ [P3/FL]

22.00a

21.55 [P7]

West Hampstead

09/12

09/28

21/52

21/46½

Cricklewood South Jn

[GL]

[SL]

?

?

Hendon

09/20

?

21/45

21/40

Silkstream Jn

09/24

?

?

21/38½ [GL]

Radlett Jn

?

[FL]

?

[SL]

Radlett

?

09/33½

21/37

?

St Albans City

09/34

09/45½

21/32

21/25

Luton

09.43a ~ 09.44d

09.54½ ~ 09.55½

21.18a ~ 21.20d

21.14½ ~ 21.15½

Leagrave

?

[SL]

?

?

Flitwick

09/55

10/06

21/07

21/03

Flitwick Jn

?

[FL]

?

?

Bedford South

10/06 [SL]

10/14 [SL]

20/56½

?

Bedford Midland

10.08a ~ 10.09d

10.16 ~ 10.17

20.52a ~ 20.54d

20.46½ ~ 20.53½

Bedford North

?

[FL]

20/51

?

Sharnbrook

10/17

?

20/44½

20/39

Wellingborough

10/26

10c31 ~ 10c33½

20/36½

20/32

Kettering Jn

10/32 [SL]

10/40 [SL]

?

?

Kettering

10/34

10/41½

20/30½

20/26½

Glendon South Jn

10/38

10/44½

Manton Jn

10/54

11/03

Oakham

10/58

11/06

Melton Mowbray

11/08

11/15½

Syston South Jn

11/20

11/29½

Market Harborough

20/19½

20/18

Kibworth

20/14½

20/13½

Wigston North Jn

20/07½

20/08

Leicester

11.27a ~ 11.39d

11.37½ ~ 11.48½ [P4]

19.59a ~ 20.02d

20.02 ~ 20.03½

Syston South Jn

11/46

11/54

19/53

19/56½

Loughborough

11/54

11/59½

19/46½

19/51

Trent Jn

11/58

12/06

19/40

?

Sheet Stores Jn

11/58½

12/10

19/39½

?

Spondon

12/09

12/19½

19/32

19/40

London Road Jn

12/12

?

19/28

19/37

Derby

12L13a ~ 12L23d

12.25½ ~ 13.29½

19L12a ~ 19L27d

19.21 ~ 19.37

Melbourne Jn

12/27

13/33½

Sinfin Central

12.31a ~ 12.45d

13.36 ~ 13.43

Melbourne Jn

12/49

13/46½

Derby

12L53a ~ 13L08d

13.51½ ~ 13.56½

London Road Jn

13/09

13/57½

Spondon

13/13

14/00½

Sheet Stores Jn

13/19

14/07½

Trent

13/21

14/09

Trowell Jn

13/31

14/14

Pye Bridge Jn

13/40

14/23½

Morton

13/45

?

Clay Cross South Jn

13/52

14/30

Chesterfield

13/56

14/33½

Dronfield

14/01

14/39

Dore South Jn

14/07

14/42½

Dore West Jn

14/08½

14/43½

Totley Tunnel East

14/10

14/44½

Grindleford

14/16

14/48½

Edale

14/27

14/58

Chinley East Jn

14/44

15/03

Chinley South Jn

14t47a ~ 14t49

15.09½ ~ 15.10

Peak Forest South

15/09

15/22

Great Rocks Jn

15/34

15/25

Buxton Headshunt

15L45 ~ 16L10

15.41 ~ 16.13

Buxton

16L20a ~ 16L40d

16.15½ ~ 16.35

Furness Vale

16/58

16.50 ~ 16.50½

Stenson Jn

19/07

?

North Stafford Jn

19/06

19/12½

Tutbury

18/57½

19/07

Uttoxeter

18/48½

18/59

Cresswell

18/39½

18/49½

Stoke Jn

18/26½

18/39

Stoke-on-Trent

18/25

18.35½ ~ 18.37

Kidsgrove

18/15½

18/28½

Macclesfield

18/06½

18/10½

Cheadle Hulme

17/54½

18/00½

Edgeley Jn

17/12

17/08

17/52

17/57

Stockport

17/14

17/10

17/51

17/55½

Heaton Norris Jn

17/16

17/11½

17/49½

17/51

Slade Lane Jn

17/19

17/16

17/46½

17/46

Manchester Piccadilly

17.23a

17.20 [P5]

17.42d

17.42½ [P5]