28th December 1984
R.E.S.L.
The Royal Scot
| | |
| --- | --- |
| Locos Used | 20048, 20067, 26042, 40086, 40152, 85021 & 86318 |
Route : 1Z96 throughout
| | |
| --- | --- |
| Loco(s) | Route |
| 85021 | Euston - (via WCML, Trent Valley) - Crewe |
| 40152 + 40086 | Crewe - (via WCML) - Polmadie |
| 20048 + 20067 | Polmadie - Glasgow Central |
| 26042 | Glasgow Central - Polmadie |
| 40086 + 40152 (1) | Polmadie - Cambuslang - (via WCML) - Crewe |
| 86318 | Crewe - (via WCML) - Euston |
Notes :
(1) Mark Honey comments that 40152 was dead-in-tow as far as Cambuslang and that the handbrake had been left on on 40086. Both were sorted at Cambuslang to enable them to continue.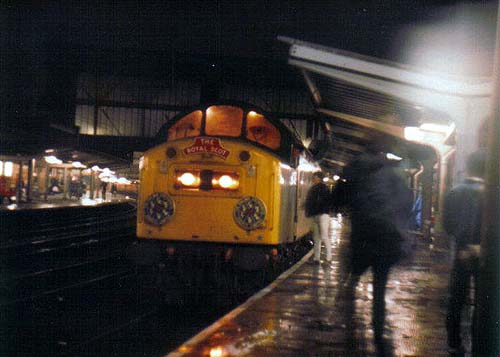 40152 & 40086 at Carlisle (photo: 'Bista')
Sources : Jake Atkinson, PRAR & Paul Green



Tour Review
(by Mark Honey)
So, fast forward to December 28th, where the world was in limbo between Christmas and New Year. The word going round was that the remaining 40's were to be eliminated in January. So, with the others we trudged through the snow at Nuneaton and waited. 85021 roared in early and treated us to a high speed thrash which probably had something to do with the fact that the 07.45 Euston-Glasgow was right up our tail lamp. We arrived at Crewe about 15 early to be greeted by the news that 40086+40152 were doing the job. BR had already decreed that pairs were not guaranteed by sheer lack of numbers and not all remaining machines had operable MU gear, so Christmas definitely had arrived!
I need to change tack here. Those of you who had chased 40's over the years, whether you were young, old, pro-40, anti-40, whatever you were, if you just happened to be on that tour and you can remember the 'send off' from these old veterans, you will smile to yourself, close your eyes and relive the memory of how two ancient machines could be so mercilessly hammered to within an inch of their virtually extinct lives. I'm sure we all have our own private memories of our own 'thrash' experiences, but I have never heard locos punished like this.
It was a surreal day; freezing with wet clingy snowy and with poor light, pretty miserable in fact. It summed up the day for me as veteran machines flew northwards. Each stop, crew change and signal check seemed to herald more of the same treatment as each crew seemed to realise the "'who cares if we break 'em, we'll be shaving with 'em in a few weeks time" scenario. This went on until Polmadie where the twins came off as 16-wheelers are banned from Glasgow Central (some Peak came off there a few years apparently). This gave us a chance to bag 20048+067 for the last lap into Central station.
We had time for a wander round Glasgow before setting off back. Not much was done due to the freezing weather - and it had really started to close in... Very nice to get 26042 to stagger with our dozen or so Mk1's back to Polmadie where it was swapped for the blue beasts. Alas, the progress was slow, with 40152 dead and 40086 crawling at a stagger. Something was definitely amiss as the smell of burning traction motors wafted back along the train. So - we halted at Cambuslang to sort it out. It also appeared that the handbrake on 40086 had been left on, but both locos were put right and '152 was started successfully. Sighs of relief all round.
The return saw some amazing efforts as the pair attempted to reach Mach 1, with decibels and sparks all round as the successive crews did their best to pull them apart. Was this some crazy syndicate amongst the drivers that day to win the 'Honey, I blew the up the 40's' prize? The run up to full power from Carlisle was wonderful, the lift off from Preston outstanding and the run between Warrington and Crewe was utterly blistering!
We roared into Crewe and so heralded the end of a cracking finale.
There was a twist in the tale - well nearly. The replacement electric was not available so we waited and waited some more and then wondered maybe, just maybe we should see if we could take them further south? Alas no. 86318 turned up.
The moral of the story? Don't judge a battered 40 by its cover....