28th December 1984
The Steam Locomotive Operators' Association
Santa Steam Special
Locos Used
25080, 40118, 81022, 85025 & steam: 777 'Sir Lamiel' & 4472 'Flying Scotsman'
Stock Used
[1] : booked for load 12
[2] : booked for load 11
Route : 1T26 throughout
| | | |
| --- | --- | --- |
| Loco(s) | Stock | Route |
| 85025 | [1] | London Euston - (via WCML, Weedon & Trent Valley) - Carnforth |
| 40118 | [1] | Carnforth - Wennington - Settle Jn - Hellifield (1) - Skipton |
| 40118 + 25080 | [1] | Skipton - (1) Hellifield - Settle Jn - (via S&C) - Appleby |
| 777 | [1] | Appleby - (via S&C) - Settle Jn - Hellifield |
| 4472 | [1] | Hellifield - Settle Jn - Wennington - Carnforth |
| 81022 (2) | [2] | Carnforth - (reverse of outward route) - Stafford - Wolverhampton - Dudley Port - Soho South Jn - Birmingham New Street - Proof House Jn - Stechford - Birmingham International - Coventry - Rugby - (via WCML, Weedon) - London Euston |
Notes :
(1) Route confirmation required - above is from booked timings. Booked reversal point on outward leg was Hellfield. Timings sheet gave the tour name as 'Santa Steam Pullman', the tour itinerary gave it as 'Santa Steam Special' and the ticket as 'The Santa Special'....take your pick! The layover at Appleby included a visit to Santa's Grotto...
(2) A railtour itinerary seen by the Webmaster with traction details filled in by tour participant John Broderick listed the return electric traction 'as morning' however in light of info already provided this is assumed to have been a false assumption on his part, though positive confirmation of the use of 81022 rather than 85025 would be appreciated just to close out the discrepancy.
Sources : Steven Fort, Alan Baylis, Gary Thornton, Gavin Hamilton & Ian McDonald



Photo Review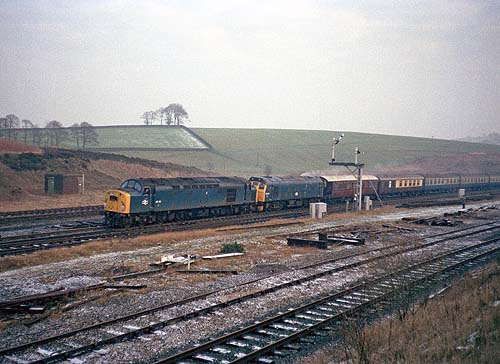 40118 & 25080 depart Hellifield for Appleby (photo: Steven Fort)

Ian McDonald's ticket.


Timings (Booked Only)
(from Ian McDonald)
| | | | | |
| --- | --- | --- | --- | --- |
| Miles | Location | Booked (out) | Booked (rtn) | Miles |
| 0.0 | Euston | 07.50d | 21.00a | 631.6 |
| 5.4 | Willesden Junction | 07/57 | 20/52½ | 626.2 |
| 17.4 | Watford Junction | 08.06a ~ 08.07d | 20.37a ~ 20.39d | 614.2 |
| 31.7 | Tring | 08/18½ | 20/26 | 599.9 |
| 46.7 | Bletchley | 08/28½ | 20/15½ | 584.9 |
| 56.5 | Hanslope Jn | 08/34 | 20/06 | 575.1 |
| 82.6 | Rugby | 08/54½ | 19/47½ | 549.0 |
| - | Coventry | - | 19/39 | 536.5 |
| - | Birmingham New Street | - | 19.17½a ~ 19.19½d | 517.3 |
| - | Wolverhampton | - | 18/55 | 505.3 |
| 97.0 | Nuneaton | 09/06 | - | - |
| 116.3 | Lichfield TV | 09/18½ | - | - |
| 133.5 | Stafford | 09/34 | 18/35½ | 489.3 |
| 150.1 | Madeley | 09/48½ | ? | ? |
| 158.1 | Crewe | 09.57a ~ 10.00d | 18/14 | 464.7 |
| 174.4 | Weaver Jn | 10/13½ | 18/06 | 448.5 |
| 182.2 | Warrington Bank Quay | 10/19 | 17/50½ | 440.7 |
| 193.9 | Wigan North Western | 10/27½ | 17/37½ | 428.9 |
| 209.0 | Preston | 10.44a ~ 10.46d | 17.25a ~ 17.27d | 413.8 |
| 230.0 | Lancaster | 11/02 | 17/09 | 392.8 |
| 236.3 | Carnforth | 11L09a ~ 11L19d | 16L46a ~ 16L59d | 386.5 |
| ? | Carnforth East Jn | ? | 16/43 | 386.1 |
| 246.0 | Wennington | 11/36 | 16/31 | 376.8 |
| 252.5 | Clapham | 11/43 | 16/21 | 370.3 |
| 267.7 | Settle Jn | 11/54 | 16/06 | 361.7 |
| 264.4 | Hellifield | 11.59 ~ 12.15 | 15L45 ~ 16L00 | 358.4 |
| 267.7 | Settle Jn | 12/19½ | 15/39 | 355.1 |
| 275.7 | Horton-in-Ribblesdale | 12/30½ | 15/27 | 347.1 |
| 281.7 | Blea Moor | 12/37½ | 15/20 | 340.7 |
| 286.6 | Dent | 12/42½ | 15/14 | 336.2 |
| 289.8 | Garsdale | 12/46 | 15/10 | 333.0 |
| 292.9 | Ais Gill | 12/49½ | 15/03 | 329.9 |
| 299.7 | Kirkby Stephen | 12/57½ | 14/39 | 323.1 |
| 311.4 | Appleby | 13p08a | 14p25d | 311.4 |