The "Wot, No More Sam Adams?" USA Tour 2004
Day 1 : Wednesday 28th April
A relatively early start was required, Duncan Jennings, Steve Bates and Richard Bishop turning up on my doorstep something before 7am. Time for a coffee before we headed off for Birmingham Airport. Traffic proved worse than normal for the time of day but we were parked up and in the check-in queue with ample time to spare. Got a pretty heavy hossing by security as we queued, particularly me as my passport was taken away then I had to go through where I was going throughout the trip (not easy to explain when on the bash!).
We got the pre-allocated seats on Continental flight CO27 to Newark, NJ. Wandered upstairs for breakfast then up to the viewing gallery to check out our plane - Boeing 757 N41135.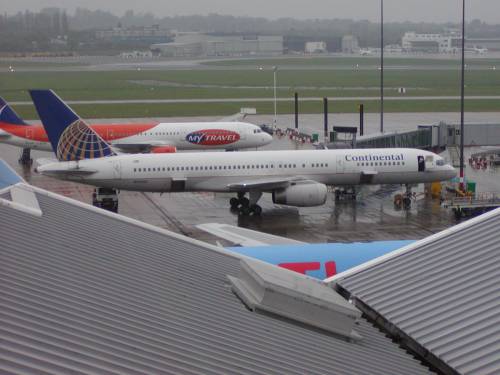 N41135 at a wet BHX.
Through to the departure lounge and we hit Dixons to see if there was anything electrical worth buying on the duty-free but nothing threw itself at me. Flight was called in plenty of time and departure was bang on the advertised 11.00 booked. An on-time arrival was "promised" by the pilot but somewhere mid-Atlantic (where it was a very rough ride, the air-tampers were definitely needed!) that went out the window and we landed about 20 minutes late a little after 2pm, putting our arrangement to meet the others on the 14.54 departure to New York Penn in grave doubt. Getting through immigration etc actually proved reasonably easy and, with the train being a few minutes late, we made it meeting Simon and a few others on the platform. A small group had gone on ahead to scoop a couple of NJ Transit locos.
Amtrak electric loco 906 took us to Penn station where it was but a short walk to the hotel. After checking in we headed to New York Grand Central station using the subway and we then spent the evening bashing various GE Dash9's on the MNCR (Metro North Commuter Railroad) Wassaic branch;
| | |
| --- | --- |
| 204 : | New York Grand Central - Southeast |
| 218 : | Southeast - Wassaic |
| 204 : | Wassaic - Dover Plains |
On our arrival into Southeast there was some excitement as we passed locos 411 + 413, a pair of F10's, sat on a rake of shuttle stock.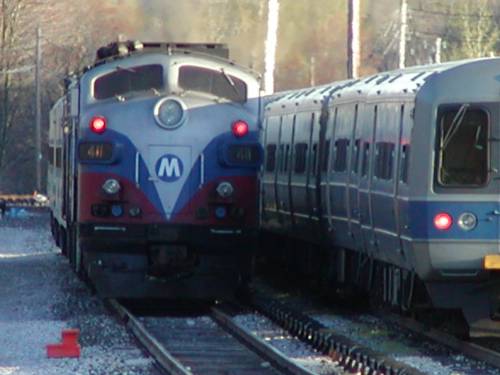 411 leading 413 on the shuttle stock in the yard at Southeast.
Simon was confident they would form an evening shuttle between Southeast and Wassaic hence our spin back to Dover Plains to meet the northbound shuttle. I should mention at this point, one of our main aims of our few days in the New York area was to cover the commuter lines as they still operated a number of F-units - these being basically the US version of the Nohabs we are familiar with in mainland Europe, mostly dating from the late 1950's and early 1960's. Rebuilds etc have taken place but they are still easily recognisable.
Anticipation turned to disappointment when 230 rolled in instead of the F10's but a chat with the conductor confirmed that the F10's should be on the next northbound shuttle. A check of the timetable confirmed it could be done, but only at the expense of an 1.04am arrival back into Grand Central station. Hell. we've come 3,500 miles we couldn't miss out by less than a couple of hours! 230 was taken to Wassaic then back to Patterson where the locals must have wondered what was going on as 13 cranks cheered when the bulbous nose of 411 appeared out of the darkness.
411 + 413 were then sampled to Wassaic and back to Southeast. The female conductor was rather unsure what to make of us but soon realised we were quite harmless and she spent a fair was of the journey finding out about what railways were like in the UK. As the stock was air-conditioned she even tolerated us opening the end vestibule door a little to hear the locos better - the end vestibule I should mention has no coach-end door, only a bar across, so it is open to the environment, perfect for listening to the up-front traction. 411 + 413 sounded just like Nohabs, only rather louder. Back at Southeast and we had to transfer to an EMU for the journey back to Grand Central station. A walk back to the hotel saw us hitting the sack at approaching 1.30am which, remembering we had gained five hours through the time difference on the flight, meant we had all been on the go over 24 hours! What a way to start the holiday though, having a pair of F10's!
Gary Thornton.



Please use your "back" button to return a Page