The "Wot, No More Sam Adams?" USA Tour 2004
Day 2 : Thursday 29th April
After the late finish (1.30am) an early start was also required to stick to the itinerary developed by Simon - 6.30am meet at reception to get over to Penn station for breakfast then on our way to another part of the New York commuter network. No-one was complaining (well, not too loudly anyway) as there was a distinct chance the morning might scoop us an FL9 or two (only a handful remain in service).
...and what a morning it turned into. There were no less than three FL9's out to play and we managed all three for haulage. Throw in a GP40 for good measure (primarily what we know as a the typical US freight loco design) and we were all grinning like Cheshire Cats!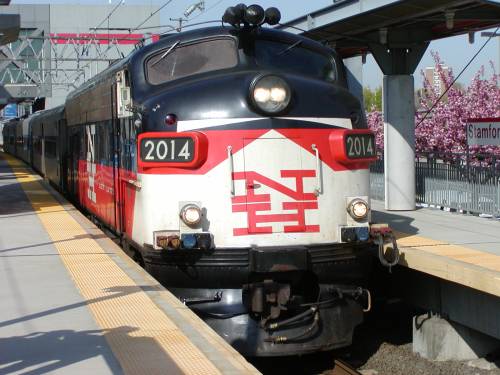 FL9 2014 at Stamford. What a beast!!
| | | |
| --- | --- | --- |
| Loco | Type | From - to |
| 917 : | electric | New York Penn - Stamford |
| 6696 : | GP40 | Stamford - South Norwalk |
| 2014 : | FL9 | South Norwalk - Stamford |
| 654 | electric | Stamford - Bridgeport |
| 2027 : | FL9 | Bridgeport - Stamford |
| 8566 : | EMU | Stamford - South Norwalk |
| 2011 : | FL9 | South Norwalk - Stamford |
| 946 : | electric | Stamford - New Haven |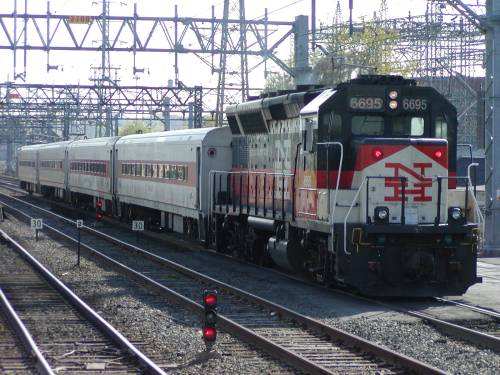 GP40 no. 6695 at Stamford.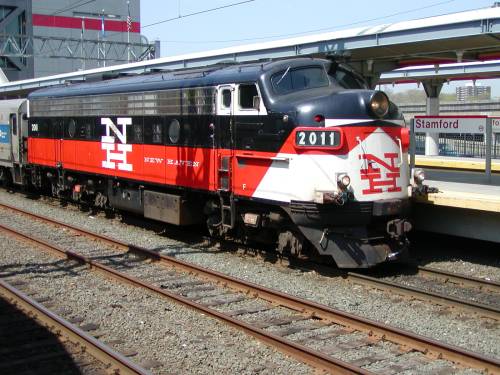 Sorry, can't resist putting another FL9 photo on the Page!
By lunchtime we'd found our way to New Haven on a through Amtrak service which changed from electric to diesel. Due to a reversal required further on in the trains journey it was top-and-tail Dash 9 P42B's (41 + 38) onwards. We baled at what appeared a bit of a one-horse town called Berlin but what a delight it turned out to be.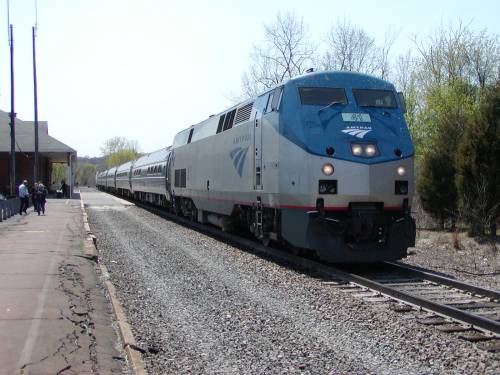 41 leads 38 (on rear) away from Berlin.
The fact the working back to New Haven was about 45 minutes late didn't matter, in fact we wouldn't have minded if it had been even later. The reason was that the ticket hall of this station was a real gem - something from another age with wood panelled walls and the like. The ticket agent, Bill Sample by name, was behind a lot of the work to restore the station to its former glory.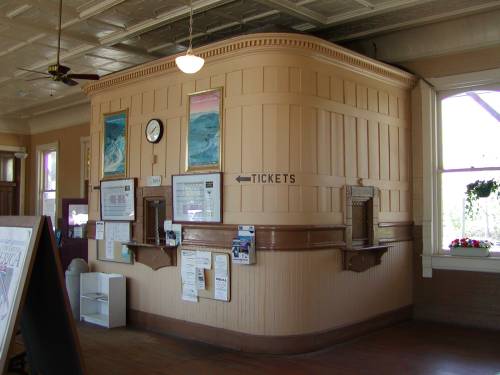 Berlin ticket office - simply superb.
Bill also showed us many interesting old photos and maps. He is also secretary of the Naugatuck Railroad Company (www.rmne.org) - a railway (sorry, railroad!) we all said we'd love to visit on a future trip to the US and I am sure some of will. As a working member of the Severn Valley Railway it was a strange experience for me to see copies of SVR News sitting on the office desk! A personal thanks to Bill for his hospitality during our brief stay - hopefully Bill we'll be back sometime in the future, for sure we'll be in touch to let you know!
170 + 173 (also Dash9 P42B's) took us back to New Haven where a rare occurrence took place - Simons plan unravelled itself courtesy of a train that simply didn't exist! Time for some food before an EMU move to get us back on plan - GP40 6695 from Stamford to New Haven for 917 home. A reasonably early finish so we could get to grips with the New York night-life. Many of our group headed for a couple of brew-pubs and three of us made for the New York Hard Rock Cafe.
Gary Thornton.



Please use your "back" button to return a Page