The "No, We Are NOT Australian" USA Tour 2005
Day 1 : Saturday 22nd October
After checking in and breakfasting we headed to our departure gate. It was interesting to note the new immigration rules introduced at the start of October (whereby the airline has to get the first night addresses of all passengers before flying) did not yet apply to our carrier, American Airlines....appears the rules being applied to non-US carriers but not their own, hmm...
Boeing 777 N788AN was our home for the flight to Chicago. The 8 hours went remarkably fast, possibly as this is an airline which has individual screens at all the economy class seats so with the choice of many different films on offer it is possible to watch films which are of interest. An early arrival and no hold-ups through immigration and customs meant we were at the air-rail terminal and on our way out of O'Hare Airport at 10.15am, the advertised arrival time of our flight. Although we'd two hours before the planned bash began, our running early gave a potential to start a train ahead of that planned - we were heading to Harvard which had a two hourly service. Unfortunately engineering work on the metro put paid to that and we arrived at Jefferson Park a few minutes after the outbound Harvard service had departed. Our luck was in however as the inbound working was 30 minutes late so we could at least diesel it in to the centre of Chicago rather than use the Metro. Whilst waiting we saw a British Airways flight go right over our heads, that would be Tim arriving then! Metra F40PH 129 whisked us into Chicago OTC station where we had a few minutes to get some refreshments before the 12.30 departure to Harvard which has 179 in charge.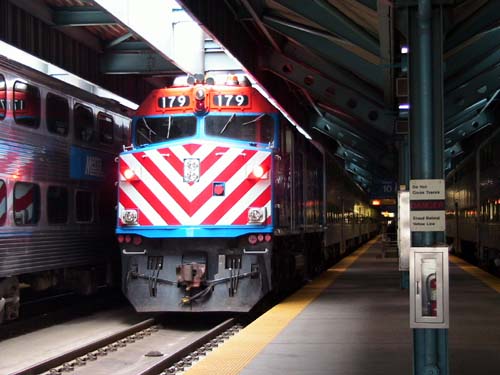 At this point I should mention the bargain of the trip - a weekend ticket for the Metra system in Chicago (covering all but South Shore services which are EMU's so of little bashing interest) is a mere $5 - yes, FIVE dollars for an entire weekends bash which can be entirely DIESEL-hauled! For those interested to follow where we went (or to get more gen on Metra) then their Website is:
A system route map is also available (worth looking at if you want to see where we got to for our $5 and then through the rest of the visit): http://metrarail.com/System_map/index.html
An exchange of calls between Tim & Simon told us Tim was now on the ground but it was going to be tight for him to get to Jefferson Park to pick up our train (plan B if that failed was for him to spin into Chicago, out on the next service as far as the station where he could pick us up on the way back in). In the event he made it....but only with a few seconds to spare!
Engineering work a way out of Chicago put us late into Harvard but time enough to storm a local bar for our first beer of the day (it costs on American Airlines!). It was a truly "local" bar and I suspect those in it will remember the visit by six UK cranks for a long time to come! This was our first time on the trip being "accused" of being Australians - must be a Chicago thing as it became so common during the next few days ("You're Australian, aren't you?") it became a natural title for the review! On the way out and back on the train Steve spotted a bar by one of the stations which was advertising 60 beers for sale...hmm, maybe worth further investigation sometime. Mind you none of the rest of us could see the sign to which he was referring amongst all those advertising local baseball and other sports teams (the Chicago area was big on baseball during our visit with the Chicago White Socks beginning the final of the World Series against Heuston - best of seven games over consecutive night).
Back in Chicago and it was a bus move to our hotel on South Michigan Avenue - the Congress Plaza, a big and typically old-US style hotel...I liked it! Enough of the bash for one day (4,000 Boeing miles and one branch scooped and two F40PH's under our belts) it was time to de-rance and get some proper food. Armed with a 7-day CTA pass (valid on local buses and metro, including the famous Chicao "L" - the elevated metro system that runs over the streets) we headed by subway to Clybourn where we found our way to the Goose Island brewery. Getting a table for six proved a challenge as it was match 1 of the baseball final - seemed the whole of Chicago had turned out to support the Chicago White Socks. Having arrived about 7.30pm we finally got a table around 9.30pm after chasing up the staff. Fed and watered it was back to the hotel for some well-needed sleep.


Please use your "back" button to return a Page