The "No, We Are NOT Australian" USA Tour 2005
Day 4 : Tuesday 25th October
The morning was spent on the Rock Island Line, a mix of spin and track. The previous evening returning from Joliet we had traversed the main route on Rock Island, part of which consists of a series of stations about every 400m - 91st Street followed by 95th, 99th, 103rd, 107th, 111th, 115th, 119th & 123rd Street stations! A bash on here in the rush hour could conceivably include walks between stations to maximise the mileage (!) or haulages. We didn't - it was raining! Our new track this morning was the "mainline" which avoids the line of many stations - we went out this way then came in via all the stations again.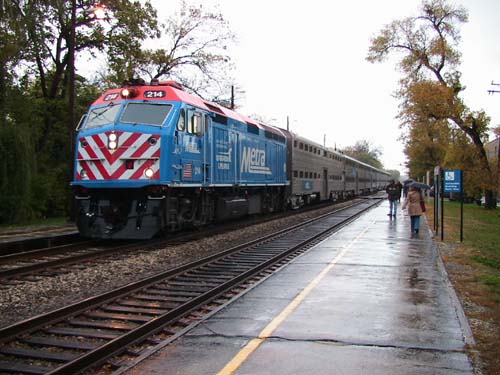 Metra 214 (of the later cab design) at 107th Street.
After a session at Western Avenue we concentrated on covering early F40PH's in the evening rush on the Fox Lake line - basically heading out stop-by-stop on winners. A selection of the days photos are below. The hit-list of haulages scores (in order of scooping) ended up as follows;
Metra 104, 213, 204, 103, 105, 416, 114, 424, 122, 115, 105, 113, 110, 108, 111, 102, 411 + 109, 427 & 417! Nice to get a mixed pair (411+109) but shame it was dark so no photograph possible.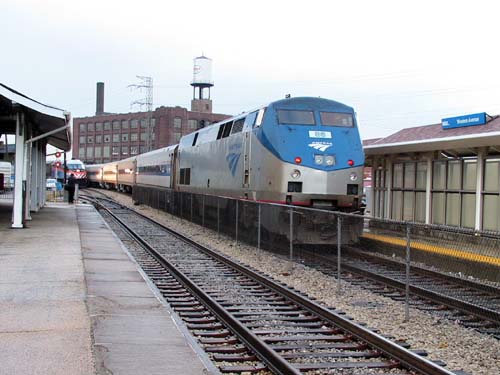 Western Avenue - Amtrak 86 heads to Chicago Union whilst a Metra MPI36
approaches on a Metra service out of the city.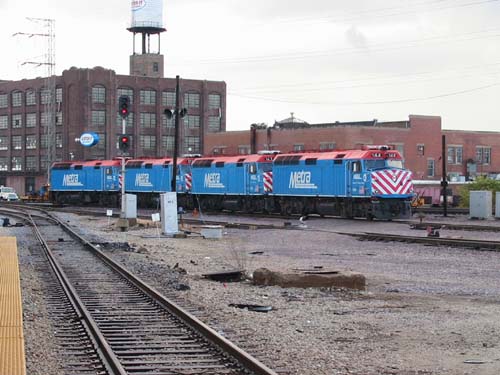 Light-engine movement at the end of the morning rush -144 leads three more.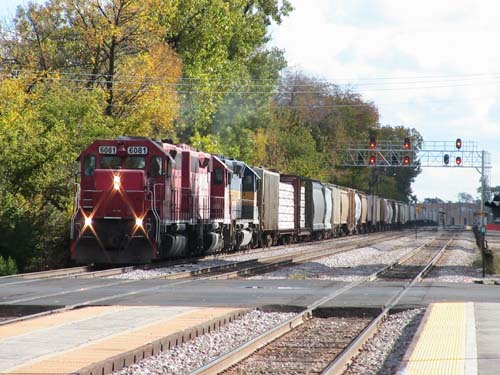 Even time to get in some freight watching - CP 6081 leads the consist.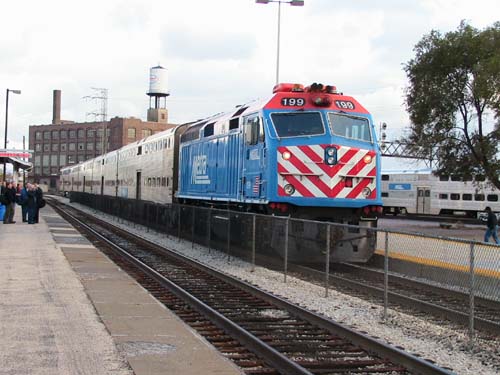 Back at Western Avenue - F40PHM-2 199 heads into Chicago.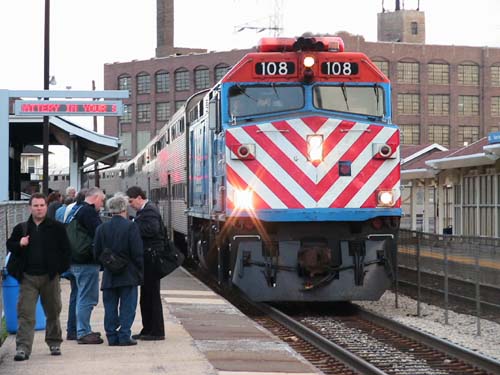 Check the books - yes, it's another winner!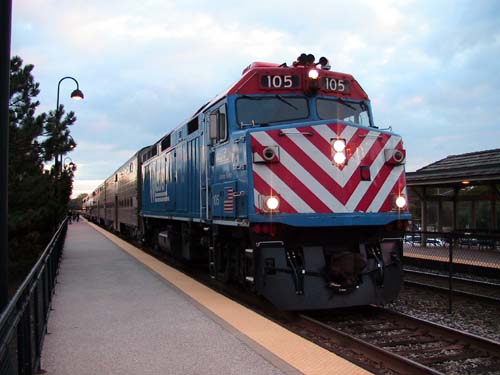 Night falls and yet another early series F40PH becomes dud for haulage.
Last night in the Rock Bottom - we left at 11pm with the 3rd match of the baseball in extra time, the White Socks on-course for making it 3:3 in the final...we later heard the match finished at 3.15am! Moving on the following night to Washington we lost touch with the games but I understand the White Socks made it a clean 4:4 to win - the first victory in the final since 1917 or so. Well done!


Please use your "back" button to return a Page