The "No, We Are NOT Australian" USA Tour 2005
Day 5 : Wednesday 26th October
So far I haven't mentioned the hard schedule we'd been keeping - most mornings involved very early alarm calls to get out for the one train a day return working to the end of some branch or other - some cranks maintain it is difficult to cover track and locos in the US...not true really but it does involve some sacrifice of sleep! This morning we were on the 05.55 to McHenry - one of the last diesel-hauled branches we needed on the Metra system. Metra 133 took us out, then back as far as the "mainline" (Barrington) where we hopped off to get another loco in the book (Metra 141).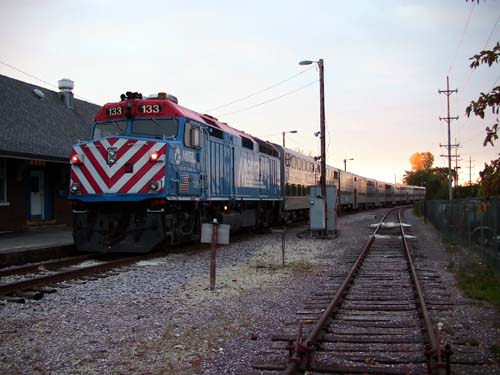 133 sees in daybreak at McHenry. The conductor was completely withered
to have had six UK cranks on the outward working - he was totally
finished to find us coming back on the return working too!
Once back into Chicago it was a free day for people to do what they wanted. For myself, Derek, Tim, Steve & Richard it was a run out to Aurora with Metra 402 as this was basically the only remaining diesel-hauled branch not so far done. The choice at the end is a few minutes wait for the same loco back...else wait just over two hours for the next. What to do, go back dud or a two hour fester... Well, with a brewpub in the former depot (roundhouse) at the station it was a no-brainer!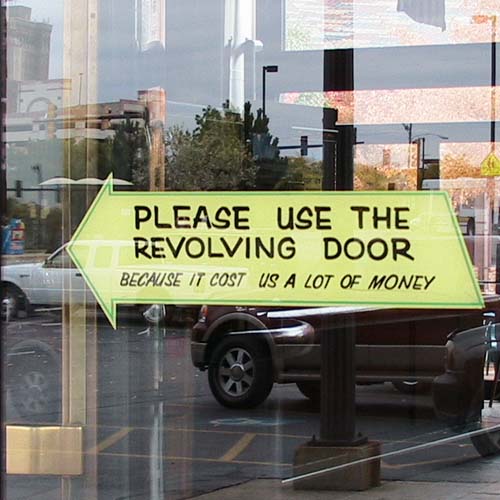 Top sign at the roundhouse brewpub!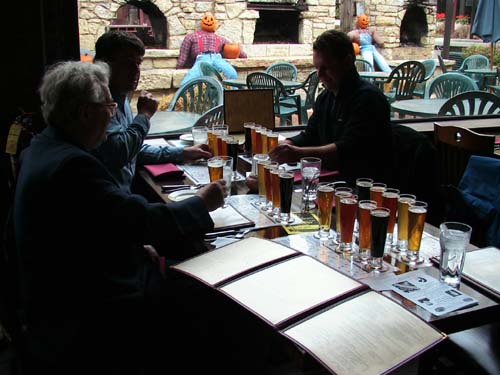 Too many beers to chose from - it'll have to be one of each then please!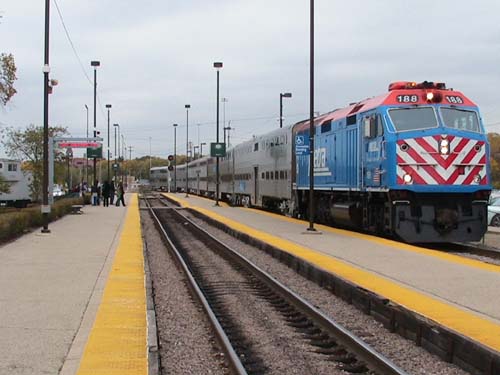 Metra 188 returned five slightly inebriated cranks to Chicago two hours later :-)
Now began our great adventure on Amtrak - we were booked on the Capitol Limited, Amtrak train 30, the 5.35pm from Chicago, due Washington at 11.59am the next day. Simon was predicting we would also probably miss the arrival time by a mile due to freight being given priority over passenger....well, only time would tell! We'd arranged to meet Simon in the bar at Chicago Union station prior to boarding. Whilst there I noticed a neon sign promoting the Chicago Bears American Football team...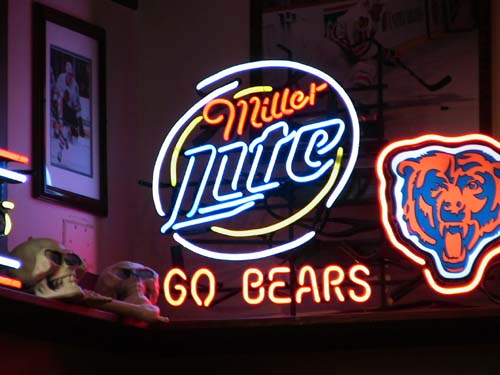 ...Hmmm, that wouldn't have been Steve's 60 beers advert spied on the
Saturday afternoon....would it...? :-)
Amtrak 138 & 202 were to be our motive power for the journey to Washington. We found our (reclining) seats in coach class then headed to the Panoramic Car for a couple of beers and watch night fall as we passed the many yards leaving Chicago. The pen was doing overtime with the number of locos being seen! Sometime after dark (but before we ran the cafe car out of beer) we headed back to our seats to settle down for the night - already running about 90 minutes late due to "freight congestion" in the Chicago area.


Please use your "back" button to return a Page