The "No, We Are NOT Australian" USA Tour 2005
Day 7 : Friday 28th October
Our last weekdays bash and we were planning to concentrate on VRE (Virginia Rail Express) out of Washington to the south. At first this commuter service may appear an almost impossible challenge as everything basically comes in in the morning then goes out again at night. Use of Amtrak and the local metro however makes it achievable to cover 11 diagrams, all diesel-hauled.
Our planned start (one of the few outward VRE workings) went bottoms-up when we took longer than planned to get our Amtrak tickets, then headed to the VRE platform with minutes to spare...only to find the door to it hadn't been unlocked! Can only assume they don't expect any passengers for this service then...
Went for a sit-down breakfast instead, then began with a round trip to Alexandria, Amtrak 202 (dud - it was one of our locos on the Capitol Limited!) for VRE's V01, V23 & V08 back - three scooped by way of short-leaping station to station back into D.C. (Union station). The conductor on the Amtrak service was stunned to see us - he'd been one of the conductors on our run to Newport News in April 2004 and recognised us immediately (are we really that memorable?!?). Shame it was such a short journey to Alexandria as we didn't get much time to chat with him.
With nothing to keep us on VRE for a few hours we did an out-and-back to Baltimore - Amtrak AEM7 electric 918 out for Amtrak 914 back part way and MARC 71 into Union station.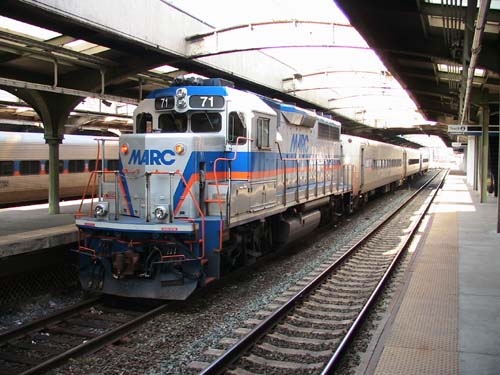 MARC 71 at Baltimore Penn station.
The afternoon and early evening where then spent on VRE chasing down as many winners as we could muster. Won't bore you with the mones (available though if you e-mail me if you were planning to do the same as us in the near future) suffice to say thanks to a double-header and a top-n-tail pairing we scooped loads...in order;
VRE V09, V41, V03 + V05, V30, & V10 t-n-t V02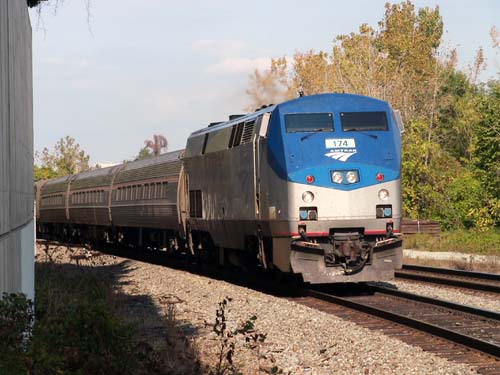 Bashing & photography combined - Amtrak 174 passes Crystal City station
whilst we wait the next VRE service.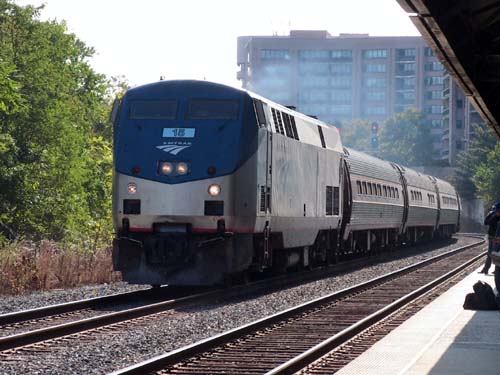 ...and Amtrak 15 passes the other way.
Of note are V41 and V30 - the former is a hire-in from Sound Transit and the latter an ex-Amtrak F40.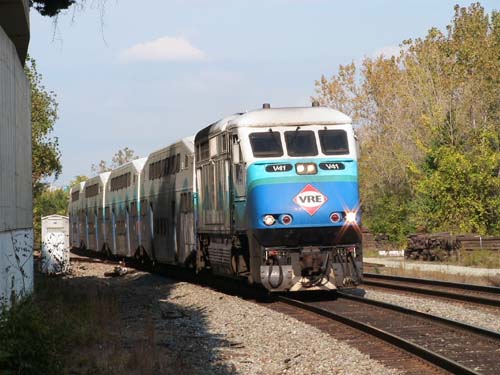 VRE 41 - actually a Sound Transit F59PHI - runs into Crystal City.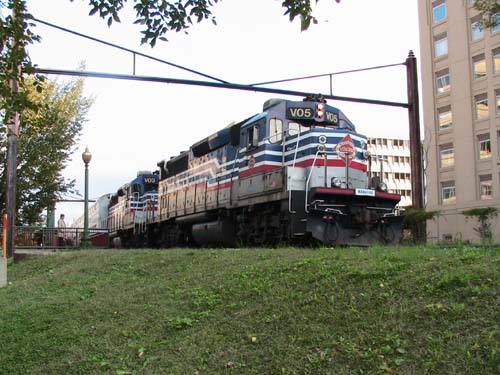 GM shampoo? V05 & V03 double-head an outbound commuter at L'Enfant.

V01 at L'Enfant on a Manassas-bound commuter working.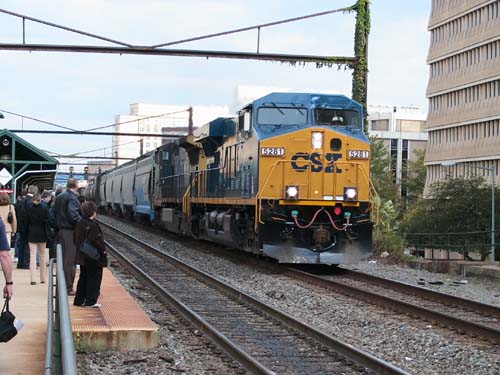 Almost brand-new CSX 5281 leads a freight passed L'Enfant station.
Luck was on our side - we finished the VRE bash at Alexandria where a mega-late Amtrak service enabled us to get loco-hauled back (Amtrak 156) to Washington Union rather than using the metro as we had expected. The District Chophouse & Brewery was our location for the evening meal.


Please use your "back" button to return a Page