Not a Railtour!
Over the years, for various reasons, there have been occasions when service trains have been seen with headboards. This Page is an attempt to record those instances with, where known, the reason the headboard was carried.


22nd May 2010
Matthew Cole and Nick Bartlett both confirm that EMU's 1497 & 1498 carried a headboard declaring: 'Slamdoors say farewell to the Lymington Flyer' on their last day of service on the Lymington Pier branch. 1498 worked from 05.59 to 12.24 then 1497 worked from the 12.29 departure from Brockenhurst to the end of the day (22.14 Lymington Pier to Brockenhurst service).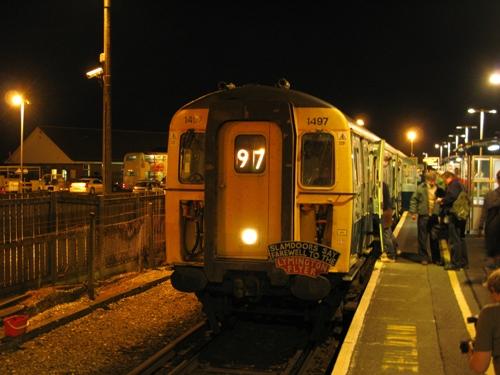 1497 on the 22.14 Lymington Pier to Brockenhurst (photo: Nick Bartlett)


12th December 2009
John Clifford comments that 159013 on the 12.34 Paignton to London Waterloo carried a headboard "Paignton Farewell" to mark this being the last South West Trains working between Paignton and London.


29th June 2007
Matthew Cole reports that DEMU 1001 ran driver training for First GBRf bearing a 'Marsh Link' headboard.
Train ran from St Leonards depot (09.50d, formed as 60116+60118 only with 60118 leading away from St Leonards) on a four hour journey, over the Romney March line twice and made a circular tour from Ashford via Kolkestone, Dover, Deal (traversing two sides of the triangle to turn the stock formation, reversing at Minster East Jn), Canterbury and back to Ashford.


9th December 2006
John Clifford reports seeing a photo of 313117 on the 23.37 North Woolwich to Stratford (being the last service train from North Woolwich) carrying the headboard;
North Woolwich
R.I.P.
1847 - 2006


26th November 2005
John Clifford comments the 09.19 Brighton to London Victoria was formed of 4-VEPs 3490+3505+3535 and carried the following headboard;
FAREWELL OLD FAITHFUL
FRIENDS
The Final Farewell 26th November 2005


7th October 2005
John Clifford noted the 18.04 Cannon Street to Ramsgate was formed of 4-VEPs 3565+3545+3568 and carried the following headboard;
SOUTH EASTERN TRAINS
THE LAST SLAM DOOR PASSENGER TRAIN
7th October 2005


28th July 2005
John Clifford noted the the 13.00 London Victoria to Gatwick & 13.50 Gatwick to London Victoria carried headboards at each end to mark the last use of 73's on the Gatwick Express. The boards were the same as were used on when the service was introduced in 1984 & read:
GATWICK EXPRESS
Victoria to Gatwick
in 30 minutes
From Victoria the locos & stock were: 73208+8206+8311+8202+9110+73202. The usual route was not followed either way. On the down journey the train ran via Redhill instead of the Quarry line while on the way back it ran via Stewarts Lane to arrive at platform 8 on the Chatham side of London Victoria.



28th September 2002
John Clifford noted the 15.16 Colchester to Basingstoke and 18.32 Basingstoke to Ipswich services (formed of unit 170206) carrying a "Farewell Anglia X Link" headboard to mark the end of the Anglia Cross Link train service.


25th June 1996
John Simmonds comments that the 09.00 Bristol Temple Meads to Weymouth and 16.30 return, hauled by 37116, carried a circular "Sand and Cycle headoard.


27th May 1994
John Melia comments that the 19:08 Blackpool North-Liverpool Lime Street and 21:52 return Liverpool-Blackpool on 27/05/94 carried a headboard Stating "FYLDE-MERSEY 37 FAREWELL". That marked the end of 37 use on the Blackpool-Liverpool trains (they continued on turns out of Manchester for a while longer). 37402 was the train engine and the stock included a Blue Grey Mk2 BSO which must of been one of the last times a Blue Grey coach was used on a service train on BR.


14th May 1993
Grahame Arnold comments that a headboard reading 'THE LAST TRAD JAZZ' (previously carried on the Badger Railtours tour of the same name on 23rd January 2003) was carried by unit 305420 to mark the end of Class 305 working on the Liverpool Street suburban lines. The working ended at Barking, passengers being permitted on the normally empty-stock last part of the diagram.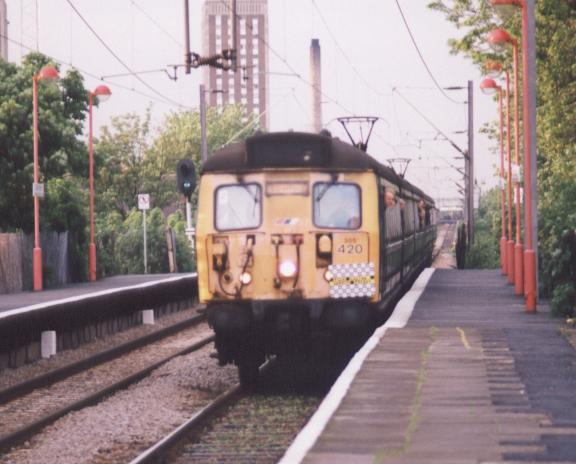 305420 (plus another unit) arrives at Silver Street (photo: Grahame Arnold)


(at least) 17th January & 7th February 1993
Grahame Arnold comments that on Sundays in early 1993 due to engineering works InterCity substituted an IC125 with a 3-car DEMU on 2 workings from Brockenhurst to Reading. On 17.1.93 and 7.2.93 these workings carried a small inverted-triangle headboard 'the Inter-City DEMU'. The working on 7.2.93 also carried a second headboard 'Brockenhurst Flyer'.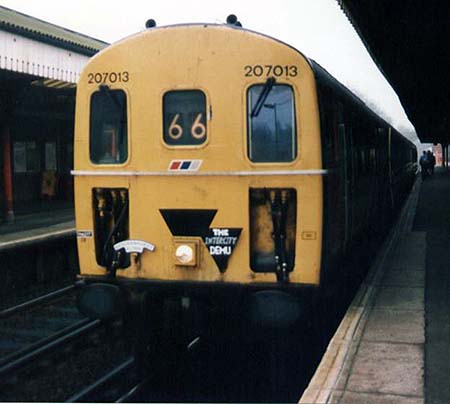 207013 at Basingstoke on 7th February showing both headboards
(photo: Grahame Arnold)


10th May 1986
Chris Harley offers: class 105 DMU (E53359 & E54122) seen at Emerson Park with a headboard reading: "LTSR ROMFORD - UPMINSTER DIESEL MULTIPLE UNIT FAREWELL 1956 1986".


10th May 1985
Chris Harley offers: class 104 DMU (set 104325) seen at Oban a headboard reading: "SPRING into OBAN".


Sometime between 1984 & 1989
Vic Smith comments: The Mountain Express headboard was carried on a 1D33 09.52 Crewe–Holyhead sometime between 1984-1989. The headboard was fitted to the locomotive by staff at Crewe Diesel Depot. At Chester, Mr Peter Mountain, the BR Area Manager for Chester & North Wales Coast boarded the train for his weekly visit to Holyhead. Passengers were welcomed aboard the train announced as the Mountain Express service to Holyhead. He was accompanied by the Area Fleet Engineer and presented with the headboard on arrival at Holyhead. A large photograph of the class 47 with headboard arriving at Chester was displayed in the Area Fleet Engineers Office at Chester Wagon Shops whilst I was acting AFE in 1989.


Late August 1984
The query : Can you help Patrick Moss identify this tour/train:
40104 : date unspecified, but pictured passing through Abergele with 'Vulcan Tribute' headboard and folks waving out the window. From other photos, it is certainly in around 1983-1984, and may possibly have been 29/8/84, but this is only a guess.
...and the reply from Colin Partington:
On 29/8/84, 40104 was on 1D90 Birmingham-Llandudno, and 1G90 return, as it was on 27th, 28th, 30th and 31st also. The Vulcan Tribute headboard was a home made affair by Chris Thornton, then of Prestatyn. If Patrick witnessed 40135 heading the opposite direction (1D92 Crewe-Holyhead) just 20 or so minutes earlier, then it was 29th, as I did 135 to Colwyn Bay for 104.


16th May 1983
Chris Harley offers: 1st train between Huddersfield & Sheffield via the resuscitated Penistone - Barnsley line carried the headboard :
"FIRST TRAIN Huddersfield - Penistone - Barnsley - Sheffield 16 MAY 1983"


31st December 1981
Chris Harley offers: 55019 working the 16.30 Aberdeen - York carried two headboards "THE DELTIC CITY TRIBUTE" & "20 YEARS SERVICE ECML" along with a wreath. This was the final Deltic hauled service train.


27th December 1981
55009 'Alycidon' hauled 1M69 (15.10 York to Liverpool Lime Street) & 1E22 (19.10 Liverpool Lime Street to York) complete with a "Trans-Pennine Deltic Lament" headboard & wreath.


20th December 1981
55022 'Royal Scots Grey' hauled 1M69 (15.10 York to Liverpool Lime Street, via Bradford) & 1E22 (19.10 Liverpool Lime Street to York) complete with a "Trans-Pennine Deltic Lament" headboard.


18th June 1977
47164 (in Union Jack livery) seen hauling the 08.30 London - Norwich carrying "The Jubilee" unofficial headboard.


7th June 1977
4-EPB units 5311 & 5319 carried a headboard during the day on service trains:
Congratulations to Her Majesty
SILVER
JUBILEE
British Rail Slade Green
Photographed leaving Charing Cross on the 09.12 to Gravesend.


?3rd May 1969?
On DMU (no further details offered):
GOODBYE HUNSTANTON RAILWAY
1962 to May 3rd 1969
IS THIS REALLY THE END


29th March 1967
John Clifford comments: On 29.3.67 80146 carried a board 'The Last Steam Branch' while working the Brockenhurst - Lymington Pier trains on this day. It marked the withdrawal on steam working on the branch. I believe that 41312 also did the last 2 trips to Lymington carrying the same board.
David Beilby adds: I have been researching a photo and checked (from the July 1967 Railway Magazine) that the last steam train on the Lymington branch ran on 2nd April 1967. The last steam workings were by 41312 but the photo I have is 80134 sporting the last steam branch headboard. This is slightly different from the above. There are several different dates scattered around the internet - including a July one on the Lymington-Brockenhurst partnership site (You would think they would know)!
John Pitman also adds: Passing through Brockenhurst Station on 26-3-67 I photographed 2-6-2T No.41224 carrying 'Last Steam Branch 1967' headboard; So a headboard was being carried before the 29-3-67 date quoted.


1st January 1966
John Clifford comments: The last train from Heysham Harbour to Lancaster (Green Ayre) on 1.1.66 formed M29022M+M29722M+M28221M carried a headboard reading;
Lancaster - Morecambe - Heysham
Electric Line
LAST TRAIN !
15 APRIL 1906 - 1 JANUARY 1966
58 Years of Reliable Service


11th June 1965
Mike Morant has provided a ticket from the last steam-hauled service train from London Paddington. Mike comments: This was actually a service train that was generally known as The Stockbrokers' Train. It normally terminated at Bicester but, on this one occasion, it waited in the loop north of Bicester station for an express to pass (a Brush 4 I think) whilst we all decamped for a wander around. Imagine that happening today! The return journey was up to the traveller and we came back on a DMU via Oxford after a visit to Banbury MPD.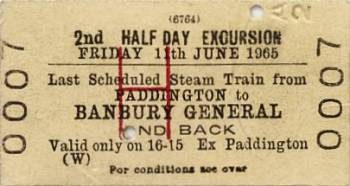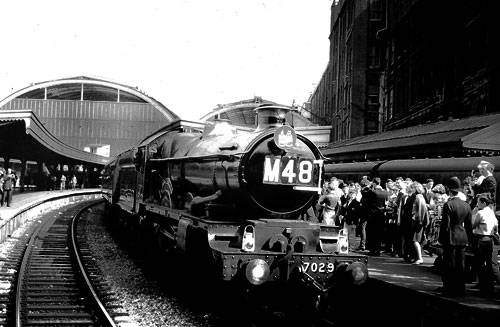 ...and Brian Burrows provided this shot of the train at Paddington.


2nd May 1964
John Clifford comments: On 2nd May 1964, 82028 carried a headboard saying "Last Day of Passenger Working" to mark the withdrawal of passenger trains over the Ringwood line. I have seen a photo of the engine on 16.07 Brockenhurst - Bournemouth West via Ringwood with the board & I believe it still carried it on 19.08 Bournemouth West - Brockenhurst & 20.56 Brockenhurst - Bournemouth West both via Ringwood. The stock was push-pull sets 608 & 614 with a PMV.


7th October 1963
John Clifford comments: I have seen a photo of 4-CEP 7110 leading the 07.40 London Victoria to Ramsgate carrying the headboard;
1863 - 1963
HERNE BAY
TO
RAMSGATE
...to celebrate the centenary of the opening of the Herne Bay to Ramsgate line.


21st July 1962
Chris Harley confirms the 7.05pm Much Wenlock to Wellington, hauled by 4178, carried a headboard proclaiming it to be "The Beeching Special". This was the last day of passenger service on this line.


28th February 1959
Chris Harley comments that the 9am Yarmouth Beach to Birmingham New Street, hauled by 43161, carried a headboard "Thats Yer Lot" to mourn the passing of passenger services on the M&GN.


6th June 1953
John Clifford has seen photographic evidence that the last train from Gosport to Fareham, hauled by 'Q' class 30546, carried a headboard declaring "THE LAST TRAIN".


Please use your back button to return to Six Bells Junction.