23rd May 1959
Stephenson Locomotive Society
Stephenson Locomotive Society Golden Jubilee Tour
| | |
| --- | --- |
| Loco Used | 60007 'Sir Nigel Gresley' |
| Stock Used | 8 coaches (271 tons tare, 295 tons gross) |
Route :
| | |
| --- | --- |
| Loco | Route |
| 60007 | Kings Cross - Peterborough - Grantham - Barkston South Jn - Navenby - Sincil Jn - Lincoln Central - Gainsborough Lea Road - Misterton - Bessacarr Jn - Black Carr Jn - Doncaster |
| 60007 | Doncaster - (via ECML) - London Kings Cross |
Notes :
To celebrate 50 years of the Stephenson Locomotive Society a basic out-and-back Kings Cross - Doncaster tour was arranged. However with A4 60007 and veteran footplatemen Bill Hoole & Alf Hancox (originally uploaded as Burt Hancocks) in charge, and with permission to exceed the normal 90mph limit the potential existed for some fine running. A breezy but dry day contributed to a minimum of 81mph up Stoke Bank on the outward leg. On the return a minimum of 73mph up Stoke Bank was achieved, but it was on the descent that 110mph was attained beyond Little Bytham.
Terry Jackson comments : The story of this tour has been documented many times and in so much detail that it seems unnecessary to say anything other than that it has to rank as one of the finest tours ever run. The tour was recorded by Peter Handford of Argo Transacord fame including the run down Stoke bank at 112 mph. You can even check the speed for your self with a stopwatch, something that you couldn't do on one of today's tours. The running also included maxima of 100 mph between Hitchin and Huntingdon in both directions. The max of 112 mph was I believe the highest authenticated post-war speed with steam in the UK although there were unconfirmed reports that the driver, Bill Hoole of Kings Cross, reached a speed of 117mph with the same engine just after the tour on one of the up Pullman services to London (the speed, not confirmed as 117mph but certainly very high speed is confirmed by David Whittaker as achieved whilst hauling the Tees-Tyne Pullman in November 1955 - 60007 was Bill Hoole's regular A4).
Sources : David Hills (compiled from contemporary reports) & John Debens



Photo Review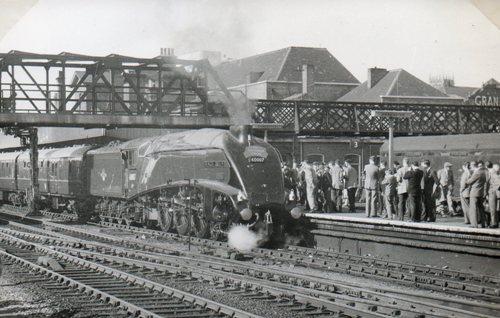 60007 at Doncaster (photo: The John Debens Collection)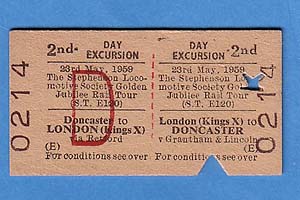 (From Andrew Fairholm's ticket collection)


Timings (Booked & Actual)
(from Terry Jackson & John Debens)
| | | | |
| --- | --- | --- | --- |
| Location | Booked | Actual | Speed (mph) |
| Kings Cross | 09.48d | 09.48:40 | - |
| Greenwood | 10/02 | 10/01:56 | 59 |
| Hatfield | 10/10 | 10/08:42 | 73 |
| Hitchin | 10/23 | 10/20:49 | 88 |
| Huntingdon North | 10/43 | 10/40:30 | 71 |
| Peterborough North | 10/58 | 10/58:01 | 20 |
| Grantham | 11.25a ~ 11.27d | 11.25:41 ~ 11.26:48 | - |
| Barkston South Jn | 11/34 | 11/33:58 | ? |
| Honington | 11/37 | 11/38:40 | ? |
| Lincoln Central | 12/00 | 12/04:21 | ? |
| Sykes Jn | 12/10 | 12/15:48 | ? |
| Gainsborough Lea Road | 12/21 | 12/25:18 | ? |
| Doncaster | 12.53a ~ 17.46d | 12.52:30 ~ 17.48:02 | - |
| Retford | 18/05 | 18/06:05 | 64 |
| Newark North Gate | 18/21 | 18/20:58 | 30 |
| Barkston South Jn | 18/30 | 18/33:13 | 66 |
| Grantham | 18/34 | 18/36:42 | 80 |
| Peterborough North | 18/58 | 19/00:08 | 20 |
| Huntingdon North | 19/16 | 19/16:10 | 90 |
| Hitchin | 19/37 | 19/35:17 | 80 |
| Knebworth | 19/44 | 19/40:38 | 75 |
| Hatfield | 19/50 | 19/46:51 | 70 |
| Potters Bar | 19/55 | 19/51:04 | 72 |
| Kings Cross | 20.10a | 20.05:50 | - |