23rd May 1959
Railway Enthusiasts' Club
Tour of the Former East Kent Light Railway
| | |
| --- | --- |
| Loco Used | 31258 |
| Stock Used | advertised to be two ~1923 coaches plus a 4-wheeled brake van |
Route : at least SPL77
| | |
| --- | --- |
| Loco | Route |
| 31258 | Shepherds Well (East Kent Station) - Eythorne - Tilmanstone |
| 31258 | Tilmanstone - Eythorne - Shepherds Well (connection to S.R.) |
| 31258 | Shepherds Well (connection to S.R.) - Kearsney - Deal Jn - Kearnsey Loop Jn - Martin Mill - Deal - Deal Betteshanger S.B. |
| 31258 | Deal Betteshanger S.B. - Betteshanger Colliery |
| 31258 | Betteshanger Colliery - Deal Betteshanger S.B. - Sandwich - Minster |
| 31258 | Minster - Richborough S.B. - Richborough Port Sidings |
| 31258 | Richborough Sidings - Richborough S.B. |
| 31258 | Richborough S.B. - Sandwich - Deal - Kearsney Loop Jn - Deal Jn - Kearsney |
Notes :
(1) The timing sheet for this tour carried the following instruction for cyclists; Please note, you can leave the train at Tilmanstone Colliery at 1.30pm, cycle to Betteshanger Colliery to photograph the N.C.B. locomotives, and rejoin the special train at Deal at 3.16pm...OR...you can leave the special train at Martin Mill at 4.35pm and cycle to Dover shed, via the course of the Martin Mill line.
(2) The timing sheet for this tour detailed arrangements for a visit to Dover M.P.D as follows; Party assembles in Booking Hall of Dover Priory station at 5.5pm (on arrival of 5.4pm train which is the 4.58pm off Kearnsey).
(3) 31258 photographed at Minster carrying headcode SPL77 - was this used throughout? It is assumed the use of a freight wagon in the consist (see photo below) was to convey participants bicycles.
Sources : John Clifford, John Debens, Steve Armitage & Brian Read/Edwin Wilmshurst



Photo Review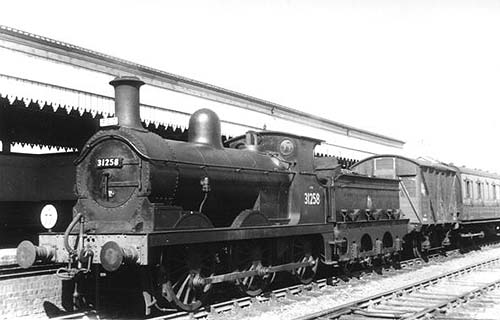 32158 at Minster (photo: The Jim Porter Collection)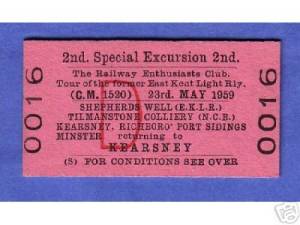 From Andrew Fairholms ticket collection.


Timings (Booked Only)
(from Brian Read/Edwin Wilmshurst)
| | |
| --- | --- |
| Location | Booked |
| Sheperdswell (E.K.L.R. Terminus) | 13.05d |
| Eythorne | 13.12a ~ 13.22d |
| Tilmanstone Colliery Yard, N.C.B. | 13.30a ~ 13.40d |
| Eythorne | 13/47 |
| Sheperdswell (connection to S.R.) | 13.55a ~ 14.10d |
| Kearnsey | 14/16 |
| Deal Jn | 14/19 |
| Kearnsey Loop Jn | 14/21 |
| Martin Mill | 14.30a ~ 14.40d |
| Deal | 14.50a ~ 15.16d |
| Betteshanger Colliery Sidings | ??.??a ~ ??.??d |
| Sandwich | 15/31 |
| Minster | 15.40a ~ 16.05d |
| (site of) Richborough Port Sidings | ??.??a ~ ??.??d |
| Sandwich | 16/19 |
| Deal | 16/26 |
| Martin Mill | 16.35a ~ 16.41d |
| Kearnsey Loop Jn | 16/50 |
| Deal Jn | 16/52 |
| Kearnsey (Bay Platform) | 16.56a |