27th September 1959
Stephenson Locomotive Society
(Visit to Derby & Nottingham with Midland Compound No. 1000)
Route : M855 throughout
| | |
| --- | --- |
| Loco | Route |
| 1000 | Birmingham New Street - Aston - Lichfield TV - Wichnor Jn - Burton-on-Trent - Stenson Jn - Derby |
| 1000 | Derby - Melbourne Jn - Chellaston Jn - Sheet Stores Jn - Trent - Stapleford & Sandiacre |
| 1000 (1) | Stapleford & Sandiacre - Meadow Arrival |
| 1000 (1) | Meadow Arrival - Stapleford & Sandiacre |
| 1000 | Stapleford & Sandiacre - North Frewash Jn - Long Eaton Jn - Nottingham |
| 1000 | Nottingham - Trent - Sheet Stores Jn - Chellaston Jn - Stenson Jn - Burton-on-Trent - Wichnor Jn - Tamworth HL - Kingsbury - Water Orton - Saltley - Birmingham New Street |
Notes :
(1) Loco propelling.
(2) Route & loco confirmation required - above is from booked timings plus had-written comments on timing sheet seen by Webmaster. Visits made to Derby MPD, Toton MPD & Nottingham MPD.
Sources : John Debens & Ian Clark (SLS)



Photo Review

This shot of MR 1000 is thought to be taken at Toton - can you confirm?
(photo: W.A. Camwell / © Stephenson Locomotive Society)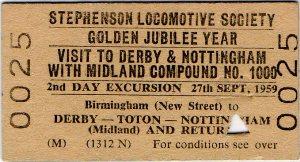 From The John Debens Ticket Collection.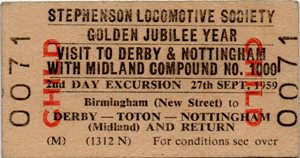 Timings (Booked Only)
(from Ian Clark (SLS))
Location
Booked
[presumed] Actual
Booked (rtn)
Birmingham New Street [Mid Side]
08.30d
?
18.18a
'to and from Western Lines'

-

Vauxhall
?
? [SL]
-
Aston
?
09/05
-
Lichfield TV
?
09w31 ~ 09w36
-
Saltley
-
-
18/13
Water Orton
-
-
18/06
Kingsbury
-
-
18/01 [FL]
Tamworth
-
-
17/53
Wichnor Jn
09/49
?
17/44
Burton-on-Trent
09/55
?
17/37
Stenson Jn
10/04
?
17/30
Derby
10.11a ~ 13.00d
?
-
Melbourne Jn
13/03
?
-
Chellaston Jn
13/10
?
17/18
Sheet Stores Jn
13/30
?
17/03
Trent
13/31
?
17/01
Stapleford & Sandiacre
13.35 ~ 13.37
?
-
Meadow Arrival
13.40a ~ 14.45d
?
-
Stapleford & Sandiacre
14.50 ~ 14.53
?
-
North Frewash Jn
14/59
?
-
Long Eaton Jn
15/01
?
-
Nottingham
15.10a
?
16.50d


Associated E.C.S. & Light Engine Movements
M855 : (1000 & stock) : Kings Norton to Birmingham New Street
M855 : (1000 & stock) : Birmingham New Street to Kings Norton
| | | |
| --- | --- | --- |
| Location | Booked (out) | Booked (rtn) |
| Kings Norton | 08.30d | 18.40a |
| Selly Oak | 08/35 | 18/35 |
| Birmingham New Street | 08.45a [Midland Side] | 18.25d |
M855 : (1000 & stock) : Derby to Chaddeston C.S.
M855 : (1000 & stock) : Derby E.S.S. to Chaddeston C.S.
M855 : (1000 & stock) : Chaddeston C.S. to Derby
| | | |
| --- | --- | --- |
| Location | Booked (out) | Booked (rtn) |
| Derby | 10.16d | 12.45a |
| Derby Jn | 10/18 | 12/43 |
| Chaddesden C.S. | 10.25a | 12.05a ~ 12.35d |
| Derby Jn | - | 11/58 [ML] |
| Derby E.S.S. | - | 11.55d |
'Engine to turn on Derby, Toton & Nottingham Locos during margins'
M855 (1000, light engine) :
| | | |
| --- | --- | --- |
| Location | Booked (out) | Booked (rtn) |
| Derby MPD | 05.08d | 22.02 |
| Derby Jn | ??.?? ~ 05.13 [GL] | ??.?? ~ 21.58 |
| London Road Jn | 05/18 | 21/52 |
| LNW Jn | 05/22 [ML] | 21/47 [GL] |
| Stenson Jn | 05/34 | 21/34 |
| Burton-on-Trent | ??.?? ~ 05.49 | 21/18 |
| Wichnor Jn | 06/03 | 21/04 |
| Tamworth HL | - | 20/45 |
| Kingsbury | - | 20/30 [FL] |
| Water Orton | - | 20/20 |
| Saltley | - | 20/06 |
| Lichfield TV | ? | - |
| Aston | ? | - |
| Birmingham New Street | 06.55 ~ 07.10 | 20/00 |
| Selly Oak | 07/22 | 19/48 |
| Bourneville Shed | 07.25 ~ 07.55 [loco to turn] | 19.15 ~ 19.45 [loco to turn] |
| Kings Norton | 08.00a | 19.10d |