30th April 1960
Stephenson Locomotive Society (Scottish Area)
Glasgow City & District Tour
| | |
| --- | --- |
| Loco Used | 256 'Glen Douglas' |
| Stock Used | 4 ex-LNER corridor coaches |
Route : Reporting Code 179 throughout
| | |
| --- | --- |
| Loco | Route |
| 256 | Hyndland (West End terminus) - Partick Hill - Finnieston East Jn - Charing Cross - Glasgow Queen Street (LL) - High Street - Bellgrove - Alexandra Parade - Barnhill - Springburn - Cowlairs - Lenzie Jn - Garngaber Low Jn - Bridgend Jn - Garnqueen South Jn - Gartsherrie East Jn - Coatbridge Sunnyside (1) |
| 256 | Coatbridge Sunnyside - Easterhouse - Shettleston |
| 256 (2) | Shettleston - Broomhouse - Uddingston West - Bothwell |
| 256 | Bothwell - Uddingston West - Broomhouse - Shettleston - Parkhead Jn - Haghill Jn - Barnhill - Springburn - Cowlairs - Maryhill East Jn - Maryhill Park |
| 256 (2) | Maryhill Park - Maryhill East Jn - Summerston - Torrance |
| 256 | Torrance - Summerston - Maryhill East Jn - Maryhill Park - Knightswood South Jn - Anniesland - Whiteinch North Jn - Whiteinch West Jn - Garscadden - Yoker - Clydebank Central - Dalmuir Park |
| 256 (2) | Dalmuir Park - Drumchapel - Westerton - Knightswood South Jn - Anniesland - Whiteinch North Jn - Whiteinch East Jn - Hyndland - Partick Hill - Finnieston East Jn - Charing Cross - Glasgow Queen Street (LL) |
Notes :
(1) Train ran ECS to Kipps shed and loco turned on Whifflet triangle as the turntable at Kipps Shed was 'not suitable'.
(2) Loco running tender first.
(3) From one of the tickets supplied below, a tram tour also took place - from the route described on the ticket this presumably took place prior to the railtour. Further details are required.
Sources : Andrew Fairholm, John Robin & John Debens



Photo Review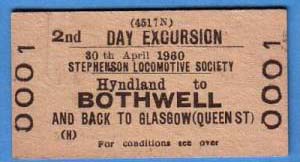 From Andrew Fairholm's ticket collection.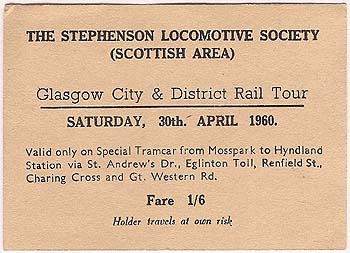 From the John Debens ticket collection


Timings (Booked Only)
(from John Debens)
| | |
| --- | --- |
| Location | Booked |
| Hyndland (West end terminus) | 13.14d |
| Partickhill Jn | 13/16 |
| Glasgow Queen Street LL | 13.23 ~ 13.25 |
| Bellgrove | 13/30 |
| Cowlairs SB | 13/39 |
| Lenzie Jn | 13/45 |
| Garngaber Jn | 13/46 |
| Bridgend Jn | 13/50 |
| Garnqueen South Jn | 14/01 |
| Gartsherrie East Jn | 14/03 |
| Coatbridge Sunnyside | 14.07a ~ 17.44d |
| Shettleston | 14.53 ~ 15.03 |
| Broomhouse | 15.10 ~ 15.15 |
| Bothwell | 15.45 ~ 16.00 |
| Broomhouse | 16.15 ~ 16.20 |
| Shettleston | 16/26 |
| Parkhead North | 16/30 |
| Haghill Jn | 16/33 |
| Cowlairs SB | 16/40 |
| Maryhill Park | 16.46 ~ 16.56 |
| Summerston | 17.01 ~ 17.06 |
| Torrance | 17.23 ~ 17.38 |
| Maryhill Park | 17.58 ~ 18.03 |
| Whiteinch Park West Jn | 18/09 |
| Clydebank Central Dock Jn | 18/12 |
| Dalmuir Park | 18.17a ~ 18.27d |
| Westerton | 18.33 ~ 18.34 |
| Partickhill Jn | 18/41 |
| Glasgow Queen Street LL | 18.48a |