26th June 1960
Stephenson Locomotive Society (Midland Area)
Midland Compound 1000 Special
Route : M916 throughout
| | |
| --- | --- |
| Loco | Route |
| 1000 | Birmingham New Street - Sutton - Lichfield TV - Wichnor Jn - Burton-on-Trent - Stenson Jn - Derby |
| 1000 | Derby - Ambergate - Clay Cross - Chesterfield Midland - Dore South Jn - Dore West Jn - Edale - Chinley - Romiley - Hyde Jn - Guide Bridge - Gorton - Ashburys - Park - Denton - Stockport Edgeley - Cheadle Hulme - Sandbach - Crewe |
| 1000 | Crewe - Crewe Works Sidings (Liverpool Line Entrance) - Stone Yard Bank |
| 1000 | Stone Yard Bank - Crewe Works Sidings (Chester Line) - Crewe - Stafford - Bushbury - Bescot - Vauxhall - Birmingham New Street |
Notes :
(1) Route confirmation required - above is from booked timings. 1000 was photographed between Burton-on-Trent & Wichnor Jn and also at Dore West Jn. Was to call at Derby (for shed visit), Ashburys...though later amended to Gorton...(for Gorton works & shed) and Crewe (for works visit).
Sources : John Debens & Andrew Fairholm



Photo Review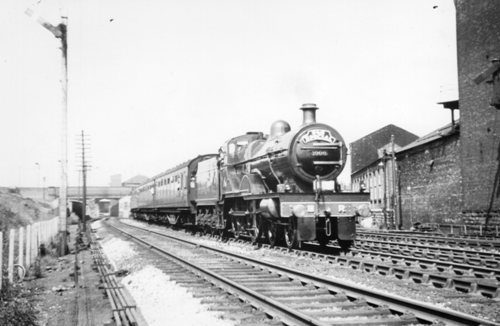 M.R. 100 is seen here at Denton (Photo: The John Debens Collection)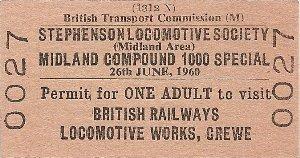 From The John Debens Ticket Collection.


Timings (Booked Only)
(from Ian Clark (SLS))
| | |
| --- | --- |
| Location | Booked |
| Birmingham New Street | 08.45d |
| Lichfield TV | 09w16 ~ 09w21 |
| Wichnor Jn | 09/34 |
| Burton-on-Trent | 09/40 |
| Stenson Jn | 09/48 |
| Derby | 09.55a ~ 11.15d |
| Ambergate | 11/30 [Avoiding Line] |
| Stretton | 11/39 |
| Clay Cross | 11/42 |
| Chesterfield | 11/48 |
| Dore South | 12/02 |
| Dore West | 12/04 |
| Hathersage | 12/16 |
| Edale | 12/31 |
| Cowburn West | 12/38 |
| Chinley North Jn | 12/41 [SL] |
| Chinley | 12/44 |
| New Mills South | 12/48 |
| Romiley | 13/05 |
| Ashburys | 13.20a ~ 15.22d |
| Midland Jn | 15.26 ~ 15.28 |
| Droylesdon | 15/40 |
| Stockport Edgeley | 15.52 ~ 15.54 |
| Cheadle Hulme | 16/00 |
| Sandbach | 16/23 |
| Crewe | 16.30a ~ 16.44d |
| Crewe Works Sidings | 16/48 [Liverpool Line Entrance] |
| Stone Yard Bank | 17.03a ~ 18.45d |
| Crewe Works Sidings | 18/51 [Chester Line] |
| Crewe | 18.56a ~ 19.00d |
| Stafford | 19/35 |
| Bushbury | 19/55 |
| Bescot | 18/05 |
| Vauxhall | 20.18 ~ 20.24 |
| Birmingham New Street | 20.29a |


Associated E.C.S. & Light Engine Movements
M916 : (1000 & stock) : Kings Norton to Birmingham New Street
M916 : (1000 & stock) : Birmingham New Street to Kings Norton
| | | |
| --- | --- | --- |
| Location | Booked (out) | Booked (rtn) |
| Kings Norton | 08.15d | 20.52a |
| Selly Oak | 08/20 | 20/47 |
| Birmingham New Street | 08.30a | 20.37d |
(1000, light engine) :
| | | |
| --- | --- | --- |
| Location | Booked (out) | Booked (rtn) |
| Derby MPD | 05.02d | 00.43a |
| Way & Works | ??.?? ~ 05.06 | ??.?? ~ 00.39 |
| London Road Jn | 05.10 ~ 05.12 | 00.33 ~ 00.35 |
| LNW Jn | 05/17 [ML] | 00/28 [GL] |
| Stenson Jn | 05/27 | 00/16 |
| Burton-on-Trent | 05/41 | 23/59 |
| Wichnor Jn | 05/55 | 23/47 |
| Tamworth HL | - | 23/31 |
| Kingsbury | - | 23/18 |
| Water Orton | - | 23/10 [FL] |
| Saltley | - | 22/57 |
| Grand Jn | - | 22.50 ~ 22.53 |
| Lichfield TV | ? | - |
| Aston | ? | - |
| Proof House Jn | 07.10 ~ 07.13 | - |
| Camp Hill | 07/25 | 22/40 |
| Kings Norton | 07.40a | 22.25d |