2nd July 1960
Stephenson Locomotive Society (Midland Area)
South Wales Tour
Locos Used
6416 & 9634
Stock Used
[1] : formed: W192+6416+W245+W175
[2] : formed: 9634+W3755+W3910+W3756
Route : 2Z37 (throughout?)
| | | |
| --- | --- | --- |
| Loco | Stock | Route |
| 6416 | [1] | Bridgend - Cowbridge Road Jn |
| 6416 | [1] | Cowbridge Road Jn - Coity Jn - Tondu - Ogmore Jn - Pencoed Jn - Brynmenyn - Pontyrhyll - Blaengarw |
| 6416 | [1] | Blaengarw - Pontyrhyll - Brynmenyn |
| 6416 | [1] | Brynmenyn - Blackmill - Cardiff & Ogmore Jn - Nantymoel |
| 6416 | [1] | Nantymoel - Cardiff & Ogmore Jn - Blackmill - Brynmenyn - Pencoed Jn - Ogmore Jn - Tondu |
| 6416 | [1] | Tondu - Tondu North Jn - Llangynwyd - Maesteg Castle Street - Caerau |
| 9634 (1) | [2] | Caerau - Cymmer Corrwg - Glyncorrwg (2) - North Rhondda (Halt) |
| 9634 | [2] | North Rhondda (Halt) - (2) Glyncorrwg - Cymmer Corrwg - Caerau |
| 6416 | [1] | Caerau - Afan - Abergwynfi |
| 6416 | [1] | Abergwynfi - Afan - Caerau - Maesteg Castle Street - Llangynwyd - Tondu North Jn - Ogmore Jn - Tynycoed Jn - Bryncethin Jn - Llanharan - Llantrisant |
| 6416 | [1] | Llantrisant - Mwyndy Jn - Llantrisant Common Jn - Gellyrhaidd Jn - Penygraig |
| 6416 | [1] | Penycraig - Gellyrhaidd Jn - Llantrisant Common Jn - Mwyndy Jn - Llantrisant - Cardiff General |
Notes :
(1) Loco propelling.
(2) Reversal point was given as Glyncorrwg by Alan Sainty but further up the branch at North Rhonnda Halt by the ticket and Stuart Davies (who confirms that the train definitely carried on and reversed at North Rhonnda Halt).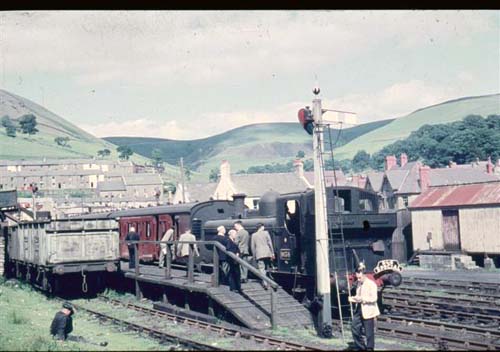 9634 at Glyncorrwg station where the train reversed (photo: Alan Sainty Collection)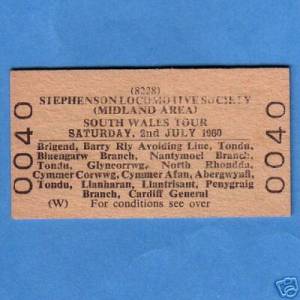 From Andrew Fairholms ticket collection.
Sources : Andrew Fairholm, Alan Sainty, Peter Darke & Stuart Davies



Timings (Booked Only)
(from Ian Clark (SLS))
| | |
| --- | --- |
| Location | Booked |
| Bridgend | 13.00d |
| Cowbridge Road Jn | 13.03 ~ 13.09 |
| Coity Jn | 13/14 |
| Tondu | 13/20 |
| Brynmenyn Jn | 13/23 |
| Blaengarw | 13.38 ~ 13.44 |
| Brynmenyn Jn | 13.59 ~ 14.05 |
| Nantymoel | 14.25 ~ 14.31 |
| Brynmenyn Jn | 14/51 |
| Tondu | 15.54 ~ 15.06 |
| Maesteg | 15/20 |
| Caerau | 15.30a ~ 15.42d |
| Cymmer Tunnel (GF) | 15.45 ~ 15.50 |
| Cymmer Corrwg | 15*55 ~ 16*05 |
| Glyncorrwg | 16.11 ~ 16.20 |
| North Rhondda Halt | 16.25 ~ 16.40 |
| Glyncorrwg | 16/45 |
| Cymmer Corrwg | 16/51 |
| Cymmer Tunnel (GF) | 16.56 ~ 17.00 |
| Caerau | 17.04a ~ 17.20d |
| Cwmmer Afan | 17/23 |
| Abergwynfi | 17.31 ~ 17.36 |
| Cwmmer Afan | 17/41 |
| Caerau | 17/45 |
| Maesteg | 17/52 |
| Tondu | 18.04 ~ 18.09 |
| Llanharan West | 18/34 |
| Llantrisant | 18.42 ~ 18.50 |
| Penygraig | 19.15 ~ 19.20 |
| Llantrisant | 19/40 |
| Cardiff General | 19.56a |