?1st or 9th? October 1960
Home Counties Railway Club
Swindon Special
| | |
| --- | --- |
| Loco Used | 92220 'Evening Star' |
Route :
Loco
Route
92220

London Paddington

- Southall - Slough - Maidenhead - Reading - Didcot - Swindon - Roxbourne Lane - Swindon Works (1)

92220
Swindon Works -

(reverse of outward route) - London Paddington
Notes :
(1) For works & shed visit.
(2) Route confirmation required as well as date of running. This was the HCRC's first railtour (previous visits were made by road coach). Some club paperwork (including itinerary given out on the train itself) gave the date of running of this tour as Sunday 9th October 1960, however subsequent references to it in club paperwork were with the date of 1st October and this has also been confirmed as the running date by Ron Walker. To add to the confusion however, John Debens has turned up a ticket dated October 9th and Keith Jaggers comments: My ticket is also dated 9th, and I can say with certainty that the trip I went on was on that date, a Sunday. It was a birthday treat for me, and my father who was with me worked on Saturday mornings then, so it cannot have been on the 1st. It was a foul, wet and dull day, and photography was futile; I've never seen any published pictures of the trip! David Lewis further confirms the 9th as the running date so there is still some element of mystery around the date this trip ran, though opinion from those on board is favouring the 9th!
(3) Formed in 1955 and originally known as the 'Middlesex Loco Spotters Club', their name was changed in the late 1950's to the 'Home Counties Railway Club' then in January 1963 it changed again, to the 'Home Counties Railway Society'.
Sources : Ron Walker & John Debens



Photo Review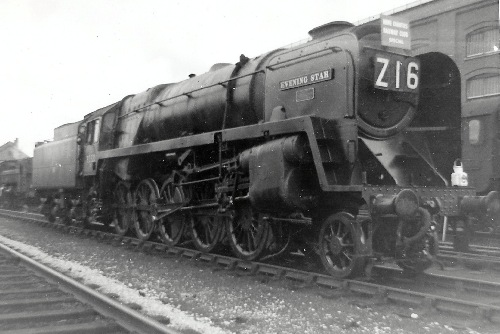 92220 'Evening Star' at Swindon (photo: David Lewis)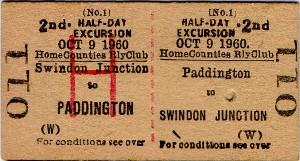 From The John Debens Ticket Collection.


Timings (Booked Only)
(from Ron Walker)
| | | |
| --- | --- | --- |
| Location | Booked (out) | Booked (rtn) |
| Paddington | 10.40d | 17.35a |
| Southall | 10/53 | 17/18 |
| Slough | 11/03 | 17/08 |
| Maidenhead | 11/09 | 17/02 |
| Reading | 11/21 | 16/50 |
| Didcot | 11/41 | 16/29 |
| Steventon | 11/45 | 16/24 |
| Swindon | 12.10a ~ 12.20d | 15.50a ~ 16.00d |
| Rodbourne Lane | 12.25 ~ 12.30 | - |
| Swindon Works | 12.35a | 15.45d |