8th October 1960
M. & G.N.J.R.P.S.
M. & G.N. and Waveney Valley Rail Tour
| | |
| --- | --- |
| Locos Used | 61572 & 65469 |
| Stock Used | 6 coaches (4x BR mark 1's & 2x Gresley formed: BSO+TSO+TSO+RB+TSO+TSO) |
Route : headcode 45 throughout
| | |
| --- | --- |
| Loco | Route |
| 61572 | Norwich City - Lenwade - Reepham - Aylsham South - Hoveton & Wroxham - Whitlingham Jn - Wensum Jn - Trowse Swing Bridge Jn - Tivetshall |
| 65469 | Tivetshall - Harleston - Homersfield - Bungay - Beccles North Jn - Beccles |
| 65469 | Beccles - Beccles North Jn - Oulton Broad South - Oulton Broad North Jn - Lowestoft Central (3) |
| 65469 | Lowestoft Central - Oulton Broad North Jn - Reedham - Brundall - Whitlingham Jn - Norwich Thorpe |
Notes :
(1) This was the first passenger train to use the 'Themelthorpe spur' between the ex-M&GN Norwich City to Melton Constable line and the and ex-GER County School to Wroxham line, which had opened a few weeks previously (the ex-M&GN line onwards to Melton Constable closing at the same time). It was also the last passenger train, possible last revenue earning train, between Harleston and Bungay, which had been worked as two branches from Tivetshall and Beccles respectively, for some months. A photo-stop was arranged at Homersfield on the section due to close completely. 65469 was used from Tivetshall owing to weight restrictions on the Waveney Valley line.
(2) Tour itinerary carried the name 'M&GN and Waveney Valley Rail Tour' whereas the train headboard read 'Waveney Valley & M&GN Special'.
(3) At Lowestoft Central an unidentified diesel shunter removed the tour stock and propelled it back into the platform again, to release 64569.
Sources : Chris Harley, John Clifford, David Pearson & Andy Butler



Photo Review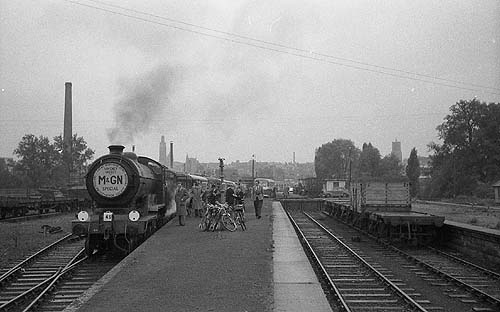 61572 waits to leave Norwich City station (photo: David Pearson)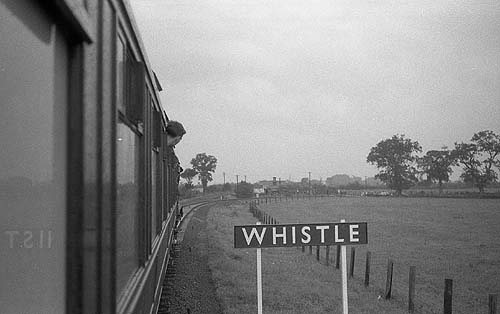 At Themelthorpe the old trackbed to Melton Constable goes straight ahead
whilst the new chord curves sharply to the right (photo: David Pearson)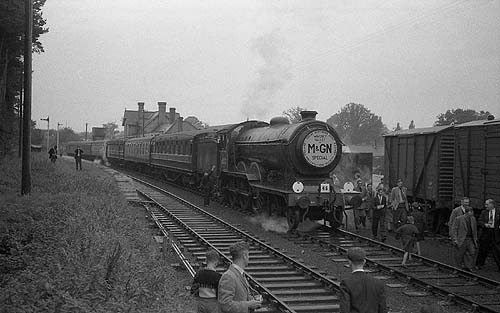 61572 pauses at Aylsham South for a photostop (photo: David Pearson)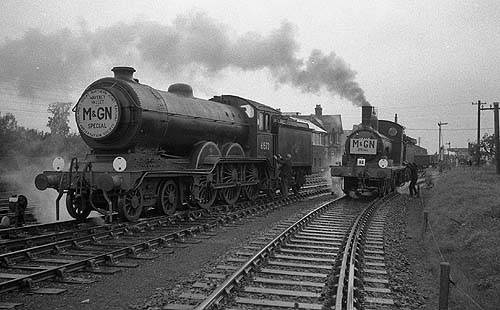 Loco change at Tivetshall; 61572 to 65469 (photo: David Pearson)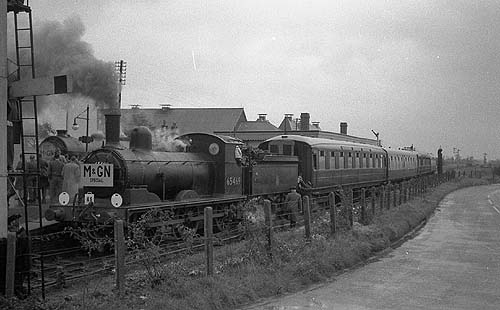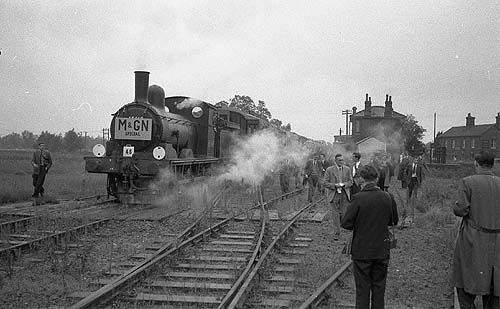 65469 at Homersfield. The line has now been taken over by a main road here.
The building on the extreme right is a public house which is still open.
The goods shed at this station still stands, converted into living accommodation.
(photo: David Pearson)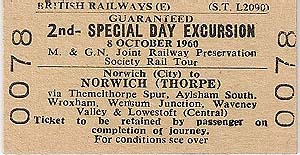 David Pearson's ticket


Timings (Booked Only)
(from David Pearson & Andy Butler)
| | |
| --- | --- |
| Location | Booked |
| Norwich City | 12.30d |
| Drayton | 12/40 |
| Lenwade | 12p53a ~ 13p03d |
| Whitwell & Reepham | 13/10 |
| Reepham | 13p20a ~ 13p35d |
| Cawston | 13/43 |
| Aylsham South | 14p00a ~ 14p20d |
| Buxton Lamrs | 14/28 |
| Hoveton & Wroxham | 14/46 |
| Wensum Jn | 15/01 |
| Trowse | 15.05 ~ 15.07 |
| Tivetshall | 15L33 ~ 15L40 |
| Harleston | 16/08 |
| Homersfield | 16p23a ~ 16p30d |
| Bungay | 16/45 |
| Beccles | 17.15 ~ 17.23 |
| Lowestoft Central | 17.43 ~ 17.50 |
| Reedham | 18/11 |
| Brundall | 18/21 |
| Norwich Thorpe | 18.30a |


E.C.S. & Light Engine Timings
(from Andy Butler)
E.C.S. : Headcode: 46
| | |
| --- | --- |
| Location | Booked |
| Wensum Jn | 09.35d |
| Wroxham | 09/48 |
| Aylsham South | 10x15 ~ 10x58 |
| Reepham | 11/19 |
| Whitwell | 11/29 |
| Norwich City | 11.50a |
Headcode: G
| | |
| --- | --- |
| Location | Booked |
| Norwich Thorpe | 14.17d |
| Tivetshall | 14.52a |