20th May 1961
Stephenson Locomotive Society (Dundee Centre)
Angus Rail Tour
Locos Used
C.R. 123, 54486 & 54500
Stock Used
[1] : 2x preserved CR coaches
[2] : 2x modern open saloon coaches
[3] : [1] + [2]
Route :
Reporting Code 171 (?throughout?)
Loco
Stock
Route
123
[1]

Glasgow Buchanan Street - Larbert - Stirling - Gleneagles - Hilton Jn - Perth - Dundee West

54500
[3]

Dundee West -

Buckingham Jn - Ninewells Jn -

Liff - Fairmuir Jn - Baldragon

- Dronley - Auchterhouse (4) -

Newtyle

54486
[3]

Newtyle - (reverse of outward route) - Buckingham Jn - Dundee Tay Bridge - Broughty Ferry - Barnhill - Monikie - Kingsmuir

54486
[3]

Kingsmuir - Monikie - Broughty Ferry (2)

54486?
[2]

18.33d Broughty Ferry - Dundee Tay Bridge

123
[1]

19.33d Broughty Ferry - Dundee Tay Bridge - (via Tay Bridge) - Inverkeithing - (via Forth Bridge) - ??? - Glasgow Queen Street
Notes :
(1) Route confirmation required. Passengers from Edinburgh travelled to the special (joining at Larbert) by service train, and returned from Inverkeithing, again by service train.
(2) On arrival back at Broughty Ferry after visiting Kingsmuir the two C.R. coaches were set off into the bay platform, at which point passengers were able to walk to the nearby Castle Hotel to take high tea before continuing homewards. For those wishing to finish earlier the remainder of the train ran forward to Dundee Tay Bridge one hour earlier.
(3) Photographic evidence exists of 54500 carrying reporting code 171 at Lochee West.
(4) Photographic evidence (see below) exists of 54500 coming off the train at Auchterhouse minus headcode and lamps - does this indicate the train reversed there rather than Newtyle, or was it replaced (by 54486 or another engine) there?
Sources : Trevor Machell, Chris Harley, Leonard Rogers, Andrew Fairholm, John Debens & Ian Clark (SLS)



Photo Review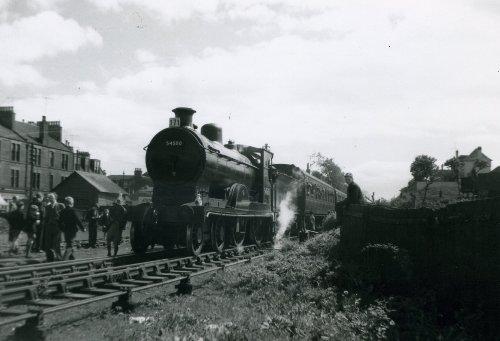 54500 at Baldovan & Downfield (photo: Jim Currie/SLS Library Collection)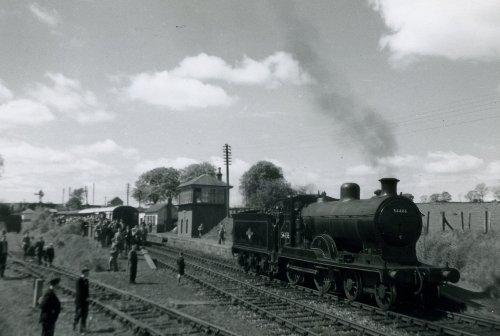 This shot shows 54500 coming off the train at Auchterhouse. Was this the
reversal point, rather than Newtyle as presently showing, or did 54500 come
off here for some other reason?
(photo: Jim Currie/SLS Library Collection)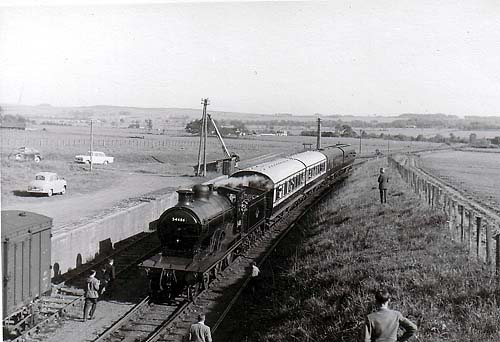 54486 at Kingsmuir (Photo: The John Debens Collection, originally supplied
by Andrew Fairholm)
From The John Debens Ticket Collection.


Advertised Timings
(from John Debens)
Location
Advertised (out)
Advertised (rtn)
Glasgow Queen Street
-
22.17a
Glasgow Buchanan Street
09.45d
-
Larbert
??.??a ~ 10.20d
-
Inverkeithing
-
21.08a ~ ??.??d
Dundee Tay Bridge
-
19.46d
Dundee West
11.54a
-
Edinburgh Princes Street
09.20d
-
Edinburgh Waverley
-
21.50a
Larbert
10.05a
-
Inverkeithing
-
21.27d
| | |
| --- | --- |
| Location | Advertised |
| Dundee West | 13.30d |
| Liff | 13.43 ~ 13.48 |
| Lochee | 13.57 ~ 14.02 |
| Baldovan & Downfield | 14.10 ~ 14.15 |
| Baldragon | 14.25 ~ 14.30 |
| Dronley | 14.42 ~ 14.47 |
| Auchterhouse | 14.54 ~ 15.03 |
| Barnhill | 16.11 ~ 16.16 |
| Kingennie | 16.28 ~ 16.33 |
| Monikie | 16.48 ~ 16.53 |
| Kirkbuddo | 17.07 ~ 17.12 |
| Kingsmuir | 17.23 ~ 17.35 |
| Broughty Ferry | 18.27 ~ 18.33 or 19.33 |
| Dundee Tay Bridge | 18.42a or 19.42a |