9th July 1961
R.C.T.S. (West Riding Branch)
The Borders Rail Tour
| | |
| --- | --- |
| Locos Used | 256 'Glen Douglas', 46247 'City of Liverpool', 60074 'Harvester', 60143 'Sir Walter Scott', 61242 'Alexander Reith Gray', 61290 & 64624 |
| Stock Used | BR mark 1's & LNER corridor coaches including 16610E |
Route : 1X43 throughout
| | |
| --- | --- |
| Loco(s) | Route |
| 46247 | Leeds City - Shipley - Keighley - Hellifield - Settle Jn - (via S&C) - Petteril Bridge Jn |
| 61242 + 61290 | Petteril Bridge Jn - Carlisle No.7 - Carlisle No.10 - Carlisle No.11 - Dentonholme North Jn - Carlisle No.3 - Canal Jn - Stainton Jn - Harker - Longtown - Riddings Junction - Newcastleton - Riccarton Junction - Hawick |
| 256 + 64624 | Hawick - Belses - Kelso Jn - St Boswells - Ravenswood Jn - Greenlaw |
| 256 + 64624 | Greenlaw - Ravenswood Jn - St Boswells - Kelso Jn - Rutherford - Roxburgh - Jedburgh |
| 64624 + 256 | Jedburgh - Roxburgh |
| 256 + 64624 | Roxburgh - Kelso - Coldstream - Norham - Tweedmouth |
| 60143 | Tweedmouth - (via ECML) - Newcastle |
| 60074 | Newcastle - King Edward Bridge - Durham - Relly Mill Jn - Willington - Bowden Close Jn - Bishop Auckland - Shildon - Newton Aycliffe - Charity Jn - Darlington North Road - Darlington - Northallerton - Melmerby - Ripon - Ripley Jn - Bilton Jn - Dragon Jn - Harrogate - Crimple Jn - Pannal - Weeton - Arthington - Horsforth - Headingley - Leeds City |
Notes :
(1) Pre-tour advertising was for a A1/A3 between Berwick & Leeds.
(2) Identity of 64624 was queried (either 64624 or 62624). John Furnevel confirms it was definitely 64624 that was used and this is further confirmed by Peter Darke and also contemporary sources.
Sources : Terry Jackson, Trevor Machell, Gary Thornton, Paul Barrett & Peter Darke



Photo Review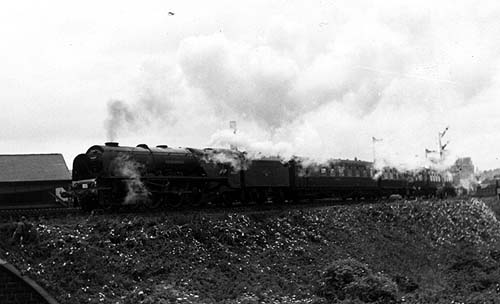 46247 leaving Leeds City (photo: Paul Barrett)

46247 paused at Hellifield (photo: the Bob Mitchell collection)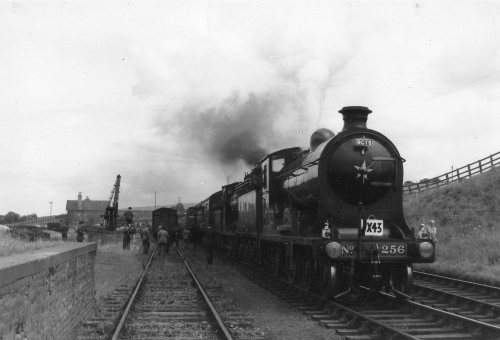 256 leading 64624 in the Roxburgh area (photo: The John Debens Collection)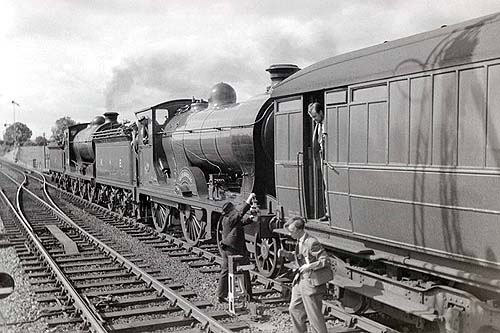 64624 & 256 pause at Roxburgh, before going on to visit Kelso.
(photo: the late Robin Barbour)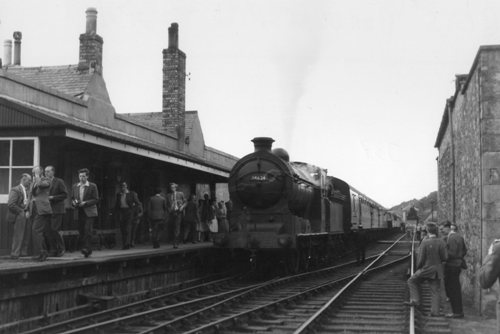 64624 at Jedburgh (photo: The John Debens Collection)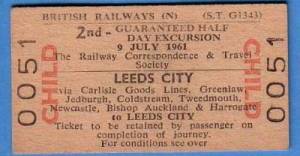 From The John Debens Ticket Collection
(originally supplied by Andrew Fairholm).


Timings (Booked Only)
(from Terry Jackson)
| | | |
| --- | --- | --- |
| M.C | Location | Booked |
| 0.00 | Leeds City South | 09.50d |
| 10.57 | Shipley Leeds Jn | 10/05 |
| 17.00 | Keighley | 10/12 |
| 25.01 | Snaygill | 10/20 |
| 26.15 | Skipton Station | 10/22 |
| 36.15 | Hellifield | 10/35 |
| 39.35 | Settle Jn | 10/38 |
| 53.35 | Blea Moor | 10/56 |
| 64.50 | Ais Gill | 11/08 |
| 82.15 | Appleby West | 11/22 |
| 11.35 | Durran Hill Sidings | 11/46 |
| 112.25 | Petteril Bridge Jn | 11.48a ~ 12.00d |
| 112.48 | Carlisle No.7 | 12/02 |
| 112.71 | Carlisle No.10 | 12/06 |
| 113.10 | Carlisle No.11 | 12/08 |
| 114.05 | Carlisle No.3 | 12/13 |
| 114.16 | Canal Jn | 12/15 |
| 122.35 | Longtown Jn | 12/24 |
| 126.72 | Riddings Junction | 12/29 |
| 137.07 | Newcastleton | 12/42 |
| 145.16 | Riccarton Junction | 12/58 |
| 147.29 | Whitrope Sidings | 13/03 |
| 158.17 | Hawick | 13.19a ~ 13.29d |
| 170.39 | St Boswells | 13/47 |
| ???.? | Ravenswood Jn | 13/50 |
| 185.00 | Greenlaw | 14.20a ~ 14.32d |
| ???.? | Ravenswood Jn | 15/02 |
| 199.41 | St Boswells | 15.05a ~ 15.10d |
| 199.63 | Kelso Jn | 15/11 |
| 208.00 | Roxburgh | 15/25 |
| 215.00 | Jedburgh | 15.48a ~ 16.00d |
| 221.60 | Roxburgh Jn | 16.25a ~ 16.35d |
| 224.60 | Kelso | 16/41 |
| 229.26 | Carham | 16/48 |
| 234.52 | Coldstream | 16/58 |
| 247.08 | Tweedmouth | 17.21a ~ 17.31d |
| 261.21 | Belford | 17/47 |
| 278.04 | Alnmouth | 18/03 |
| 296.23 | Morpeth | 18/20 |
| 312.73 | Newcastle | 18.43a ~ 18.51d |
| 313.41 | King Edward Bridge | 18/54 |
| 327.78 | Durham | 19/11 |
| 335.14 | Willington | 19/26 |
| 339.07 | Bishop Auckland | 19/34 |
| 342.01 | Shildon | 19/41 |
| 351.03 | Darlington | 19.58a ~ 20.00d |
| 365.17 | Northallerton | 20/15 |
| 373.15 | Sinderby | 20/24 |
| 379.00 | Ripon | 20/32 |
| 390.37 | Harrogate | 20/48 |
| 399.36 | Arthington | 21/01 |
| 408.58 | Leeds City South | 21.20a |