16th July 1961
Stephenson Locomotive Society (Midland Area)
Doncaster Works Tour
Route : 1X36 throughout
| | |
| --- | --- |
| Loco | Route |
| 1000 | Birmingham New Street - Proof House Jn - Saltley - Water orton - Kingsbury - Tamworth - Wichnor Jn - Burton-on-Trent - Dove Jn - Egginton Junction - Etwall - Derby Friargate - West Hallam - Ilkeston (GN) - Basford North - Annesley Yard - Staveley Town - Mexborough - Doncaster |
| 1000 | Doncaster - Mexborough - Rotherham Masborough - Beighton Jn - Barrow Hill North Jn - Tapton Jn - Chesterfield Midland - Clay Cross South Jn - Pye Bridge Jn - Trowell Jn - Trent - Sheet Stores Jn - Chellaston Jn - Stenson Jn - (reverse of outward route) - Birmingham New Street |
Notes :
(1) Route confirmation required. Visits were planned to Annesley MPD & Doncaster Works. Rob Gill, a passenger on the tour, believes from memory that 1000 worked the train throughout commenting 'it was in old Midland livery and hadn't been long out of the museum'.
Sources : Andrew Fairholm, Trevor Machell, Rob Gill & Ian Clark (SLS)



Photo Review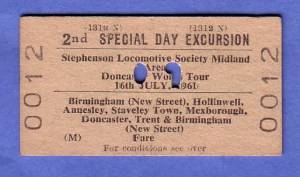 From Andrew Fairholms ticket collection.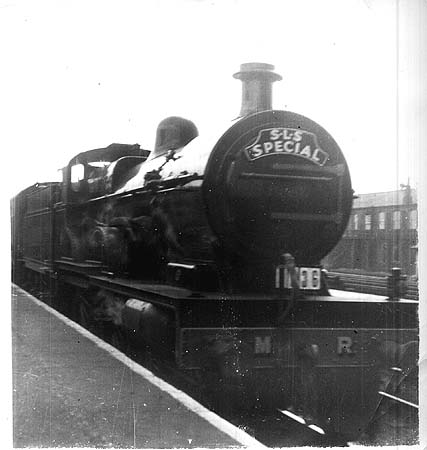 Nick Lawrence took this shot of 1000 at Doncaster.


Timings (Booked Only)
(from Ian Clark (SLS))
| | |
| --- | --- |
| Location | Booked {retimed} |
| Birmingham New Street | 09.20d |
| Saltley | 09/25 |
| Water Orton | 09/32 [FL] |
| KIngsbury | 09/36½ |
| Tamworth | 09/43 |
| Wichnor Jn | 09/51 |
| Burton-on-Trent | 09.58 ~ 10.10 |
| North Stafford Jn | 10/02 |
| Dove Jn | 10/07 |
| Egginton Jn | 10/09 |
| Derby Friargate | 10.24a ~ 10.29d |
| Awsworth Jn | 10/49 |
| Basford North | 10.56 ~ 10.57 |
| Bulwell Common | 11/00 |
| Annesley South Jn | 11/09 |
| Annesley Yard | 11.14a ~ 12.10d |
| Annesley North Jn | 12/15 |
| Kirkby South Jn | 12/18 |
| Pilsley | 12/32 [via Chesterfield Loop] |
| Staveley Central | 13.03 ~ 13.40 [Down Markham Line] |
| Mexborough | 14.33a ~ 15.30d |
| Doncaster | 15.45a ~ 18.15d |
| Mexborough | 18.30a ~ 18.37d |
| Chesterfield Midland | 19/19 |
| Clay Cross | 19/24 |
| Morton | 19/31 |
| Pye Bridge | 19/41 |
| Trowell | 19/50 |
| Trent | 20.00 ~ 20.01 |
| Sheet Stores Jn | 20/04 |
| Lock Lane Crossing | 20.08 ~ 20.12 {20.08 ~ 20.12} |
| Chellaston Jn | 20/35 {20/29} |
| Stenson Jn | 20/49 {20/38} |
| Burton-on-Trent | 20.57a ~ 20.59d {20.46 ~ 20.48} |
| Wichnor Jn | 21/07 {20/56} |
| Tamworth | 21/16 {21/04½} |
| Kingsbury | 21/23 {21/11½} [FL] |
| Water Orton | 21/28 {21/16} |
| Saltley | 21/40 {21/26} |
| Birmingham New Street | 21.45a {21.30a} |


Associated E.C.S. & Light Engine Movements
1X36 : (1000 & stock) : Kings Norton to Birmingham New Street
1X36 : (1000 & stock) : Birmingham New Street to Kings Norton
| | | | | |
| --- | --- | --- | --- | --- |
| Location | Booked (out) | | Original Booked (rtn) | Revised Booked (rtn) |
| Kings Norton | 08.50d | | 10.10a | 10.00a |
| Church Road Jn | 09/00 | | 22/00 | 21/52 |
| Birmingham New Street | 09.05a | | 21.52d | 21.46d |
0X36 : (1000, light engine) :
| | | |
| --- | --- | --- |
| Location | Booked (out) | Booked (rtn) |
| Derby MPD | 06.10d | 01.03a |
| London Road Jn | 06/17 | 00/57 |
| LNW Jn | 06/22 [ML] | 00/52 [GL] |
| Stenson Jn | 06/30 | 00/43 |
| Burton-on-Trent | 06/41 | 00/30 |
| Wichnor Jn | 06/50 | 00/18 |
| Tamworth HL | 07/03 | 00/03 |
| Kingsbury | 07/13 [FL] | 23/51 |
| Water Orton | 07/20 | 23/43 [FL] |
| Saltley | 07.30 ~ 08.00 [loco to turn] | 23.00 ~ 23.30 [loco to turn] |
| Camp Hill | 08/08 | 22/50 |
| Kings Norton | 08.20a | 22.38d |