27th August 1961
Stephenson Locomotive Society / Manchester Locomotive Society
Furness Rail Tour
| | |
| --- | --- |
| Locos Used | 43282, 44347 & 46152 'The King's Dragoon Guardsman' |
| Stock Used | load 7 (formed BSO+SO+SO+Cafeteria Car+SO+SO+BSO) |
Route : 1Z44 throughout
| | |
| --- | --- |
| Loco(s) | Route |
| 43282 | Lancaster Castle - Carnforth - Grange-over-Sands - Plumpton Jn - North Lonsdale Crossing |
| 43282 (2) | North Lonsdale Crossing - Plumpton Jn |
| 44347 + 43282 | Plumpton Jn - Ulverston - Dalton Station |
| 44347 | Dalton Station - Dalton Exchange Sidings |
| 44347 (2) | Dalton Exchange Sidings - 'end of single line' board near gate to Devon Quarry |
| 44347 | 'end of single line' board near gate to Devon Quarry - Dalton Exchange Sidings |
| 44347 (2) | Dalton Exchange Sidings - Dalton Station |
| 44347 | Dalton Station - Dalton Jn - Barrow-in-Furness |
| 44347 (2) | Barrow-in-Furness - Ormsgill Jn |
| 44347 | Ormsgill Jn - Hindpool South - Loco Jn - Salthouse Jn - Parrock Hall Jn - Ramsden Dock South Side |
| 44347 (2) | Ramsden Dock South Side - (via embankment line dividing Ramsden & Cavendish Docks) Loco Jn |
| 44347 | Loco Jn (3) - Shipyard Jn - Dockyard Jn - (3) Ramsden Dock North Side |
| 44347 (2) | Ramsden Dock North Side - Dockyard Jn - Shipyard Jn |
| 44347 | Shipyard Jn - Shipyard Station (Island Road) |
| 44347 | Shipyard Station (Island Road) - Shipyard Jn - Loco Jn - St Lukes Jn - Barrow-in-Furness - Ormsgill Jn - Park South Jn - Askam - Foxfield - Millom |
| 44347 | Millom - Hodbarrow Branch (end of BR Lines) |
| 44347 (2) | Hodbarrow Branch (end of BR Lines) - Millom |
| 44347 | Millom - Foxfield |
| 44347 | Foxfield - Coniston |
| 44347 | Coniston - Foxfield - Askam - Park South Jn - Dalton Jn - Ulverston - Grange-over-Sands - Carnforth - Hest Bank - Bare Lane - Morecambe Promenade |
| 46152 | Morecambe Promenade - Preston - Manchester Victoria |
Notes :
(1) This tour was running using seven coaches from a special half day excursion, 1T65, from Manchester Victoria to Lancaster & Morecambe, the coaches being detached at Lancaster and booked to have been re-joined at Morecambe Promenade, however late running of this tour (about 1.5 hours) meant the two trains each travelled separately back to Manchester.
(2) loco propelling.
(3) Timing sheet states 'via Bluffin Bridge' however a timing sheet seen by the Webmaster has Bluffin crossed out and 'Buccleuch' added suggesting a diversion from booked route?
Sources : Geoff Holme, Peter Robinson, Trevor Machell, Peter Darke, Ian Clark (SLS) & John Debens



Photo Review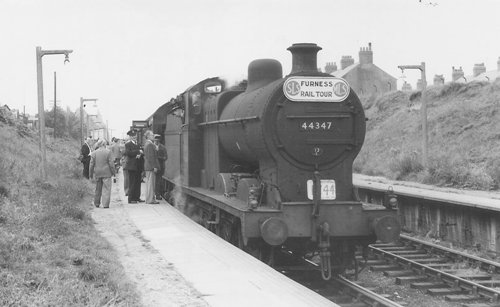 44347 at Barrow Shipyard (photo: The John Debens Collection)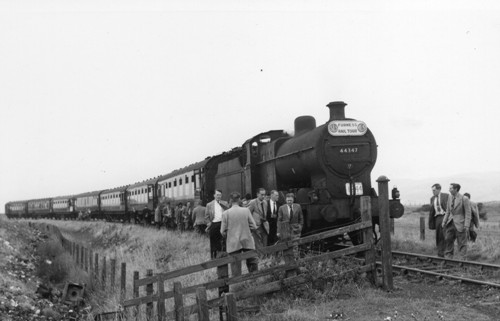 44347 at Hodbarrow (photo: P. Moffatt/The John Debens Collection)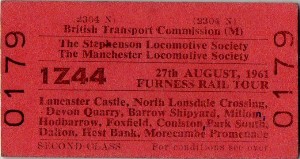 From The John Debens Ticket Collection


Timings (Booked & Actual)
M.C
Location
Booked
Actual (approx)
-
Lancaster Castle
10.59d
11.03
0.00
Carnforth
11.09a ~ 11.11d
?
9.05
Grange over Sands
11/25
?
17.26
Plumpton Jn
11/36
?
18.14
North Lonsdale Crossing
11.41a ~ 12.00d
(12.11 ~ ??.??)
19.02
Plumpton Jn
12.05a ~ 12.17d
?
20.45
Ulverston
12/22
?
25.08
Dalton Station
12.30a ~ 12.38d
?
?
Dalton Exchange Sidings
12.40a ~ 12.42d
?

'must travel via Longlands Loop'

27.11
'end of single line' board near gate to Devon Quarry
12.51a ~ 13.01d
??.?? ~ 13.30
?
Dalton Exchange Sidings
13.10a ~ 13.12d
?
29.14
Dalton Station
13.15a ~ 13.23d
?
34.23
Barrow-in-Furness
13/33
?

Travels via Goods Lone & Mare Works Siding

35.31
Oramsgill
13.38a ~ 13.43d
?
36.54
Hindpool South
13/47
?

travel via Up Through Siding

37.76
Loco Jn
13/51
14/40
38.29
Salthouse Jn
13/52
?

Travels via Siding to Paper Mills & Long Bank

?
Ramsden Dock South Side (Machine Road)
14.00a ~ 14.10d
?
39.70
Loco Jn
14.20a ~ 14.23d
??.?? ~ 15.10

via Bluffin Bridge

?
Ramsden Dock North Side
(limit opposite Dock Inspectors Office)
14.30a ~ 14.40d
?
40.30
Shipyard Jn
14.45a ~ 14.48d
15.25 ~ ??.??
?
Shipyard Station
14.51a ~ 14.55d
?
42.00
Loco Jn
14.59a ~ 15.07d
?
?
St Lukes Jn
15/09
?
?
Barrow-in-Furness
15/11
15/45
49.21
Askam
15/30
15/56
59.21
Millom
15.38a ~ 15.46d
16.15 ~ ??.??
61.16
Hodbarrow Branch (end of BR Lines)
15.58a ~ 16.08d
?
?
Millom
16.20a ~ 16.28d
17.18 ~ 17.25
67.51
Foxfield
16.36a ~ 16.44d
17.35 ~ ??.??
?
Coniston
17.34a ~ 17.44d
?
?
Foxfield
18.30a ~ 18.31d
19.30 ~ ??.??
?
Askam
18/40
?
94.50
Park South
18/44
?
95.55
Dalton Jn
18/49
?
?
Ulverston
18.49a/d
?
?
Grange
19/11
?
119.55
Carnforth
19.23a ~ 19.24d
20.50 |~ 20.56
-
Hest Bank
19/30
?
-
Bare Lane
19/34
?
-
Morecambe Promenade
19.39a [~ 19.52d]
21.12 ~ 21.24
-
Manchester Victoria
DIV (??.??a)
(23.20)