2nd September 1961
Stephenson Locomotive Society (Scottish Area)
Wigtownshire Rail Tour
| | |
| --- | --- |
| Locos Used | 49 'Gordon Highlander' & 57375 |
Route :
Classification 'B', Reporting code ?? throughout (3)
| | |
| --- | --- |
| Loco(s) | Route |
| 49 | Glasgow St Enoch - Gorbals Jn - Port Eglinton Jn - Shields Road - Pollock Jn - Arkleston Jn - Paisley Gilmour Street - Elderslie - Beith North - Brownhill Jn - Dalry - Kilwinning - Irvine - Barassie - Troon Goods - Lochgreen Jn - Prestwick - Newton Jn - Hawkhill Jn - Ayr - Dalrymple Jn - Maybole - Girvan - Dunragit |
| ????? | Dunragit - Kirkcowan - Newton Stewart |
| ????? | Newton Stewart - Wigtown - Millisle - Garliestown |
| ????? | Garliestown - Millisle |
| ????? | Millisle - Wigtown |
| ????? | Wigtown - Millisle - Wigtown - Newton Stewart |
| ????? | Newton Stewart - Kirkcowan - Dunragit |
| 49? | Dunragit - (reverse of outward route) - Elderslie - Potterhill Jn - Paisley Canal - Mosspark - Shields Jn - (reverse of outward route) - Glasgow St Enoch |
Notes :
(1) Route & loco confirmation required - above is taken from booked timings. Originally uploaded as visiting Whithorn prior to Garliestown but this does not match the booked timings (confirmation is therefore required if the branches were in fact visited in the opposite order on the day). There is also a suggestion that Garlieston was not visited as Ian Clark (SLS) also adds: It was noted that BR had suddenly deleted Garlieston from this tour and had made facilities available for a brake van visit on Saturday 5.5.1962 with a special passenger train Dungrait – Millisle connecting with the 9am ordinary train ex St. Enoch & 4.50pm return (1962/p.4). Notice is in effect appealing for support. Did these run? No other SLS notice published near the date with other SLS activity taking place on 5th May (Thornton Junction visit). It looks like the Garliestown visit was deferred until 15.4.1963
(2) Understood from contemporary reports that 49 & 57375 were both used on the leg from Newton Stewart to Whithorn & Garlieston.
(3) Although originally given as Reporting Code 90 throughout, the photo of 49 at Glasgow St Enoch shows the loco sporting a '60' code thus confirmation is required as to what code(s) were/was used.
Sources : John Debens & Trevor Machell



Photo Review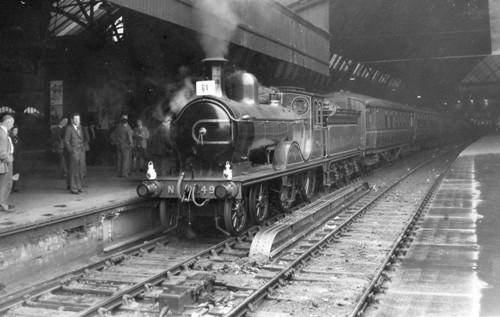 49 'Gordon Highlander' about to depart Glasgow St Enoch in the morning.
(photo: Donald Luscombe/The John Debens Collection)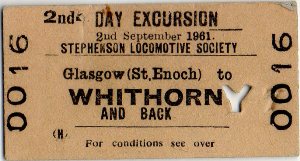 From The John Debens Ticket Collection.


Timings (Booked Only)
(from John Debens & Alasdair Macdonald)
| | | | | |
| --- | --- | --- | --- | --- |
| M.C | Location | Booked (out) | Booked (rtn) | M.C |
| 0.00 | Glasgow St Enoch | 09.25d | 21.13a | 268.19 |
| 0.50 | Gorbals Jn | ? | ? | ? |
| 1.06 | Port Eglinton Jn | ? | ? | ? |
| 1.50 | Shields Road | ? | 21/08 | ? |
| 2.03 | Shields Jn No.1 | 09/31 | ? | ? |
| 2.33 | Shields Jn No.2 | ? | ? | ? |
| 6.48 | Arkleston Jn | ? | - | ? |
| - | Paisley Canal | - | 20.57 ~ 20.59 | ? |
| 7.56 | Paisley Gilmour Street | 09.39 ~ 09.41 | - | - |
| 9.56 | Elderslie | 09/45 | 20/53 | ? |
| 10.72 | Johnstone High | ? | ? | ? |
| 16.40 | Lochside | 09/52 | 20/44 | ? |
| 18.50 | Beith North | ? | ? | ? |
| 20.48 | Glengarnock | ? | ? | ? |
| 21.44 | Brownhill Jn | ? | ? | ? |
| 23.26 | Dalry | 09/59 | 20/36 | ? |
| 26.64 | Kilwinning | 10.03 ~ 10.05 | 20.32 ~ 20.33 | ? |
| 30.16 | Irvine | 10/10 | 20/28 | ? |
| 33.64 | Barassie | ? | ? | ? |
| 34.61 | Troon Goods | 10/16 | 10/21 | ? |
| 35.59 | Lochgreen Jn | ? | ? | ? |
| 38.23 | Prestwick | ? | ? | ? |
| 40.19 | Newton-on-Ayr | ? | ? | ? |
| 40.43 | Hawkhill Jn | ? | ? | ? |
| 41.31 | Ayr | 10.24 ~ 10.29 | 20.06 ~20.11 | ? |
| 44.52 | Dalrymple Jn | ? | ? | ? |
| 50.33 | Maybole | 10/43 | 19/54 | ? |
| 62.60 | Girvan | 11.00 ~ 11.05 | 19.31 ~ 19.36 | ? |
| 67.51 | Pinmore | 11/17 | 19/23 | ? |
| 70.68 | Pinwherry | 11/22 | 19x00 ~ 19x16 | ? |
| 75.00 | Barrhill | 11/30 | 18/52 | ? |
| 83.38 | Glenwhilly | 11/43 | 18/39 | ? |
| 87.68 | New Luce | 11x50 ~ 12x00 | 18/31 | ? |
| 94.95 | Dunragit | 12.12 ~ 12.22 | 18.10 ~ 18.20 | ? |
| 97.68 | Glenluce | 12/28 | 18.00 ~ 18.04 | ? |
| 106.26 | Kirkcowan | 12/41 | 17/46 | ? |
| 112.44 | Newton Stewart | 12.51 ~ 14.00 | 17.19 ~ 17.35 | ? |
| 119.48 | Wigtown | 14.21 ~ 14.26 | 16/58 | ? |
| 121.71 | Kirkinner | 14.31 ~ 14.36 | ? | ? |
| 123.40 | Whauphill | 14.41 ~ 14.46 | ? | ? |
| 126.69 | Sorbie | 14.55 ~ 15.00 | ? | ? |
| 128.53 | Millisle | 15/10 | 16/36 | ? |
| 129.47 | Garliestown | 15.18 ~ 15.28 | - | - |
| ? | Millisle | 15.36 ~ 15.46 | - | - |
| 134.29 | Whithorn | 16.06a | 16.16d | 134.29 |