22nd October 1961
Stephenson Locomotive Society (Midland Area)
(Farewell to the Corwen Line)
Route : 1Z84 throughout
| | |
| --- | --- |
| DMU | Route |
| as listed | Chester General - Chester No.5 |
| as listed | Chester No.5 - Chester No.6 - Saltney Jn - Mold Jn - Hope Jn - Trydden Jn |
| as listed | Trydden Jn - Coed Talon |
| as listed | Coed Talon - Trydden Jn - Mold - Nannerch - Bodfan - Mold & Denbigh Jn - Denbigh - Ruthin - Derwen - Corwen |
| as listed | Corwen - Derwen - Ruthin - Denbigh - Mold & Denbigh Jn - St Asaph - Foryd - Foryd Jn - Rhyl - Prestatyn ?Jn? (2) |
| as listed | Prestatyn ?Jn? (2) - Prestatyn Chapel Street - Dyserth |
| as listed | Dyserth - Prestatyn Chapel Street - ?Prestatyn? Jn |
| as listed | ?Prestatyn? Jn - Prestatyn - Flint - Mold Jn - Saltney Jn - Chester |
Notes :
(1) S.L.S. reports confirm the train was 30mins late leaving Chester owing to the late arrival of the connecting train from Birmingham, but this turned into on-time or early running by the train driver who it was quoted as 'most enthusiastically and quickly' eliminated the lateness. Midland members were able to use 'Half Day Excursion facilities' from Birmingham Snow Hill (09.50d) to Chester and the 7.55pm Chester General to Birmingham Snow Hill on which accommodation had been reserved.
(2) Timing sheet shows a reversal at Prestatyn with the instruction 'shunt to down line' however if the train ran into the station then an additional reversal would be needed to access the Dyserth branch thus confirmation is needed of where the exact reversals were made in the Prestatyn area.
(3) Richard Maund comments regarding the tour name: This tour was actually called 'Chester, North Wales Diesel Rail Tour' (timing sheet) or 'North Wales Rail Tour' (itinerary). The souvenir photo leaflet was entitled 'Farewell to the Chester - Denbigh - Corwen and Rhyl - Denbigh lines of the former London & North Western Railway'.
Sources : Andrew Fairholm, Bevan Price, Trevor Machell & Ian Clark (SLS)



Photo Review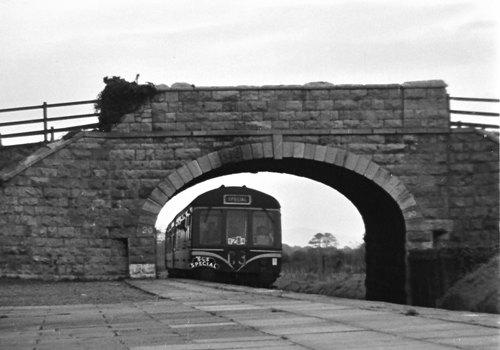 The DMU at Rhuddlan (photo: John Hobbs)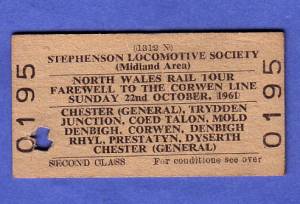 From Andrew Fairholms ticket collection.


Timings (Booked & Actual)
(from Keith Thompson courtesy of Ian Clark (SLS)/Manchester Locomotive Society Library Collection)
| | | |
| --- | --- | --- |
| Location | Booked | Actual |
| Chester General | 12.50d | 13.18 |
| Mold Jn | 13/06 | 13/27 |
| Trydden Jn | 13.25 ~ 13.30 | 13.40 ~ 13.44 |
| Coed Talon | 13.50a ~ 14.00d | 13.58 ~ 14.10 |
| Trydden Jn | 14/15 | 14/25 |
| Mold | 14/20 | 14/27 |
| Bodfari | 14/45 | 14/45 |
| Denbigh | 14.53 ~ 15.05 | 14.58 ~ 15.08 |
| Corwen | 15.45 ~ 16.00 | 15.49 ~ 16.09 |
| Denbigh | 16.37 ~ 16.40 | 16.47 ~ 16.48 |
| Foryd Jn | 17/03 | 17/06 |
| Rhyl | 17.10a ~ 17.25d | 17.10 ~ 17.30 |
| Prestatyn (?Jn?) | 17.35 ~ 17.45 [shunt to down line] | 17.35 ~ 17.44 |
| Dyserth | 17.55a ~ 18.05d | 17.52 ~ 18.03 |
| Prestatyn (?Jn?) | 18.15 ~ 18.25 | 18.17 ~ 18.22 |
| Muspratts Sidings | 18/40 | 18/40 |
| Connahs Quay | 18/47 | 18/52 |
| Mold Jn | 18/53 | 19/04 |
| Chester General | 19.00a | 19.12 |