13th May 1973
Locomotive Club of Great Britain
(in association with the Standard Gauge Steam Trust)
(Steam Tours to Stratford-upon-Avon)
| | |
| --- | --- |
| Loco Used | steam: 7752 |
| Stock Used | load 6 (was booked for 7x side corridor coaches) |
Route : (three full round trips booked)
| | | |
| --- | --- | --- |
| Train | Loco | Route |
| 1 (Yellow ticket) | 7752 | Birmingham Moor Street - Tyseley - Henley-in-Arden - Bearley Jn - Stratford-on-Avon |
| 1 (Yellow ticket) | 7752 | Stratford-on-Avon - Bearley Jn - ?Dorridge? - Tyseley - Birmingham Moor Street |
| 2 (Purple ticket) | 7752 | Birmingham Moor Street - Tyseley - Dorridge |
| 2 (Purple ticket) | 7752 | Dorridge - Tyseley - Birmingham Moor Street |
| 3 (Salmon ticket) | 7752 | Birmingham Moor Street - Tyseley - Henley-in-Arden - Bearley Jn - Stratford-on-Avon |
| 3 (Salmon ticket) | 7752 | Stratford-on-Avon - Bearley Jn - Henley-in-Arden - Tyseley - Birmingham Moor Street |
Notes :
(1) Route confirmation required. The trains were believed to have been booked via Dorridge on the southbound journey and Henley-in-Arden in the other; contemporary sources confirm at least one train went northwards via Henley-in-Arden as it was photographed struggling on the climb out of Wood End tunnel. Ian Bowskill comments: The whole day was thrown into confusion by brake problems. I remember waiting ages at Moor Street for the train to get back from Stratford. In the end our trip just went to Dorridge and back. I think only two of the three trips ran but I cannot confirm this. Dave Hill adds: As far as I can recall there were three return trips booked to Stratford that day all from Moor Street. I was booked on the second one which (I think) due to late running of train 1 was rerouted main line to Knowle & Dorridge & return. As we had been somewhat short-changed permission was given for ticket holders of that train to travel again to Stratford & return on train 3 (via Henley both ways) which we did. Unfortunately have no idea of train times but it was well on into evening when we returned having been delayed due to cows on the line on the return.
Sources : '45144', Gary Thornton, Ian Bowskill, Dave Hill, Nigel Wassell & Chris Heaven



Photo Review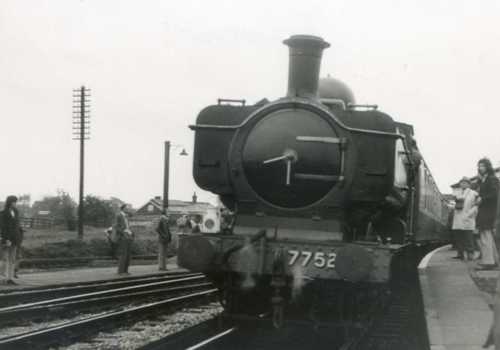 7752 at Stratford-upon-Avon (photo: Chris Heaven)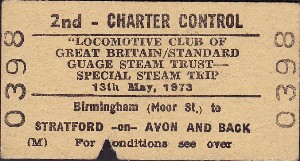 From Bob Mitchell's ticket collection.


Timings (Booked Only)
(from Chris Heaven)
First Round Trip (Yellow ticket):
| | | | |
| --- | --- | --- | --- |
| Location | Booked (out) | | Booked (rtn) |
| Birmingham Moor Street | 11.00d | | 13.29a |
| Tyseley | ? | | 13.20a ~ 13.22d |
| Henley in Arden | 11.26a ~ 11.36d | | - |
| Stratford on Avon | 11.50a | | 12.45d |
Second Round Trip (Purple ticket):
| | | | |
| --- | --- | --- | --- |
| Location | Booked (out) | | Booked (rtn) |
| Birmingham Moor Street | 14.15d | | 16.44a |
| Tyseley | ? | | 16.35a ~ 16.37d |
| Henley in Arden | 14.41a ~ 14.51d | | - |
| Stratford on Avon | 15.05a | | 16.00d |
Third Round Trip (Salmon ticket):
| | | | |
| --- | --- | --- | --- |
| Location | Booked (out) | | Booked (rtn) |
| Birmingham Moor Street | 17.00d | | 19.58a |
| Tyseley | ? | | 19.50a ~ 19.52d |
| Henley in Arden | 17.26a ~ 17.36d | | - |
| Stratford on Avon | 17.50a | | 19.15d |