24th - 25th October 1975
Wirral Railway Circle
Pembroke Coast Express
| | |
| --- | --- |
| Locos Used | 1013 'Western Ranger', 37177 & 47555 |
Route : 1Z76 throughout
| | | |
| --- | --- | --- |
| Date | Loco | Route |
| 24/10-25/10 | 47555 | Crewe - Chester - Wrexham - Shrewsbury - Wolverhampton - Birmingham New Street - Gloucester - Cardiff Central |
| 25/10 | 1013 | Cardiff Central - (via Vale of Glamorgan line & Swansea District lines) - Llanelli - Carmarthen Jn - Carmarthen Bridge Jn - Whitland - Clarbeston Road - Fishguard Harbour |
| 25/10 | 1013 | Fishguard Harbour - Clarbeston Road - Whitland |
| 25/10 | 1013 | Whitland - Clarbeston Road - Haverfordwest - Milford Haven |
| 25/10 | 1013 | Milford Haven - Haverfordwest - Clarbeston Road - Whitland |
| 25/10 | 1013 | Whitland - Tenby - Pembroke Dock |
| 25/10 | 1013 | Pembroke Dock - Tenby - Whitland - Carmarthen |
| 25/10 | 37177 | Carmarthen - Llanelli - Llandrindod Wells - Craven Arms - Shrewsbury - Crewe |
Notes :
(1) Some sources had suggested the Pembroke Dock branch was covered before Milford Haven however Will Powrie confirms this was not the case.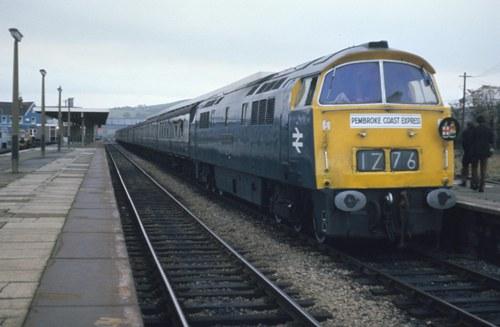 1013 'Western Ranger' pauses at Whitland (photo: Bernard Mills)
Sources : David Hills (compiled from contemporary reports) & Nick Bartlett (joined at Crewe, left at Llanelli on the return leg)



Tour Review
(by Will Powrie)
The Pembroke Coast Express was an opportunity to travel behind a Western over most of the passenger railway lines in southwest Wales, including the main line to Fishguard Harbour and the branches to Milford Haven and Pembroke Dock. It was initially advertised in the mid-August 1975 edition (no. 1003) of Western Courier, the magazine of the Western Locomotive Association, as follows;

** Crewe (dep. 21.00 Fri PU), Chester (PU), Salop (PU), Wolverhampton (PU), Birmingham New Street (PU), Cardiff (PU) to Fishguard, Pembroke and Milford Haven, returning via the Central Wales Line northwards to Crewe (arr. 20.35 Sat)
** Tickets valid to pickup points not called at on return
** Load: 15 coaches (including 5 sleepers)
** Class 47 Crewe-Cardiff, 52 Cardiff to west Wales and Llanelli-Crewe
** Probably the last 52 to visit west Wales and most likely the last on a passenger tour.
The reasoning behind the last of these was that British Rail then intended to start removing or isolating train heating boilers from the Westerns in March 1975, and reduce the size of the fleet to 30 at the end of the summer timetable and to 15 by the end of the year. Had this plan been followed, the summer of 1975 would have been the last season for Western-hauled passenger trains. However, the (un)reliability of the replacement diesel-electrics meant that, fortunately for the Westerns' army of followers, the plan slipped by about a year.
I travelled from Olton (near Birmingham) to join the train at Crewe. Arrival in Cardiff was about 03.00; the duff came off and D1013 Western Ranger took over for the journey into west Wales. At the time, D1013 was the official railtour locomotive; a mantle it would later cede to D1023 Western Fusilier.
It was a pleasant day, with great scenery and a relaxed feel, and numerous opportunities to get out and take photographs at termini (Fishguard Harbour, Milford Haven and Pembroke Dock), reversal (Whitland) and passing points (Tenby).
Most of those lines I had not covered before and have not been on since, although in 2013 I went by train to Carmarthen then cycled to Fishguard, Pembroke Dock, Tenby and back to Carmarthen.
One slight disappointment (although I think this had been decided and was known in advance of the railtour) was that Western Ranger was not allowed to run back to Crewe on the Central Wales line. BR were a bit prissy about Westerns going off region then, so D1013 was detached at Carmarthen and replaced by 37177 for the final leg.
My journeys from Olton-Birmingham-Crewe and return were by DMU and AC electrics 86233, 86034 and the then new 87012.


Timings (Booked & Actual)
(from Will Powrie)
Miles
Location
Booked
Actual
?
Crewe
21.45d
21.48
?
0
Cardiff Central
02L45a ~ 03L00d
03.02 ~ 03.17
123½
0
Fishguard Harbour
05.45a ~ 07.45d
05.59 ~ 07.48
27¾
0
Whitland
08.24a ~ 08.40d
08.29 ~ 08.46
26
0
Milford Haven
09.20a ~ 09.30d
09.26 ~ 09.42
8¾
0
Haverfordwest
09.50a ~ 10.15d
10.03 ~ 10.19
17¼
Whitland
10.38a ~ 11.00d
10.40 ~ 11.22
15¾
0
Tenby
11.40a ~ 12.35a
11.47 ~ 12.42
11½
0
Pembroke Dock
13.05a ~ 13.30d
13.08 ~ 13.36
11½
0
Tenby
14.02a ~ 14.38a
13.59 ~ 14.43
29¾
0
Carmarthen
15L28a ~ 15L35d
15.31 ~ 15.44
?
Crewe
20.20a
20.56