13th April 1991
The Growler Group
The Solent Growler
Route : 1Z37 throughout
| | |
| --- | --- |
| Locos | Route |
| 37032 + 37272 | Manchester Piccadilly - Stockport - Northenden Jn - Altrincham - Norwich - Middlewich - Sandbach - Crewe - Stafford - Rugeley North Jn - Walsall - Bescot Stadium - Aston - Proof House Jn - Birmingham New Street - Soho East Jn - Perry Barr North Jn - Bescot Yard - Bescot Curve Jn - Wednesbury Town Jn - Kingswinford Jn - Stourbridge North Jn - Stourbridge Junction - Kidderminster - Droitwich Spa - Worcester Shrub Hill - Evesham - Charlbury - Oxford - Didcot Parkway - Reading West Jn - Oxford Road Jn - Basingstoke - Winchester - Eastleigh - Northam Jn - Southampton Boat Train Terminal (1) |
| 37032 + 37272 | Southampton Boat Train Terminal (1) - Northam Jn |
| 37032 + 37272 | Northam Jn - Southampton Central - 1 mile outside Southampton Central (2) |
| 37032 + 37272 | 1 mile outside Southampton Central (2) - Southampton Central - Eastleigh - Winchester - Basingstoke - Oxford Road Jn - Reading West Jn - Didcot Parkway (3) - Oxford - Banbury - Leamington Spa - Solihull - Birmingham New Street - Wolverhampton - Stafford - Crewe - Manchester Piccadilly |
Notes :
(1) Gary Blyth comments: a bit of a farce on the day, original destination was the Eastern Docks, then BR stated that they were blocked so we had to go to the Western Docks instead. By the time we reached Southampton, BR changed their minds and we could actually visit Eastern Docks! When we did there were lorries blocking the line after the liner terminal so the whole line couldn't be traversed.
(2) There was an intended photo stop at Southampton but BR/Police wouldn't allow us to stop as football fans were alighting in the station at the time and they thought there would be trouble! The train carried on for a mile then the locos ran-round the stock!
(3) Due to the cancellation of a photo stop at Southampton and spending less time at the docks, a photo stop was hastily arranged at Didcot where the train sat for about an hour!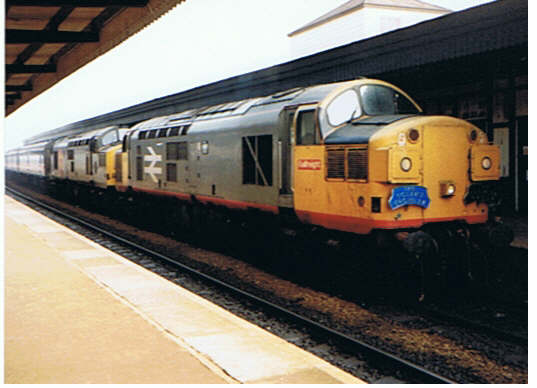 The 37's pause at Didcot Parkway (photo: Simon Cresswell)
Sources : Gary Blyth (joined/left train at Birmingham New Street) & Glenn Ford



Timings (Booked Only)
(from Simon Cresswell)
M.C
Location
Booked
0.00
Manchester Piccadilly
05.20d
5.70
Stockport
05.29a ~ 05.31d
10.01
Northenden Jn
05/38
14.50
Altrincham
05/48
27.49
Northwich
06/05
32.71
Middlewich
06/22
36.51
Sandbach
06/35
41.19
Crewe
06.46a ~ 06.48d
65.58
Stafford
07.12a ~ 07.14d
74.62
Rugeley North Jn
07/24
90.21
Walsall
08/17
91.72
Bescot Jn
08/20
98.54
Aston
08/32
101.30
Birmingham New Street
08.42a ~ 08.44d
103.31
Soho South Jn
08/50
106.22
Perry Barr North Jn
08/59
111.22
Bescot Curve Jn
09/04
112.69
Wednesbury Town Jn
09/07
116.15
Dudley
09/15
122.10
Stourbridge Junction
09/31
128.65
Kidderminster
09/41
138.25
Droitwich Spa
09/52
144.04
Worcester Shrub Hill
09c58 ~ 10c04
157.39
Evesham
10/18
172.38
Moreton-in-Marsh
10t33 ~ 10t34
200.53
Oxford
11.13a ~ 11.15d
211.04
Didcot Parkway
11.26a ~ 11.28d
227.18
Reading West Jn
11/44
228.54
Southcote Jn
11/47
242.31
Basingstoke
12/00
261.09
Worting Jn
12*10 ~ 12*15
268.05
Eastleigh
12c40 ~ 12c42
273.65
Northam Jn
12/49
274.49
Southampton
12/52
276.41
0.00
Southampton Western Dock
13p08a ~ 13p40d
1.52
Southampton
13/58
2.56
Northam Jn
13/59
8.36
Eastleigh
14/10
15.48
Romsey
14/25
30.62
Laverstock South Jn
14/43
47.02
Andover
15/00
65.40
Basingstoke
15c15 ~ 15c16
78.17
Southcote Jn
15/35
80.53
Reading West Jn
15/38
96.67
Didcot Parkway
16p05a ~ 16p45d
107.18
Oxford
17.04a ~ 17.06d
124.59
Aynho Jn
17/22
128.20
Banbury
17/30
148.11
Leamington Spa
17/47
160.79
Dorridge
18/00
170.41
St Andrews Jn
18/11
172.12
Birmingham New Street
18.18a ~ 18.21d
174.13
Soho South Jn
18/26
181.41
Bescot
18/42
188.23
Bushbury Jn
18/52
202.00
Stafford
19.04a ~ 19.06d
207.29
Norton Bridge
19/11
226.37
Crewe
19.35a ~ 19.37d
231.07
Sandbach
19/45
245.22
Wilmslow
20/01
251.38
Stockport
20.14a ~ 20.15d
257.28
Manchester Piccadilly
20.24a