1st September 1991
British Rail
Worksop Depot Open Day Specials
| | |
| --- | --- |
| Locos Used | 20142, 20215, 56007, 58040 & 60069 |
Route :
2G81 : Chesterfield to Elmton & Creswell to Worksop
2G82 : 13.38 Chesterfield to Worksop
2G88 : Doncaster to Worksop
2G91 : Worksop to Elmton & Creswell to Chesterfield
| | |
| --- | --- |
| Loco(s) | Route (1) |
| 58040 (5) | 09.00 Doncaster - Maltby - Worksop |
| 56007 (4) | 10.20 Worksop - Elmton & Creswell |
| 58040 (5) | 10.41 Elmton & Creswell - Chesterfield |
| 56007 (4) | 11.20 Chesterfield - Elmton & Creswell |
| 58040 (5) | 11.50 Elmton & Creswell - Worksop |
Route : 11.30 departure ex-Doncaster
| | |
| --- | --- |
| Loco(s) | Route (1) |
| 60069 (2) | Doncaster - Firbeck West Jn - Brancliffe East Jn - Worksop |
| 20142 + 20215 (3) | Worksop - Doncaster |
Route : 12.46 Worksop - Chesterfield
| | |
| --- | --- |
| Loco(s) | Route |
| 20142 + 20215 (3) | Worksop - Elmton & Creswell Jn |
| 60069 (2) | Elmton & Creswell Jn - Chesterfield |
Route : 2G82 throughout
| | |
| --- | --- |
| Loco(s) | Route |
| 20142 + 20215 (3) | 13.38 Chesterfield - Elmton & Creswell Jn |
| 60069 (2) | Elmton & Creswell Jn - Worksop |
Route : 14.45 Worksop - Chesterfield
| | |
| --- | --- |
| Loco(s) | Route |
| 56007 (4) | Worksop - Elmton & Creswell Jn |
| 58040 (5) | Elmton & Creswell Jn - Chesterfield |
Route : ???? Chesterfield - Worksop
| | |
| --- | --- |
| Loco(s) | Route |
| 56007 (4) | Chesterfield - Elmton & Creswell Jn |
| 58040 (5) | Elmton & Creswell Jn - Worksop |
Route : 17.30 departure ex-Worksop
| | |
| --- | --- |
| Loco(s) | Route (1) |
| 56007 (4) | Worksop - Brancliffe East Jn - Firbeck West Jn - Doncaster |
| 58040 (5) | Doncaster - Worksop |
Notes :
(1) Route confirmation required.
(2) 20142 + 20215 on rear.
(3) 60069 on rear.
(4) 58040 on rear.
(5) 56007 on rear.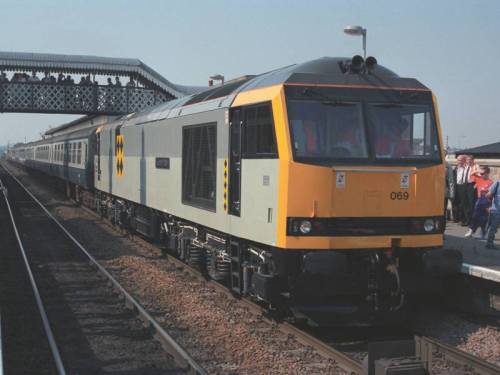 Brand new 60069 at Worksop on one of the shuttes (photo: Gary Thornton)
A few more photos of these trains, along with the nearby depot open day, can be found in this album on my Flickr Website
Sources : Andrew Wilson, Richard Rooker, Clive Barlow & Glenn Ford



Back to "The Railtour Files"