22nd - 24th November 1991
Flying Scotsman Services Limited
The Claymore
Locos Used
?????, 37402, 47568? & steam: 5407
Stock Used
[1] : sleeping cars
[2] : different rake, day stock
[3] : 'day seating stock provided'
Route :
1Z40 : London Euston to Edinburgh Waverley
1Z41 : Edinburgh Waverley to Fort William
1Z43 : Fort William to Edinburgh Waverley
1Z40 : Edinburgh Waverley to London Euston
| | | | |
| --- | --- | --- | --- |
| Date(s) | Stock | Loco(s) | Route |
| 22/11-23/11 | [1] | AC electric | London Euston - (via WCML, Northampton) - Rugby - Coventry - Birmingham International - Stechford - Aston - Perry Barr North Jn - Bescot Stadium - Darlaston Jn - Bushbury Jn - Penkridge - Stafford - (via WCML) - Carstairs South Jn - Carstairs East Jn - Midcalder Jn - Haymarket - Edinburgh Waverley |
| 23/11 | [2] | 37402 | Edinburgh Waverley - Haymarket - Newbridge Jn - Linlithgow - Polmont Jn - Lenzie - Cowlairs East Jn - Cowlairs North Jn - Westerton - Dalmuir - Dumbarton Central - Craigendoran Jn - Glen DOuglas - Crianlarich - Rannoch - Fort William |
| 23/11 | [2] | 5407 + diesel pilot loco | Fort William - (reverse of outward route) - Craigendoran Jn |
| 23/11 | [2] | 5407 | Craigendoran Jn - (reverse of outward route) - Newbridge Jn |
| 23/11 | [2] | 5407 + diesel pilot loco | Newbridge Jn - (reverse of outward route) - Edinburgh Waverley |
| 24/11 | [3] | AC electric | Edinburgh Waverley - (reverse of outward route) - Preston |
| 24/11 | [3] | 47568? | Preston - Euxton Jn - Chorley - Lostock Jn - Bolton - Salford Crescent - Ordsall Lane Jn - Manchester Piccadilly - Stockport - Cheadle Hulme - Alderley Edge - Crewe - (via WCML) - Stafford |
| 24/11 | [3] | AC electric | Stafford - (reverse of outward route0 - Rugby - (via WCML, ?Weedon?) - London Euston |
Notes :
(2) Ran in association with InterCity, ScotRail & S.R.P.S.
(1) Route confirmation required - above is from booked timings. Was the diesel pilot loco 37402 on either or both legs where used? Due to engineering works the train over-nighted in Edinburgh Waverley station with passengers using their sleeping berths. Return actual timings suggests the train may not have gone via the Northampton loop as booked, confirmation required.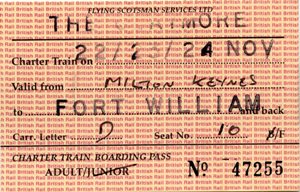 Ian McDonald's ticket.
Sources : Brian Knights & Ian McDonald



Timings (Booked & Actual)
(from Ian McDonald)
M.C
Location
Booked
Actual
Booked
Actual
M.C
0.00
Euston
20.48d
?
18.19a
?
1165.40
5.65
Willesden Junction
20/55
?
18/12
?
1159.55
17.35
Watford Junction
21.05a ~ 21.06d
?
17.55a ~ 17.56d
?
1148.05
31.53
Tring
21/18
?
17/43
?
1133.67
46.46
Bletchley
21/29
?
17/26
?
1118.74
49.65
Milton Keynes Central
21.33a ~ 213.34d
?
17.21a ~ 17.22d
?
1115.55
56.47
Hanslope Jn
21/40
?
17/15
18/25
1108.73
65.68
Northampton
21/49
?
17/01
?via Weedon?
1099.52
84.67
Rugby
22/11
?
16/44
18/01½
1080.53
96.27
Coventry
22/22
?
16/33
17/52
1069.14
107.02
Birmingham International
22.32a ~ 22.34d
?
16.21a ~ 106.23d
17.38 ~ 17.40
1058.38
111.39
Stechford North Jn
22/40
?
16/17
17/28
1054.01
114.28
Aston
22/46
?
16/12
17/23
1051.12
121.10
Bescot Jn
22/54
?
16/05
?
1044.30
122.25
Darlaston Jn
22/58
?
16/01
?
1043.15
127.72
Bushbury Jn
23/10
?
15/56
17/01
1037.48
141.49
Stafford
23/30
?
15L31 ~ 15L41
16.37 ~ ??.??
1023.71
?
Norton Bridge
?
?
15/26
16/32
1018.42
?
Madeley
?
?
15/10
?
1007.40
166.06
Crewe
23.51a ~ 23.55d
?
15.00a ~ 15.02d
16.11 ~ 16.17½
999.34
190.17
Warrington Bank Quay
00/13
?
201.77
Wigan North Western
00/24
?
-
Alderley Edge
14/47
15/42
982.13
-
Cheadle Hulme
14/42
15/37
976.54
-
Stockport
14c26 ~ 14c27
??.?? 15.28½
974.33
-
Manchester Piccadilly
14/17
15/13½
968.49
-
Manchester Oxford Road
14/14
15/12½
968.06
-
Ordsall Lane Jn
14/04
?
967.06
-
Salford Crescent
14/02
?
966.24
-
Bolton
13/48
14/59
957.33
-
Lostock Jn
13/45
14/50
954.44
-
Chorley
13/35
14/43
945.67
-
Euxton Jn
13/30
?
942.53
217.07
Preston
00.37a ~ 00.39d
?
13L16a ~ 13L24d
14.02 ~ 14.12
937.17
238.05
Lancaster
00/57
?
12/40
13/29
917.19
244.13
Carnforth U&DGL
01*04 ~ 02*55
?
12/36
13/25
911.11
257.13
Oxenholme
03/07
?
12/28
13/17
898.11
289.25
Penrith
03/43
?
12/04
12/54
859.79
307.14
Carlisle
04c01 ~ 04c03
?
11c47 ~ 11c49
??.?? ~ 12.38
842.10
315.71
Gretna Jn
04/09
?
11/39
?
833.33
333.00
Lockerbie
04/25
?
11/06
?
816.24
347.17
Beattock
04/36
?
10/56
?
802.07
356.78
Beattock Summit
04/46
?
10/48
?
792.26
365.04
Abington
04*53 ~ 05*04
?
10/43
?
784.20
380.27
Carstairs South Jn
05/21
?
10/31
?
768.77
381.25
Carstairs East Jn
05/24
?
10/26
?
767.69
397.10
Midcalder Jn
05/39
?
10/13
?
752.14
407.04
Haymarket
05/54
?
10/03
?
741.39
409.04
Edinburgh Waverley
[P20] 05.58a ~ 06.25d [P11]
?
22.12a ~ 10.00d
?
740.20
410.23
Haymarket
06/28
?
22/08
?
739.01
417.37
Newbridge Jn
06/35
?
21L47 ~ 21L57
?
731.67
426.49
Linlithgow
06/43
?
21/37
?
722.55
431.25
Polmont Jn
06/48
?
21/32
?
717.79
449.65
Lenzie
07/06
?
21/11
?
699.39
454.13
Cowlairs East Jn
07/12
?
19w26 ~ 20w56
?
695.11
454.34
Cowlairs North Jn
07/13
?
19/24
?
694.74
458.25
Westerton
07/19
?
19/16
?
690.79
462.09
Dalmuir
07/24
?
19/08
?
687.15
468.23
Dumbarton Central
07/37
?
18/55
?
681.01
475.15
Craigendoran Jn
07/51
?
18L19 ~ 18L35
?
674.09
477.23
Helensburgh Upper
07t56
?
18t16
?
672.01
484.11
Garelochhead
08t09
?
18t02
?
665.13
490.36
Glen Douglas
08t24
?
17x33 ~ 17x46
?
658.68
494.60
Arrochar & Tarbet
08t34
?
17t18
?
654.44
502.63
Ardlui
08t29 (in error!)
?
16t57
?
646.41
511.40
Crianlarich
09x10 ~ 0x25
?
15w55 ~ 16w35
?
637.64
516.36
Upper Tyndrum
09t37
?
15t42
?
632.68
524.03
Bridge of Orchy
09t52
?
15t21
?
625.21
539.51
Rannoch
10t20
?
14x42 ~ 14x53
?
609.53
546.69
Currour
10t35
?
14t24
?
602.35
556.74
Tulloch
10t55
?
13p45a ~ 13p53d
?
592.30
562.50
Roy Bridge
11/05
?
13w14 ~ 13w29
?
586.54
565.71
Spean Bridge
11t12
?
13t07
?
583.33
574.52
Fort William
11L27a
?
12L47d
?
574.52