28th December 1991
Southern Electric Group
Emerald Water Witch
| | |
| --- | --- |
| EMU's Used | 5001, 9001 (68001) & 9002 (68002) |
Route (four trains) : 2Z40 (SR headcode 61)
| | |
| --- | --- |
| Traction (3) | Route |
| 5001 | Ashford - Folkestone Central - Folkestone East Train Road No.3 |
| 5001 | Folkestone East Train Road No.3 - Folly Road Sig. YE67 |
| 5001 | Folly Road Sig. YE67 - Folkestone East Berthing Sidings |
| 5001 | Folkestone East Berthing Sidings - Folkestone Harbour (1) |
| 5001 + 9002 + 9001 | Folkestone Harbour - Folkestone Harbour Pier [P3] |
| 5001 + 9002 + 9001 | Folkestone Harbour Pier [P3] - Folkestone Harbour (1) |
| 5001 | Folkestone Harbour - Folkestone East Train Roads |
| 5001 | Folkestone East Train Roads - Folkestone Central - Ashford |
Notes :
(1) Alan Sheppard comments : Timing sheet has trains 1 & 3 doing platform 1 both ways at Folkestone Harbour and trains 2 & 4 doing platform 2. The train I took (Train 1 on the Sunday) did platform 1 on the way to the Harbour and platform 2 on the return. I have no knowledge of whether any other trains did all platforms, or just the ones booked but ticket letter did state 'visiting all platforms at Folkestone Harbour', so presumably timing sheet was wrong!!
(3) Confirmation of route & traction required (assumed same as used on the Sunday).
Source : Alan Sheppard



Photo Review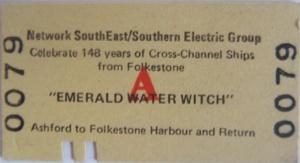 Front and back of Brian Halfords ticket.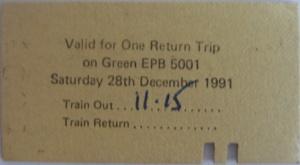 Timings (Booked & Actual)
(from Alan Sheppard & Howard Harrison)
M.C
Location
Train 1
Booked
Train 2
Booked
Train 3
Booked
Train 3
Actual
Train 4
Booked
0.00
Ashford
09.15d [P4]
11.15d [P4]
13.20d [P4]
13.19
15.20d [P4]
9.27
Sandling
09.26a ~ 09.36d
11.26a ~ 11.36d
13.31a ~ 13.40d
13.31 ~ 13.39
15.31a ~ 15.40d
13.64
Folkestone Central
09/42
11/42
13/46
13.45 ~ 13.45
15/46
14.70
Folkestone East Train Road no.3
09.45a ~ 09.48d
11.45a ~ 11.48d
13.49a ~ 13.52d
13.50 ~ 13.53
15.49a ~ 15.52d
15.03
Folly Road Signal YE67
09.50a ~ 09.52d
11.50a ~ 11.52d
13.50a ~ 13.56d
13.56 ~ 13.56
15.50a ~ 15.56d
15.18
Folkestone East Berthing Sidings
09.54a ~ 09.56d
11.54a ~ 11.56d
13.58a ~ 14.00d
13.58 ~ 13.59
15.58a ~ 16.00d
16.18
Folkestone Harbour
10.01a ~ 10.11d
12.01a ~ 12.11d
14.05a ~ 14.15d
14.04 ~ 14.13 [P1]
16.05a ~ 16.15d
16.38
Folkestone Harbour Pier
10.14a ~ 10.17d [P3]
12.14a ~ 12.17d
14.18a ~ 14.21d [P3]
14.15 ~ 14.20 [P3]
16.18a ~ 16.21d [P3]
16.58
Folkestone Harbour
10.20a ~ 10.32d
12.20a ~ 12.32d
14.24a ~ 14.34d
14.22 ~ 14.34 [P2]
16.24a ~ 16.34d
17.61
Folkestone East Train Roads
10.37a ~ 10.39d
12.37a ~ 12.39d
14.39a ~ 14.41d
14.39 ~ 14.40
16.39a ~ 16.41d
18.67
Folkestone Central
10/42
12/42
14/44
?
16/44
23.24
Sandling
10/49
12/49
14/51
?
16/51
32.51
Ashford
10.59a [P4]
12.59a [P4]
14.59a [P4]
14.58
16.59a [P4]