29th December 1991
Network SouthEast & East Anglian Railway Museum
Stour Valley Steamer
| | |
| --- | --- |
| Locos Used | 31??? & steam: 69621 |
| Stock Used | 3-car DMU |
Route : (multiple runs made)
| | |
| --- | --- |
| Loco(s) | Route |
| 69621 | Marks Tey - Chapel & Wakes Colne - Great Cornard (1) |
| 69621 (2) | Great Cornard - Chapel & Wakes Colne - Marks Tey |
Notes :
(1) Train reversed about ½ mile the Sudbury side of Cornard Level Crossing.
(2) Loco on rear.
(3) How was 31??? involved? Dick Franklin records on the 22nd that the loco failed in the afternoon...was that in fact this date and not the 22nd?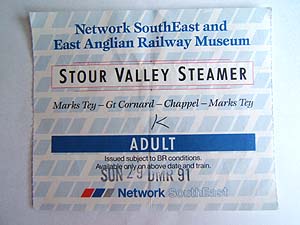 From Brian Halford's ticket collection.
Sources : Brian Halford & Dick Franklin



Timings (Booked & Actual)
(from Dick Franklin)
| | | | | | | | | | |
| --- | --- | --- | --- | --- | --- | --- | --- | --- | --- |
| Location | Booked | | Booked | Actual | | Booked | Booked | Booked | Booked |
| Marks Tey | 10.00d | | 11.15d | 11.17 | | 12.30d | 13.45d | 15.00d | - |
| Chappel & Wakes Colne | 10/08 | | 11/23 | 11/23 | | 12/38 | 13/53 | 15/08 | - |
| Cornard | 10.22 | | 11.37 | 11.33½ ~ 11.34½ | | 12.52 | 14.07 | 15.22 | - |
| Chappel & Wakes Colne | 10.38a ~ 10.53d | | 11.53a ~ 12.08d | 11.47 ~ 12.07½ | | 13.08a ~ 13.23d | 14.23a ~ 14.38d | 15.38a ~ 15.53d | 16.30d |
| Marks Tey | 11.01a | | 12.16a | 12.14 | | 13.31a | 14.46a | 16.01a | 16.38a |