29th February 1992
538 Railtours
The Liverpool Street Leapfrog
Motive Power
33116 + 4TC units 410 & 417
Formed, in order: 33116 + 410 [76288+70859+70812+76287] +417 [76302+70860+70826+76301]
Route : 1Z36 throughout (SR headcode 98)
| | |
| --- | --- |
| Loco | Route |
| 33116 | London Waterloo - Clapham Junction - New Malden - Surbiton - Weybridge - Addlestone - Virginia Water - Staines - Feltham Jn - Hounslow - Old Kew Jn - Kew East Jn - South Acton Jn - Acton Wells Jn - Acton Canal Wharf Jn - Dudding Hill Jn - Cricklewood Curve Jn - West Hampstead Thameslink - Carlton Road Jn - Junction Road Jn - Upper Holloway - Harringay Park Jn - South Tottenham - Tottenham South Jn - Coppermill Jn - Clapton Jn - Hackney Downs - Bethnal Green - Liverpool Street |
| 33116 (1) | Liverpool Street - Bethnal Green - Hackney Downs - Seven Sisters - Lower Edmonton - Bury St. Jn - Enfield Town |
| 33116 | Enfield Town -Bury St.Jn - Lower Edmonton - Seven Sisters - Seven Sisters Jn - South Tottenham - Woodgrange Park - Barking - Upminster - Shoeburyness |
| 33116 (1) | Shoeburyness - Pitsea - Tilbury East Jn - Tilbury Riverside |
| 33116 | Tilbury Riverside - Tilbury West Jn - Grays - Ockendon - Upminster - Barking - Fenchurch Street |
| 33116 (1) | Fenchurch Street - Limehouse - Gas Factory Jn - Bow Jn - Stratford - Ilford - Gidea Park - Shenfield - Wickford - Southend Victoria |
| 33116 | Southend Victoria - Wickford - Shenfield - Ilford - Stratford - Channelsea Jn - Lea Jn |
| 33116 (1) | Lea Jn - High Meads Jn - Temple Mills East Jn - Coppermill Jn - Brimsdown - Cheshunt - Broxbourne - Ware - Hertford East |
| 33116 | Hertford East - Ware - Broxbourne - Cheshunt - Bury Street Jn - Lower Edmonton - Seven Sisters - Hackney Downs - Bethnal Green - Liverpool Street (2) |
| 33116 (1) | Liverpool Street - Bethnal Green - Reading Lane Jn - Dalston Jn - Canonbury West Jn - Finsbury Park - Alexander Palace - Bowes Park |
| 33116 | Bowes Park - Alexander Palace - Finsbury Park - Kings Cross Freight Terminal Jn - Camden Road East Jn - Camden Road Jn - Gospel Oak - West Hampstead - Kensal Green Jn - Willesden Jn High Level - Acton Wells Jn - South Acton Jn - Kew East Jn - Old Kew Jn - Hounslow - Feltham - Staines - Virginia Water - Addlestone - Weybridge - Surbiton - Clapham Junction - London Waterloo |
Notes :
(1) Loco propelling.
(2) Booked round trip to Chingford was cancelled (see comments below).
(3) Alan Osborn comments: A more appropriate name for this tour should have been West Hampstead Leapfrog bearing in mind it omitted the Pick Up at West Hampstead Thameslink and on the return failed to stop at West Hampstead North London I understand this was an error in the crew working notice timings which failed to show the West Hampstead calls.
(3) Many of the adverts in the railway press for this railtour were incorrectly dated 29th February 1991!
Source : Simon Bennett



Photo Review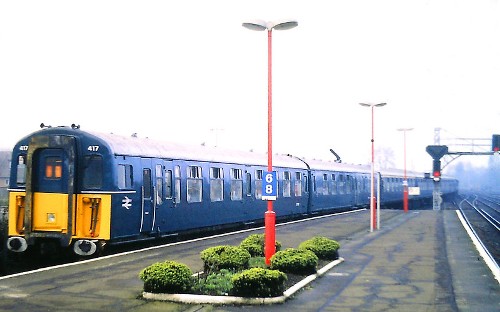 417 at the rear departing Surbiton (photo: Steve Guess)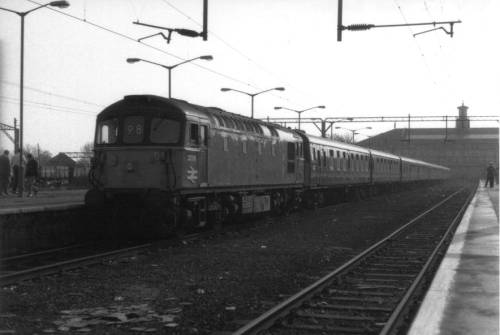 33116 at Tilbury Riverside (photo: Duncan Jennings)


Tour Review
(by Nigel Benning)
This was an excellent tour, starting from London Waterloo and making a round tour of the London area visiting a number of branches, before returning to Waterloo. I travelled up from Bournemouth for the tour but, as the first service from Bournemouth would not reach Waterloo in time, I drove to Southampton Parkway to catch the 06:00 service from here. Whilst waiting on the platform for this service, the empty stock for the tour thundered through the station, on its way to London from Bournemouth depot (which is about two miles from my house!).
I joined the tour at Clapham Junction, the tour already being 14 minutes down at this point, and we headed off on a circular route for Liverpool Street. Passengers hoping to join the tour at West Hampstead Thameslink had a fright as the tour neglected to stop there as advertised, necessitating a mad dash to Liverpool Street to pick the tour up there instead. On the return, the set down stop at West Hampstead North London Line was also omitted forcing an extra stop at Willesden Junction High Level. Oops!
Included in the tour was a visit to the now closed Tilbury Riverside station. It being February 29th, I purchased a 'Permit To Travel' ticket from the machine at Tilbury Riverside as a memento, only to find the date printed as March 1st !
The tour ran mostly to time during the day until a point's failure at Channelsea Junctions (Stratford) caused a one-hour delay (RST). The tour reversed at this point instead of taking its planned route and a later scheduled visit to the Chingford branch was later omitted in order to get the tour back on time. [A comment from Nick Lawford of 538 Railtours : It is true we were late, but we were not going to cut Chingford until something else happened. The train crew workings were extremely complex. We had 2 sets of drivers (one for SR traction, one for AR route) and likewise 2 sets of guards, route and stock. The problem was that certain combinations of crews were diagrammed to be relieve at LV before Chingford trip and others at LV after Chingford. Our late running would have caused one of the crew - who was already on the train and due to come off at LV after Chingford - to have run over his maximum allowed hours if he continued to work. CON-trol was trying to find another crew, but in the mean time, the relief crew that had been poised to relived the train on return from Chingford had arrived,, but would also over run their hours if we continued as booked. At one point the tour even had the road for departure to go to Chingford, but reluctantly I had to agree to omit it.] As a result, an on time departure was made from Liverpool Street and the tour finally ended up being 30 minutes early back at Clapham Junction (where I left the tour).
538 Railtours planned further branch tours, but these never materialised due, I believe, to the organiser moving to Europe for work purposes. And I still need the Chingford branch! [Nick Lawford : That is true. I had to stop doing any more because of that.]
Nigel Benning



Timings (Booked & Actual)
(from Robin Addison, Alan Sheppard & Nigel Benning)
| | | | |
| --- | --- | --- | --- |
| M.C | Location | Booked | Actual |
| 0.00 | Waterloo | 07.38d [MFL] | 07.53d |
| 3.74 | Clapham Junction | 07.46a ~ ??.??d | 07.59 ~ 08.00 |
| 9.62 | New Malden | 07/52 [SL] | 08/09 |
| 12.03 | Surbiton | 07.59a ~ ??.??d | 08.13 ~ 08.14 |
| 19.12 | Weybridge | 08/08 | 08/23 |
| 20.71 | Addlestone | 08/12 | 08/26 |
| 24.65 | Virginia Water | 08/23 | 08/32 |
| 28.78 | Staines | 08.33a ~ ??.??d | 08.39 ~ 08.40 |
| 30.31 | Feltham Jn | 08/42 | 08/48 |
| 31.29 | Hounslow | 08/44 | 08/50 |
| 34.68 | Old Kew Jn | 08/51 | 08/55 |
| 35.30 | Kew East Jn | 08/53 | 08/56 |
| 36.10 | South Acton Jn | 08/56 | 08/58 |
| 37.76 | Acton Wells Jn | 09/01 | 09.01 ~ 09.07 |
| 38.36 | Acton Canal Wharf Jn | 09/03 | 09/09 |
| 41.33 | Dudding Hill Jn | 09/08 | 09/14 |
| 42.17 | Cricklewood Curve Jn | 09/14 | 09.16 ~ 09.17 |
| 43.36 | West Hampstead Thameslink | 09.21a ~ ??.??d | 09/24 |
| 45.23 | Carlton Road Jn | 09/24 | 09/35 |
| 46.00 | Junction Road Jn | 09/27 | 09/38 |
| 47.08 | Upper Holloway | 09/28 | 09/39 |
| 48.23 | Harringay Park Jn | 09/31 | 09/41 |
| 49.77 | South Tottenham | 09/34 | 09/48 |
| 50.01 | South Tottenham East Jn | - | 09/48 |
| 50.43 | Tottenham South Jn | 09/37 | 09/51 |
| 51.10 | Coppermill Jn | 09/39 | 09/53 |
| 51.23 | Clapton Jn | 09/42 | 09/54 |
| 53.06 | Hackney Downs | 09/44½ [FL] [SL] | 09/56 |
| 54.74 | Bethnal Green | 09/48 | 10/00 |
| 56.04 | Liverpool Street | 0951a ~ 1009d | 10.03 ~ 10.13 |
| 57.14 | Bethnal Green | 10/12 | 10/17 |
| 59.02 | Hackney Downs | 10/16 | 10/20 |
| 61.52 | Seven Sisters | 10/21 | 10/25 |
| 64.49 | Lower Edmonton | 10/30 | 10.30 ~ 10.33 |
| 65.24 | Bury Street Jn | 10/31½ | 10/34 |
| 66.59 | Enfield Town | 10.36a ~ 10.50d | 10.37 ~ 10.50 |
| 68.14 | Bury Street Jn | 10/54½ | 10/52 |
| 68.69 | Lower Edmonton | 10/56 | 10/54 |
| 71.66 | Seven Sisters | 11/02½ | 11/02 |
| 71.72 | Seven Sisters Jn | 11/03 | 11/02 |
| 72.05 | South Tottenham West Jn | - | 11/07 |
| 72.09 | South Tottenham | 11*06 ~ 11*11 | 11/07 |
| ? | South Tottenham East Jn | ? | 11.07a ~ 11.12d |
| 78.29 | Woodgrange Park | 11/21 | 11/23 |
| 79.71 | Barking | 11c26 ~ ??c?? | 11/26 |
| 87.49 | Upminster | 11/35 | 11/35 |
| 95.18 | Laindon | 11/42 | 11/42 |
| 98.71 | Pitsea | 11/46 | 11/47 |
| 108.04 | Southend Central | 12/03 | 12/03 |
| 111.69 | Shoeburyness | 12.12a ~ 12.22d | 12.12 ~ 12.22 |
| 115.54 | Southend Central | 12.28a ~ 12.29d | 12.28 ~ 12.29 |
| 124.67 | Pitsea | 12/39 | 12.41 ~ 12.43 |
| 134.74 | Tilbury East Jn | - | 12/57 |
| 135.34 | Tilbury Riverside | 1254a ~ 1318d | 12.58 ~ 13.18 |
| 135.73 | Tilbury West Jn | - | 13/19 |
| 138.09 | Grays | 13/22 | 13/23 |
| 142.80 | Ockenden | 13/27 | 13/36 |
| 145.58 | Upminster | 13/32 | 13/42 |
| 153.36 | Barking | 13/39 | 13/50 |
| 159.04 | Limehouse | 13/48 [FL] | 13/59 |
| 160.78 | Fenchurch Street | 13.53a ~ 14.08d | 14.03 ~ 14.09 |
| 162.56 | Limehouse | 14/12 | 14/14 |
| 163.55 | Gas Factory Jn | 14/14 | 14/16 |
| 164.37 | Bow Jn (LTS Timing!) | 14/17 [EL] | 14/18 |
| 164.37 | Bow Jn (GE Timing!) | 14/20 [EL] | 14/18 |
| 165.51 | Stratford | 14/23 | 14/20 |
| 168.76 | Ilford | 14/27 | 14/28 |
| 175.09 | Gidea Park | 14/33 | 14/35 |
| ? | Gidea Park Jn | ? [ME] [EL] | 14/35 |
| 181.64 | Shenfield | 14/42 | 14/43 |
| 190.48 | Wickford | 14/58 | 14/54 |
| 203.07 | Southend Victoria | 15.17a ~ 15.38d | 15.07 ~ 15.45 |
| 215.46 | Wickford | 15/51 | 16/01 |
| 224.30 | Shenfield | 16/03 | 16/15 |
| 231.05 | Gidea Park | 16/10 | 16/23 |
| 237.18 | Ilford | 16/16 | 16/29 |
| 240.43 | Stratford | 16c24 ~ ??c?? | 16.34 |
| 241.05 | Channelsea Jn | 16/28 | 16/37 |
| - | Carpenters Road North Jn | ? | 16.37 ~ 17.24 |
| - | Hackney Wick/Lea Jn (Up Line) | DIV | 17.27 ~ 17.30 |
| 241.21 | High Meads Jn | ? | 17/31 |
| 241.65 | Temple Mills East Jn | 16/31 | 17/35 |
| 244.33 | Copper Mill Jn | 16/44 | 17/43 |
| 250.20 | Brimsdown | 16/52 | 17/49 |
| 253.40 | Cheshunt | 16/56½ | 17/52 |
| 256.56 | Broxbourne | 17/01 | 17/56 |
| 257.74 | Broxbourne Jn | 17/03 | 17/58 |
| 258.30 | Rye House | 17/04½ | 17/59 |
| 261.57 | Ware | 17/10 | 18/04 |
| 263.58 | Hertford East | 17.14a ~ 17.30d | 18.07 ~ 18.17 |
| 265.59 | Ware | 17/34 | 18/22 |
| 269.06 | Rye House | 17/39½ | 18/28 |
| 269.42 | Broxbourne Jn | 17/43 | 18/29 |
| 270.60 | Broxbourne | 17/45½ | 18/31 |
| 273.76 | Cheshunt | 17/50 | 18/36 |
| 279.14 | Bury Street Jn | 17/57 | 18/42 |
| 279.69 | Lower Edmonton | 17/58 | 18/43 |
| 282.66 | Seven Sisters | 18/04 | 18/48 |
| 285.36 | Hackney Downs | 18/09 [SL] | 18/53 |
| 287.24 | Bethnal Green | 18/13 | 18/56 |
| 288.34 | Liverpool Street | 18.16a ~ 18.24d | 19.00a |
| 289.42 | Bethnal Green | 18/27 [SL] [FL] | DIV |
| 295.18 | Hackney Downs | 18/30½ | DIV |
| 292.72 | Clapton Jn | 18/36 | DIV |
| 298.67 | Chingford | 18.48a ~ 18.55d | DIV |
| 304.62 | Clapton Jn | 19/07 | DIV |
| 306.22 | Hackney Downs | 19/09½ [SL] [FL] | DIV |
| 308.10 | Bethnal Green | 19/13 | DIV |
| 309.20 | Liverpool Street | 19.16a ~ 19.27d | 19.28d |
| 310.30 | Bethnal Green | 19/30 | 19/31 |
| 311.75 | Reading Lane Jn | 19/34 | 19/35 |
| 312.19 | Navarino Road Jn | - | 19/36 |
| 312.75 | Dalston Jn | 19/44 | 19/37 |
| 313.65 | Canonbury West Jn | 19/47 | 19/40 |
| 315.07 | Finsbury Park | 19c53 ~ 19c55 [SL] | 19.43 ~ 19.45 |
| 317.44 | Alexandra Palace | 20/05 | 19/50 |
| 318.21 | Bowes Park | 20.11a ~ 20.21d | 19.52 ~ 19.56 |
| 318.78 | Alexandra Park | 20/27 [SL] | 19/58 |
| 321.35 | Finsbury Park | 20c32 ~ 20c33 | 20/02 |
| 323.12 | Kings Cross Freight Terminal Jn | 20/38 | 20/09 |
| 323.46 | Camden Road East Jn | 20/43 | 20/10 |
| 323.71 | Camden Road | 20/46 | 20/14 |
| 325.10 | Gospel Oak | 20/49 | 20/17 |
| 326.75 | West Hampstead NLL | 20.54a ~ ??.??d | 20/22 |
| 329.17 | Kensal Green Jn | 20/59 | 20/31 |
| 329.39 | Willesden Jn HL | 21/00 | 20.32a ~ 20.33d |
| 330.24 | Acton Wells Jn | 21/03 | 20/35 |
| 332.11 | South Acton Jn | 21/05½ | 20/37 |
| 332.71 | Kew East Jn | 21/11 | 20/40 |
| 333.33 | Old Kew Jn | 21/13 | 20/40 |
| 336.72 | Hounslow | 21/18 | 20/45 |
| 337.70 | Feltham | 21/20 | 20/49 |
| 342.04 | Staines | 21.29a ~ ??.??d | 20.54 ~ 20.55 |
| 346.17 | Virginia Water | 21.37a ~ ??.??d | 21.02 ~ 21.03 |
| 350.11 | Addlestone | 21/42 | 21/09 |
| 351.70 | Weybridge | 21.46a ~ ??.??d [SL] [FL] | 21.15 ~ 21.16 |
| 357.55 | Hampton Court Jn | 21/53 | 21/23 |
| 358.79 | Surbiton | 21.55½a ~ ??.??d | 21.25 ~ 21.26 |
| 361.20 | New Malden | 21/59 | 21/29 |
| 363.63 | Wimbledon | 22/01 | 21/32 |
| 367.08 | Clapham Jn | 22.06½a ~ ??.??d | 21.36 ~ 21.37 |
| 371.02 | Waterloo | 22.13a ~ ??.??d | 21.45 |