26th April 2003
Nene Valley Railway "Nene Corridor" Project Launch
Here are some photos taken on the day.
Not specifically a gala but still one worthy of a few words. The "New Corridor" project is a joint venture between the Nene Valley Railway and the Environment Agency. The aims are to build;
a) a platform at Yarwell Mill
b) moorings at Wansford
c) a steam launch for river trips
The highlight of the day was the naming of a GBRF class 66 "Nene Valley". Whilst on the railway it was also to haul three round trips on the line.
The lead up to the event was a farce - several contacts with the NVR had all yielded responses that the class 66 hauled services would only be available to the invited guests....yet their own Website stated fare paying passengers would also be carried! A message there for the NVR management - get your communications consistent - how many potential passengers at £12 a head for a day rover did you lose over the confusion??
I arrived a little after 9am to find Wansford yard completely fog-bound - after a while it cleared a bit to reveal 31108 was the culprit! This loco hauled a 9.30 additional service which was non-stop from Wansford to Peterborough Town. I travelled on this to Peterborough and back to Wansford and have to say the 31 put up quite a reasonable show.
Back at Wansford and 31108 gave the train over to D306 and this was also sampled on a round truip, though via Yarwell Mill first. On return from Yarwell 66706 was noted at Wansford ready for the naming ceremony.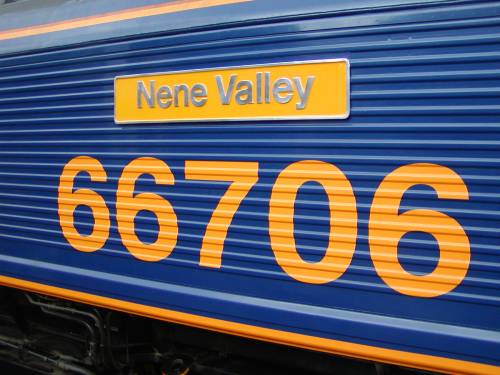 The 40 put up a good show too on the round trip to Peterborough. Rolling in to Peterborough there were quite a few familiar faces who had arrived on public transport and were headed for Wansford to get the 66 for haulage. Arriving back into Wansford most of us quickly swapped platforms and shortly after 66706 "Nene Valley" rolled in from Yarwell Mill to form the 12.00 to Peterborough Town. The first two carriages (Belgian Railways "K1" stock disguised as Wagon-Lits) were for the invited guests, the remainder (all also non-UK stock) was available to fare paying passengers. The train was quite well filled.
After the round trip with 66706 I had a look round the shed then left the railway to go and visit a colleague who has a small-holding on the south side of the railway which borders the river and has a reasonable view of the line. During the guided tour of his 11 acres there was the chance to view D306 & 66706 heading past on their way to/from Peterborough!
In all it was a nice relaxing day out. Use of diesels only on the day might seem like a strange choice on what was a day aimed more at the public than enthusiasts, but we weren't complaining!
Gary Thornton.