Virgin Daytripper
(May 2003)
David Russell has a day out on a Virgin Daytripper ticket.
Recently, one of the railway magazines was offering the chance to purchase a Virgin Daytripper ticket (basically, a day rover valid on all Virgin Trains services) for just £15. I decided to use this as an opportunity to make a few journeys behind some electrics on the WCML, and hopefully score at least one of my last two Class 87s for haulage at the same time.
With the 06.44 and 06.52 Cross Country services from York diagrammed for HSTs, this was an ideal way to get to Birmingham to cover some electrics. I never imagined that one day I would be travelling by HST in preference to other trains! 43160+43093 took me south, and whilst on this journey I received information that 87008, one of my required electrics, was on the 07.20 Glasgow-Euston. A quick study of the timetable revealed that this stopped at Milton Keynes, and I could catch the 10.45 Birmingham-Euston as far as there for 87008 forward. The journey south was made a bit more interesting with scoring for sight of 66611 at Kingsbury and 66053 (one of my last four EWS examples) on Saltley.
HSTs seem to cause quite a bit of interest nowadays, and I received a phone call telling me that Midland Main Line liveried 43089 was working a Blackpool-Birmingham International service. As this was due at Birmingham New Street a few minutes after my arrival, I decided to take it to International for the next Euston service to Coventry. Unfortunately, the HST was late (despite being shown as being 'on time' until after it should have left) and left behind the Euston so I ended up having a while at International instead before catching InterCity liveried 86228 back to New Street. During the time at Birmingham International, I sampled the new 'Skytrain' to Birmingham Airport.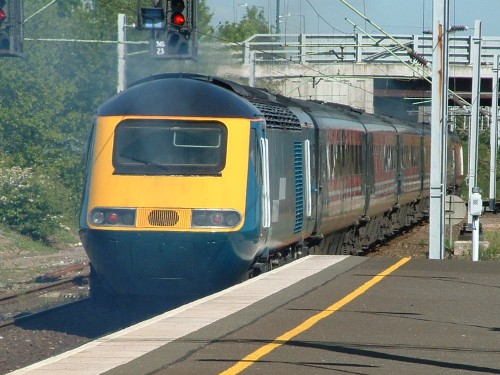 MML liveried 43089 leaving Brum Int on the 09.45 to Blackpool.
A quick leap onto 86233 (which carries original Electric Blue colours) found me on the 10.45 to Euston as planned. Passing Rugby, I noted 66508 among the locos stabled there, another required sight. I took 86233 to Milton Keynes for my 30 minute wait for 87008 – except the 30 minutes was actually an hour as the Glasgow-Euston service was late. Milton Keynes was busy with several freights passing through as well as the WCML passenger services. 87008 rolled in as planned, so I caught this to Euston – only 1 to go now!
Earlier in the day, 87007 (my other required 87) had been at Euston but was not allocated any workings. Whilst heading south, I learnt that it was due to work the 16.55 Euston-Manchester. Passing Willesden, I saw 87001, gleaming in original BR blue livery. I arrived at Euston at 13.45, so had time for a leap to Rugby and back. I took 87015 for 87012 back. This turned out to be a good move, as while I was at Euston, 66221 (another new 66 for sight) had appeared at Wembley.
On arrival back at Euston just before 16.30 I found 87007 at the head of the 16.55 to Manchester as planned, and obtained a seat in the front coach behind the loco (no thrash, but a habit I guess!), which departed bang on time.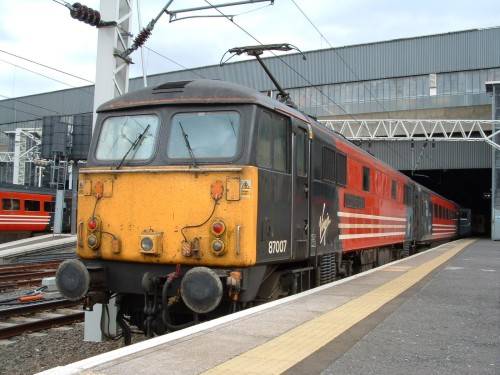 87007 (Davids last one) at Euston on the 16.55 to Manchester.
I took my 36th 87 for haulage as far as Milton Keynes, where I alighted and waited for the following Euston-Birmingham which was hauled by 90008.
I travelled behind 90008 as far as Birmingham International, then did a short hop back to Coventry behind 90035 which was on hire to Virgin from EWS for the day. An HST (43078+43194) took me back to Birmingham, where I had about 45 minutes before my train back to York at 20.30. I'd deliberately planned to use this train, as it too was diagrammed for an HST, which was worked by 43094+43098. Whilst on this train, I observed a complete bodyshell of a Class 37 painted in undercoat grey in the EMR scrapyard at Kingsbury – presumably 37111, once preserved at Barrow Hill but sold to DRS for refurbishment which was abandoned.
All in all this was an excellent day out – I scored both my Class 87s for haulage, 2 of my last 4 Class 66s for sight as well as 2 Freightliner 66s. Having planned my Cross Country journeys around the HST diagrams, I also managed to avoid making any Voyager journeys. With a bit of careful planning, it is still possible to have an interesting day out on the railway without having to travel on any 'plastic'.
David Russell