30th July - 14th August 2004
South West Rover 2004
Selby out on the bash...
A few months ago I decided that I would do a south-west rover this summer and enjoy the little renaissance that the area is enjoying loco-hauled wise. I don't need any passenger track, and am down to 8 class 67's so chances of scoring a lot were remote, but the aim of this rover was just to enjoy the loco hauled trains whilst they are around. I bought an 8 in 15 South West for £61.
Some points to note for this review are:
1) I don't train spot, but I will endeavour to note down what locos I saw during my rover just in case it is of interest to any readers.
2) I don't do mileage.
3) I don't need any HST power cars so I just mark them in my moves book as HST, but for the sake of completeness I will try and remember to write them down for this article.
4) I am certainly not an accomplished photographer, but I have taken some photographs for this review, please don't be too critical!
30/07/04
My south-west rover commenced on a Friday evening by me taking 43024+042 on the 22:35 from Swindon to Exeter via Weston. Nothing to note apart from the fact that we were delayed by 12mins due to having to run 'wrong line' at Chippenham to pass a failed Wessex unit.
By the way, the gen for the Sat was 67021 1V15 67012or014 1V19 67001+006 5C99 67025+027 5C89 57603 1C99 57604 1A99
PF spinner - 37669+689 66714 92010
31/07/04 DAY 1 SCRATCHING
The Up sleeper was 42 mins late into Exeter due to the guard been assaulted by yobs in the Plymouth area. 57604 produced as booked. This was a winner as I do 57's as 57's even though I had them as 47's. I think that the changes are so significant (i.e., different engine, alternator and class!) that they need to be done again. I did the Up as far as Taunton. It is always tempting to go to BTM to change to the Down however on this night the Down was booked via BTM and the Up was booked via the Desert so that would have been a bowl out!
Nothing much to do at Taunton at 03:00 apart from watching 66192 storm through on the silver bullets – shame it wasn't a pair of china clay tractors!
57603 (required) arrived on time with the Down. This would be my second, and last winning 57/6 of the rover. I had 57601 from Swindon to Padd ages ago. I need 57602 but even though it is shown as being in service it hasn't worked a train since early July so I think it may be knackered. Anyway, at 03:30 so was I, so I got on board 1C99 and fell to sleep. I woke to find us screaming through Totnes so I stayed awake until I bailed at Plymouth. I then watched 08641 perform the gronk move with the Plymouth sleeper portion.
I then went to board the 05:40 to Padd to find that the guard had set up his own little ticket check area by only opening one door on the tram and checking everyone's ticket as they got on! When he gripped me he said that my rover wasn't valid, when I asked him why he said that it wasn't valid until 09:00. I said it was, because it was a weekend, and after some deliberation, either about the ticket or whether it was actually a weekend, he let me on board. Cheers. 43026+191 took me to Exeter, passing 08644 and 47811 at LA, 09013 at Tavistock Yard, 50002 at Totnes, and 67025+026 on 5M89 at Aller junc en-route. That was a bit of a bowl out as 67025 was a winner but so far this summer it has only been the ecs loco and this week it was leading 5C89 again into Paignton! I also passed 5C99 at Dawlish at speed.
Much gen was also now received: PF 37669+690 66555 66714 92033. 67026 on PT Edenex, 67030 HRT 67014 1V19 67021 1V15 67006 1E99 67027 1M89. This was a bit gutting as the two ecs locos 67001+025 were both winners but the two service train locos were dud!
I took a DMU to Paignton and then walked to the Carriage Sdgs to see what was happening and found that the 67006 gen was dud as it was 67001+027 that were in position to work the service trains. 67027 on 1M89 left first so I flagged that and took 67001 on 1E99 to BTM via Weston (I found out later that 67001 burst at Wakefield and was rescued by winner 66162). 67001 was good to get as I missed it the previous week when it worked 1V19 but got capped at Crewe.
This weekend each of the 67's working for VXC had an engineer riding with the driver – I had heard from a good source that this is because the Virgin drivers keep failing the 67's because the ETS keeps tripping, and where as the EWS drivers just reset it, if it trips three times the Virgin driver fails the loco (as per the instruction book), but the thing is that the 67 ETS is new and powerful but connected to old knackered stock, so it just trips out all the time.
After arrival into BTM I watched dud 67021 arrive on 1V15 before taking a DMU to Bath for something to eat. I keep getting bowled out with these Cl.180 new fGW plastic things when I think the service will be a tram one of those rolls in! Anyway I had 43135+186 back from Bath to BTM.
When I returned from Bath 66529 with a dented and rusted cab side and 66616 were in Bristol Kingsland Road Sdgs., and the GNER tram on the Newquay – Newcastle was departing.
The train I had been waiting for – 67014 on 1V19 rolled in 10 mins early. Like 67001, I had a reason to be pleased to whip this one in. On the 25/01/04 67014 was working a drag from Newcastle to York which I could have made at Northallerton off 67030 if the staff at York hadn't taken over 30mins running one loco round!
67014 was taken to Exeter, again via Weston, where it arrived 13mins early. I must say that the 67's absolutely stormed between Taunton and Exeter in both directions. The early arrival into Exeter ensured that I made a –4 onto 43126+133 which I took as far as Westbury.
Westbury held 59203 60024/076 66107/138/180/200 plus some others that I couldn't get the numbers of.
From Westbury I caught a DMU to Yeovil Pen Mill for a +3 onto 31128+454. At Bruton a number of cranks bailed off for 31452+601 which were also out on Weymouth turns.
The DMU was being driven by a woman and I was a bit nervous about my +3, but she must have left something in the oven because she absolutely stormed and we were early into Yeovil. Yeovil is a great little station with its semaphore signals and platform arrangement.
The highlight of the day was the run between Yeovil and BTM behind an NB ped, it was a glorious summer's evening and every window had a head out of it, even the drivers!
On arrival back at BTM 66607 had joined the other two F/L 66's and a kettle was steaming on Barton Hill. 67025+014 on 5A19 were there along with 31452+601 that had run ecs from Westbury. Next, 67026 rolled in on the return PT Edenex, so it must have been quite a long time since that many locos on stock were in BTM at the same time.
I took 43029+168 back to Swindon where I arrived just after 21:00. 47703 was sat there enjoying its weekly failure on VST's charter to Canterbury. The ironic thing is that because they thought 47703 would fail they added 47145 for the return journey as insurance but it burst too! 67003 was just about to back on and take them all home mega late.
So that was day one - just short of 23hrs out and about and I scored 57603/57604/67001/67014.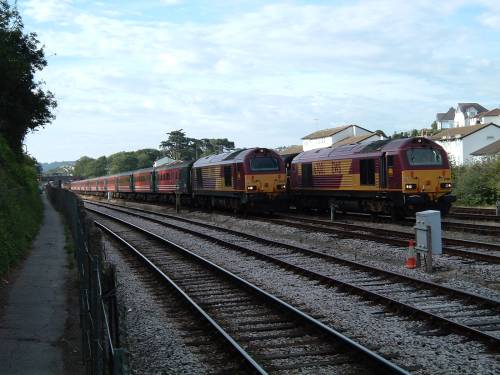 67027 on 5M89 and 67001 on 5E99 in Goodrington Carr. Sdgs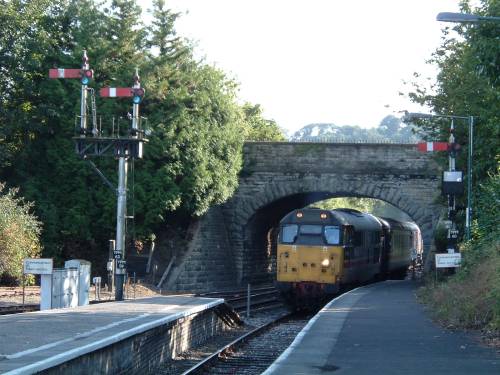 31454 with 31128 out of sight on the rear at Yeovil Pen Mill on 2V89
02/08/04 DAY 2 PENZANCE BRUSH
Fifteen years ago to the day I left Penzance for the last time behind a 47 (47665). So when I got the gen that fGW celebrity Brush 47815 was allox 1A99 I decided to leap. I had already decided that if the beds got allox a 47 I would try to do it either into, or out of Penzance, thus this was all falling into place nicely. The only other Brush it could have been was 47811, as 47832 is only to be used on the Padd – OOC shunts, and out of 815 and 811 I would have preferred to have 815 anyway.
Departure from Wootton Bassett was at lunch time. I took 43169+147 to Bath for 31601+452 forward to Bristol TM. 73141 and a kettle were still on Barton Hill and 31128/454 were parked up in one of the bays. 66616 was still in Bristol Kingsland Road Sdgs.
From BTM I took a Vermin Voyager to Taunton for +22 onto a tram forward. Well that was the plan, but after the voyager arrived late and then they messed around some more, we left 26 down! The tram was on time so I missed it and thus had to continue forward on the Voyager to Newton Abbott to switch to a 158 sprinter for the short run to Totnes.
Phill T's excellent website: http://www.sulzer6lda28b.fsnet.co.uk/TheGenPage.htm had highlighted the fact that the last return working on the SDR from Buckfastleigh each day this week was booked for 'rat' 25901. So I made use of my Heritage Rail Pass and took a free return trip over the line. Since I was starting and ending at Totnes I had to take a kettle up to Buckfastleigh for 25901 back down. It was a nice touch to see the fGW HST drivers and the SDR driver saluting each other with blasts on the horns when they passed at Totnes.
Again it was a beautiful summer's evening and having 25901 on that excellent branch line was a treat. Then at Totnes it was time to take 43126+133 on into Cornwall and all the way to Penzance.
I had forgotten how scenic the line to PZ is. It always seemed elevated on bridges and viaducts. Arrival in PZ was on time at 20:44 and 47815 was sat in platform 4 gleaming at the head of 1A99. With over an hour until departure I, along with some other cranks and the guard, went to the Chinese for some super.
Just before departure an announcement over the PA said 'Would those that have ordered the Indian Takeaway please come to the buffet car'. With that, Pogo stormed through the carriage and picked up his groups pre-ordered takeaway. You can't fault some people for initiative - 'Please could you deliver a Korma, Tikka, Vindaloo to the Night Riviera please.' Pogo kindly invited me to join him and the other 47 bashers for supper, but as I was stuffed after my Chinese I declined and opted to stand by an open window to enjoy 47815's on time departure along the PZ seawall.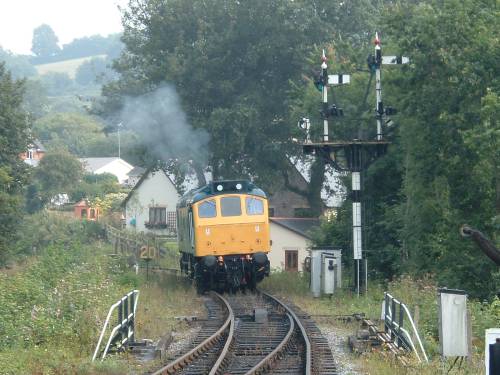 25901 backing onto the stock to form the 17:15 Buckfastleigh to Totnes service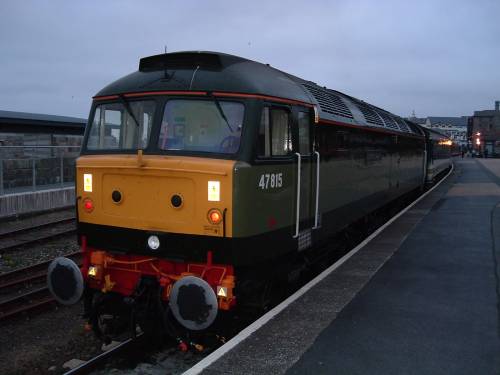 47815 sat at the head of 1A99
03/08/04
Over 300 miles later and we arrived in London Paddington 10mins early.
Now the only thing that I had to do today was ensure that I made an appointment in Selby at 11:30. So I had to get back to the car in Swindon ASAP, and this meant taking the first train (at 06:15) which was unfortunately booked for one of those 180 DMU things.
I passed 37603 and 73130 at North Pole depot – it is ages since I have seen the two Eurostar ED's coupled together even though they always used to be? 59204 66096/228/241/248 were on Acton.
I was pleased that we left Padd on time, but at Reading the Train Manager evicted a yob from the train who promptly assaulted him. So that was twice in almost as many days that my train was delayed because of the fGW staff being assaulted! There is no excuse for his behaviour and I hope they throw the book at him, though I am not sure why we were still waiting for the police to arrive half an hour after the incident! Anyway at that point I whipped under the subway onto the following service to Swansea just as 66150 rolled through on a freight.
43129+163 with me on board left Reading 35mins after I arrived and thus I was starting to flap a bit. Didcot held 66201/224/236 as we passed. Unfortunately Sod's Law states that when things are going wrong they will only get worse, so after Didcot we ground to halt due to a track circuit failure. After standing for 10mins we were routed wrong line and thus I got into Swindon at 08:15 about an hour later than planned. I then stormed via the motorway network to arrive in Selby at 11:25!
04/08/04 DAY 3 FISHGUARD HABOUR
Today was a simple trip out. The plan being just to go to Fishguard Harbour and back loco hauled. 43017+192 took me to Cardiff via Dr Days Junc due to planned engineering work in Chipping Sodbury Tunnel. 09017 was out working on a training exercise with the Severn Tunnel rescue train.
Newport held 37425 60007/072. 60007 was in full LoadHaul livery and I wondered if this was the last of the class in those colours, however an instant reply came when we passed 60008 in the same livery just outside the station!
My pecking order of tractors for 1B96 were 37419 (due to be stored the next day, but it actually held on a little longer), 37402, 37406 (due to return to Scotland), 37425, and last but not least, 37417. I had passed 37425 on Newport so it wouldn't be that. Then whilst at Cardiff 37406 rolled through on a load one ecs so it wouldn't that. Next 37419 rolled in on an oil tank train so it wouldn't be that, so it was down to 37402 or 417 and obviously I was hoping for 402. 60068 and 60035 passed through on freights and then 37417 arrived on 1B96! At least it was hauled, and at least it was a 37! And I was pleased that it was announced as the Boat Train.
We departed on time and passed 37402/412/519/798 and 47761 on CF and 60005 along with many others on MG.
The boat train is booked to go via the Swansea District Line, however today it would be routed via Landore curve on both the outward and return. This was a surprise for many of the cranks on board but a good gen source had already highlighted the route change to me.
Another bright sunny day was provided by the big man above, so even though he didn't provide 37419 I was very happy as 37417 thrashed its way towards the sea and an on time arrival at Fishguard Harbour.
On the return 60035 and 66057 T'n'T'd a steel train at Troste.
Apart from 6 cranks and the crew, everyone else took the advice of the guard and bailed off at Bridgend to wait for the tram behind. This is because, as you are no doubt aware the train gets regulated for 40mins just outside Cardiff. In fact the outward working picks up more people at Bridgend then Cardiff because the connecting HST from London advises people for the Boat Train to stay on past Cardiff to Bridgend to save them lugging their cases whist changing platforms. Sense does prevail sometimes on the railways then!
Anyway back on board 1R38 we sat at signal C121 on the No.1 Up Relief line outside Canton depot rather than the Leckwith Loop as booked.
I took 37417 through to Cardiff QS for a DMU back to Central and viewed 37406 on 2R42 and 60046 and 60060 on freights before boarding 43019+168 back to Swindon.
37419 and 60007/026/072 were viewed on Newport en-route.
Another good day, everything about this rover was going to plan. Surely it wouldn't last?...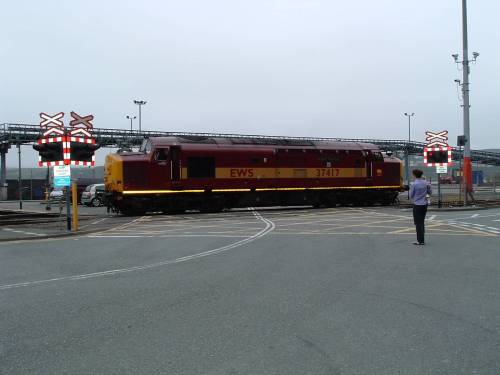 37417 backing on to the stock of 1R38 at Fishguard Harbour
05/08/04 BRUSSELS
Nothing to do with the rover, but I just had an excellent day trip there with the family and whipped in the CTRL2 along the way!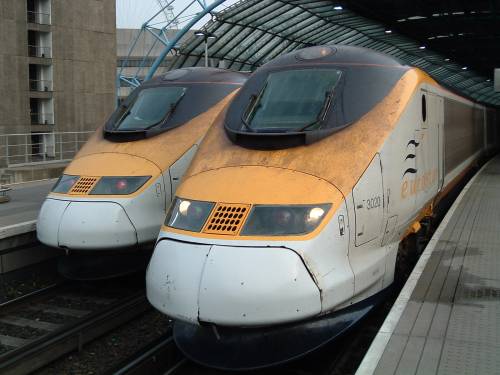 Our train to Brussels
06/08/04 DAY 4 BRIGHTON
Now if there was ever a train to test your luck it is 1O98, the 12:52 FO Bristol TM – Brighton service. I am a big fan of loco hauled services and admire those TOC's that put a case together to use them and the SRA for supporting them, and you can tell that the normal passengers greatly appreciate the extra space and comfort levels that they provide. But this train is widely known as a bit of a shambles. When it only had one weekly turn it even managed to run out of fuel on not one, but two separate occasions! Many cranks have been bowled when they have planned specially to cover this train to find it has been changed to a DMU or canx on the day. And what makes matters worse is that the Wessex gen is hardly ever up-to-date on TOPS thus you often have to leap blind. Anyway, back to the plot – 31106 had changed places with 31601 as 601 had to go back to Fragonset for generator repairs, thus I was hoping for skinhead 106 on 1O98 today.
Swindon station is 7 miles from Wootton Bassett but because today I decided to take my two children along (aged 4 & 6). I drove to Trowbridge 24 miles away to simplify the move.
I still had no gen on the train but arrival at Trowbridge showed the train on time although in fact it arrived 20mins late. The problem was that Bath station staff had reported smoke being emitted from the back loco - 31106! At Westbury a full inspection took place and it was found that the brake blocks on 31106 had been rubbing. Problem sorted, we departed 47mins late.
Westbury held 59005/206 66107/120/213/225 and Southampton offered 57002/007/009/011 66501/517/527/539/540.
At Southampton a rather disappointing and surprising decision was taken to terminate the train at Barnham! Why? We would only leave Brighton about 15 late as it sits there for 45mins! I asked the guard if it was crewing reasons, i.e. perhaps the crew were booked to take their break during the 45min layover, but he said not, he said that it was purely so that the train could run on time on the return. What about the poor buggers going to Brighton, and more to the point those at Brighton waiting for the 16:57 to Cardiff C? Apparently the response from Wessex was sod 'em, there are plenty of other services behind this one! I must say that the guard though was very helpful, constantly going through the train, answering queries etc and keeping everyone informed.
So we arrived at Barnham and were kicked off. The train was then shunted back ecs into the Up Sdg. while my children and I went for something to eat.
Back at the station the peds ran from the Up Sdgs through Plat.3 and via the crossover and returned into Plat.2 to pick us up. I wondered how long we would wait for the connecting passengers from Brighton, the answer was we wouldn't! We left bang on time so all those in Brighton missed it completely, and the only reason I could see must have been to make Wessex's performance figures look better because their decision did nothing for the fare paying customer!
And, of course, it means that being 22.5miles short of Brighton the first disappointment of this rover had occurred – I suppose I should be happy that at least the train ran (sort of!).
It was a great afternoon out with the children though and at least it was 31106. Though ironically if that hadn't been on the train we may have made it to Brighton!
The gen was now starting to come through for the VXC summer Saturday trains 67002/006/010/014 were in the frame, all of which were dud, so my back up move was to take a VXC HST to Newquay and back.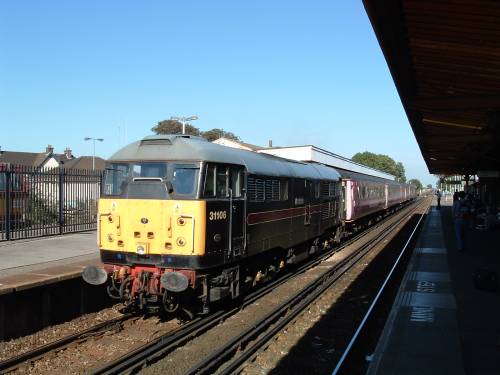 31106+452 on 1O98 caped on arrival at Barnham
07/08/04 DAY 5 NEWQUAY
Flagged it, too busy.
13/08/04 DAY 6 BRIGHTON II
After spending the last 6 days away with the family, I returned to my rover.
'Dad your blinded by optimism and idealistic notions of yesteryear' said my 6 year old daughter. 'And above all else you're forgetting one thing' she continued. 'What's that?' I enquired. 'The train is hauled by Peds.' She had a point. 'Are you coming or not Becky?' 'No, not after last week.' she answered. Turning to my 4 year old son I asked 'What about you Matt?' 'Yep' was his ever cheerful response. So with that, albeit one child down, we headed to Trowbridge for a re-run of last Friday's attempt to have class 31's to Brighton and back.
Having checked the gen before leaving I knew that 31106+452 were allox 1O98 with 31128+454 allox 2O90. So it would be an almost carbon copy rerun of last week. The difference being that this was Friday the 13th…
As I walked towards the departures board at the station I could see that the expected arrival time was flashing indicating that the train was late. I feared the worst. However it was flashing 13:31 against a booked departure time of 13:27. Surely they wouldn't curtail the run because of a 4 minute delay would they? 31106 the 'skinhead' was on the front with 31452 on the rear and we departed from Trowbridge just as the heavens opened.
Westbury displayed 59002/004/203 60007/096 66011/012/020/073/234
A few children's books later we passed Southampton and saw:
08077/745 47205/207/334 57006/009 66069/502/517/538/557/568/569
And 47709 passed on 5Z97 the Oxley to Poole ecs for the VST Poole-Chesterfield charter due to run the following day.
By now we had started to gradually lose time at each stop and on approach to Barnham we were about 30mins late. Thankfully we continued and finally made it to the Sussex resort of Brighton about 35mins late.
A quick turn round was met with an on time departure and as the weather improved it produced a nice summer's evening and a good run back was enjoyed. 1V96 arrived on time back a Trowbridge.
As I was driving back to Bassett the gen for the Saturday stared to come through: 47200+316 for the PF, 67001 1V15 (no doubt a fix by the EWS controllers as it worked when they were on a spin and win tour!) 67015 1V19 and 67002/003/005/016 at OOC for the Paignton ecs'. So for the second week running all the VXC trains would be dud. However I was pleased about 47200 and at least I could get to Newquay since I flagged the move last Saturday.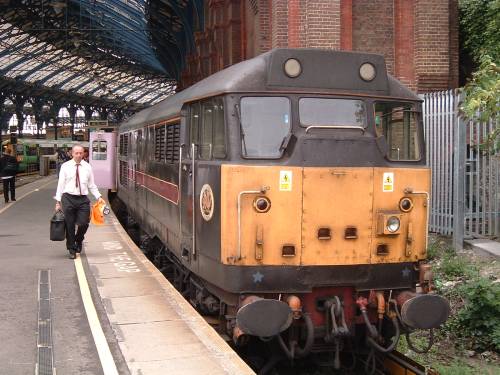 31452 with 31106 on the rear at Brighton ready to form 1V96
14/08/04 Day 7 CLAW BACK TIME
Due to the inability of the MNR to update the loco roster on its website I have had 47200 DOR but not powering a train, (I won't comment further as I will start to rant). Everything else 47200 seems to work on are short notice turns in Anglia, save for one PF spinner but as I was on 37065 at Newhaven Marine that day I had to flag that. Thus today proved a very opportune time to claw back 47200 since it was on a PF Edenex going through to Penzance and I was on a south-west rover!
The day started with a nice social 08:15 departure from Swindon to Exeter behind 43028+033 on a Padd – Paignton via BTM service. As we pulled into BTM 31454/128 departed on 2O87 and 47805 66616 were noted in the Kingsland Road Sdgs.
En-route to Exeter we passed 67005 on 1M89 and 67003 on 1E99.
I have many strange self rules when it comes to bashing, and one of them is that if I need an engine, if at all possible I like it to be by itself so that I know it is doing all the work. If this is not possible I like the engine that I need to be on the front, thus I had asked a fellow basher who was on the PF from Chester to let me know which way round the 47's were. On the ecs 47316 led up to Crewe and thus that should have been on the front, and this was indeed confirmed by my contact on the train (thanks Neil). This meant that I would cover the tour on the return as 47200 would be leading. Incidentally 47316 was the first 47/3 that I had, and I had it on the famous Nottingham-Blackpool service from Preston to Blackpool North on 08/08/87.
Anyway, back to the plot. I bailed off my tram at Exeter in order to see the PF and PT Edenex's go through. The PF produced slightly early, but 67026 was nowhere to be seen (unbeknown to me it was running 85mins late).
My next train was the Manchester to Newquay VXC service which is booked for a tram vice voyager during the summer. An oil splattered and filthy 43098 produced with 43153 bringing up the rear. The set had seen better days, both cosmetically and in terms of performance as it certainly struggled over the Devon banks. The GNER tram (43006/114) on another Newquay vice service for VXC was passed on the approach to Plymouth.
The reason for my wanting to go to Newquay was just because it is an interesting branch, I hadn't been in over a decade, and I could do it in a tram rather than a unit. At Par we started the interesting bit. 66061 was spotted on St.Blazey. It soon became apparent that although I correctly remembered that the branch was interesting I had forgotten what a stagger it was – it took 62mins to do 21 miles, mainly due to the fact that there are numerous open crossings that are protected by a line speed of 5 mph for anything bigger than a DMU. Due to the number of comments from the passengers such as 'Why are we going so slow?', 'Has the train broken down?' etc Virgin would do well to announce the fact that the branch would be a stagger, but they would rather deliver them and their bags to the door than kick them out at a mainline shack etc. A lunch break was taken in Newquay during the 40 minute layover of the tram whilst it was serviced.
Returning to see the hoards of people on the station brought home just how inappropriate it would be to use voyagers on these services. The tram on the way up was full and standing and the return was too, but that aside it was amazing to view both of the power car luggage compartments looking like the fuselage of an aircraft. Credit is due to Virgin though for how well planned these services are - on the way up the branch reps boarded at Par to hand out information on Newquay and to start cleaning the train. And on the return the same additional staff helped direct passengers and their baggage, passengers to stations south of and including Brum need to put their cases in the rear power car, and those travelling north of Brum need to store them in the front power car etc. Matching an on time arrival into Newquay was the on time departure from the Atlantic coast resort. More comments on the stagger back to Par were heard on the return. By the time we returned to St.Blazey 09019 was shunting the ecs off the PT and 67026 was taking a well earned drink.
At Par the next train up the branch, a fGW HST, was waiting for us to clear it. I continued on the train as far as Liskeard where I bailed for another tram 43192+025 to double back on myself to Bodmin to await the PF charter.
As I sat there waiting for the tour amongst a sea of grey hair under a grey sky, I realised that at 32 I was probably half way through my life and I was sat here, on my own, 200 miles from home, waiting for something that nobody really cares about. However, as 47200 came round the corner gleaming with full ploughs on, just like the golfer that trudges round the golf course by himself in the rain because just one perfect shot will make all the effort worthwhile, so again I realised why I do this stupid hobby.
We stormed out of Bodmin with the Duff's working very well in multiple and onwards towards Devon. I would take the 47's to Plymouth where a crew change was booked at 17:59/18:02 and then change for a tram to Westbury and a unit on to Swindon via Melksham. We crossed Brunel's Tamar bridge and I joined Pogo at the front window to alight. As I walked up the coach I met a number of derisory and somewhat hostile comments as it was obvious to the 47 bashers that I was about to get off after a relatively short leap of about 30 miles. Quite why some people take a hobby as futile as ours so seriously is still somewhat of a mystery to me. Anyway, we pulled into Plymouth and Pogo said 'Are you getting off ?' 'Yes' I replied 'You are if we stop' he said. Charters always stop at Plymouth I thought, 'It's booked a crew change' I countered. 'It was this morning too, but we stormed straight through'. 'Pardon?' And with that the signal cleared to green and the driver let rip. Next stop Bristol then!
After enjoying the chants of 'You're not getting off', which was funny I settled down to Bristol. En-route I was gripped by PF, who I have always found very fair, and they took into consideration that I was planning to bail when they calculated the ching. We staggered along the sea wall at Dawlish after the 'box let an all shacks unit out in front of us at Newton Abbott, but after Exeter (again non-stop) the 47's continued to perform excellently the multiple working was top notch, no delay was noticeable between either loco when power was applied and we raced towards Bristol, just been looped once as booked to let a Voyager pass.
I was now going to be quite a bit later home than planned, however since I was enjoying the run I didn't mine so much. The sunlight was fading fast as we arrived at BTM. All the Wessex 31's and stock were stabled in the bay platforms as booked. I watched the 47's leave for Chester before boarding 43182+129 on the 21:30 service back to Swindon.
So another enjoyable day, and the last of my rover came to an end. I had travelled to Newquay and other locations in Cornwall, I had clawed back 47200 and I had not stepped on a Vermin Voyager all day. In fact, I hadn't been on any DMU's all day.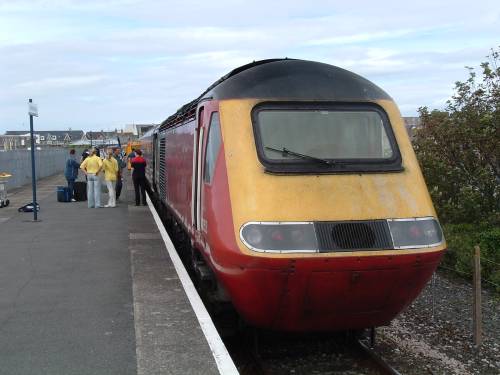 43153 with 43098 on the rear at Newquay ready to form 1M25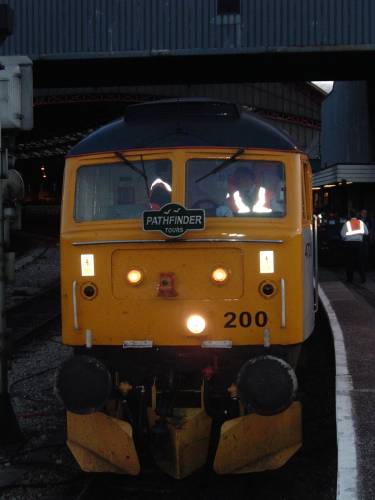 47200 in multi with 47316 on the return PF Edenex 1Z28
I thoroughly enjoyed this rover. Many thanks to those that supplied me with gen whilst I was out and about, especially David C.
My final verdict?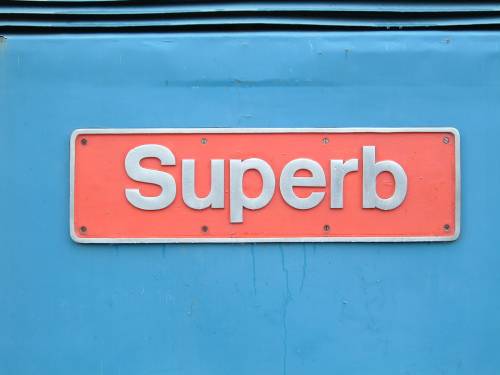 The name plate of 50002 which is currently sat on the SDR metals at Totnes as static display
"Selby" August 2004



Please use your "back" button to return a Page